What's a Good
First Date

(for Seniors?)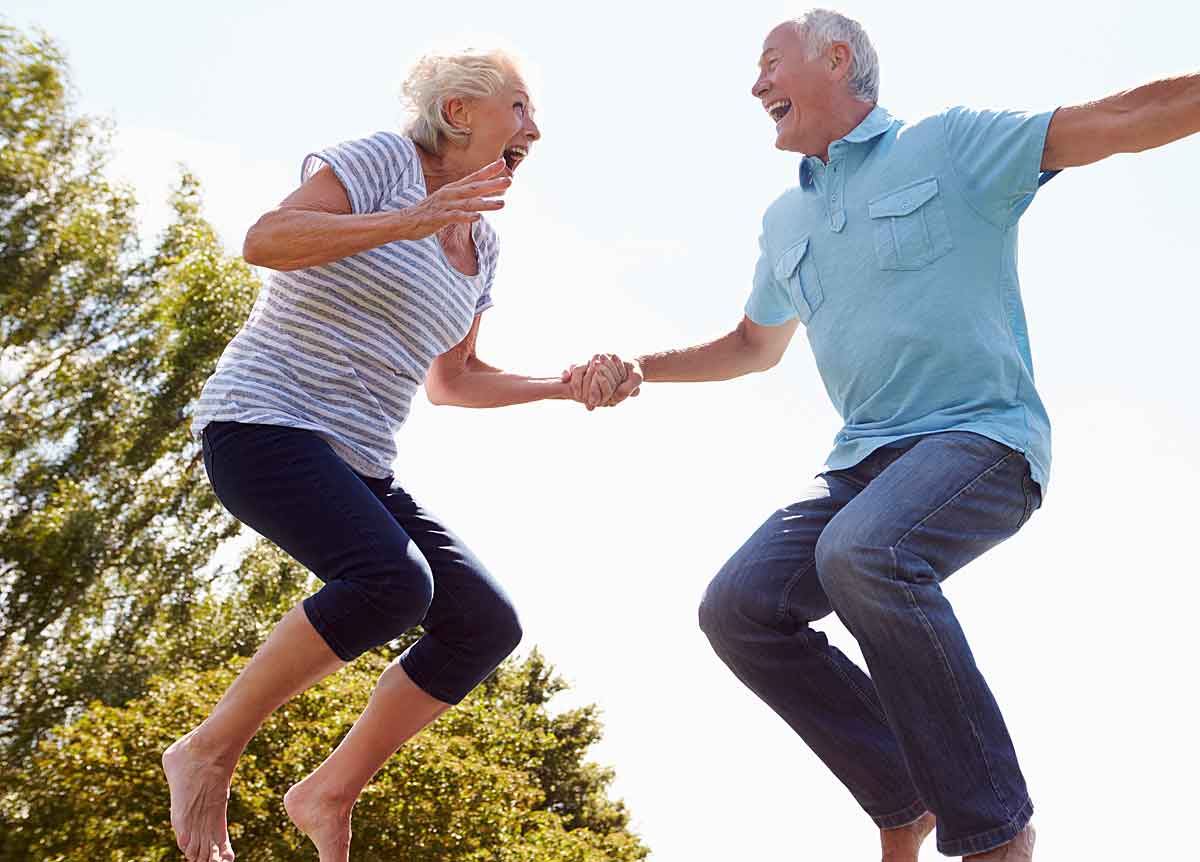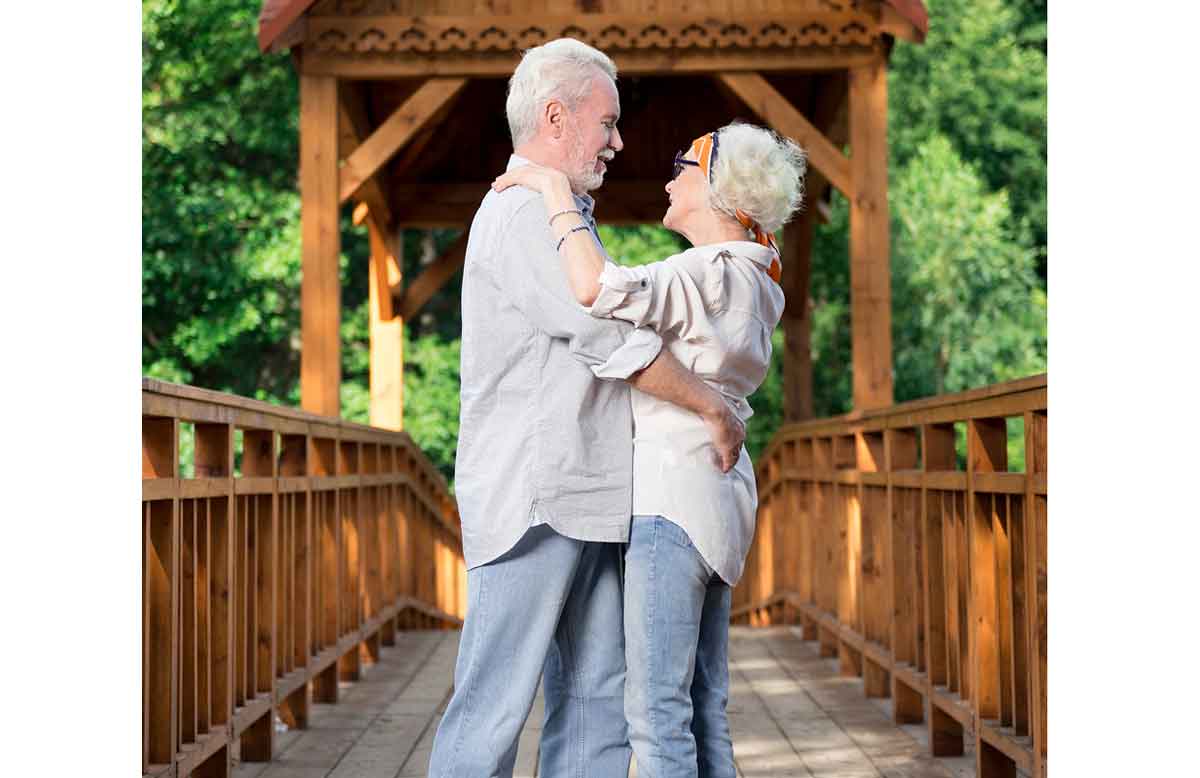 What's a good first date for seniors?


Wow!

GREAT QUESTION!

Yes, there are tens of thousands of seniors out there who are single and wanting to be with someone. Seniors just like you.

At 50, 60, 70 even 80, there is someone looking just for someone like you.

So, when you meet someone, or find a possible someone on line, what do you do on that first date?

What's a good first date for seniors?
*editors note: Please remember, at this difficult time,
to continue social distancing and wearing your masks.
Some Common Questions and Answers:



What would be a comfortable and memorable first date?

What's a good first date for seniors?

Is there something besides dinner and a movie?

What do you want on a first date?

What are some Great First Date Ideas for us seniors?

Do you have any special advice about dating someone new?

What is the most important thing to remember?

What Would Be
A Comfortable and Memorable First Date

for seniors?



Yes, we're seniors. And, some of us are single and don't want to be. You found someone you are interested in. That's fantastic! NOW: What do you do? What's a Good First Date for Seniors?

Yes, we've all been around the block a few times. Right? We're not in high school anymore. We've all been to a lot of places and seen a lot of things.

So, what would be something:



Interesting


Fun


No Pressure


Enjoyable



to do with another senior we are interested in getting to know better? When we've both done so many things already?
Actually, everything that we used to do is still a good first date for seniors Except those things that require a physically young body. Besides that? The world is your oyster!

You can probably think of many great things to do. Things you've always wanted to do too. UNTIL NOW. When you need to find one. Right?
Plus, a lot of you haven't had a date in 30 or 40 years. So, you're kind of out of practice. And, that's to be expected. So, at a moment like this, we all go kind of blank on ideas. Right?

It's not just you. We all did the same thing as teens. The moment we needed a great date idea, we blanked. Right? And, yes, we all still do it now. We're human! God Bless us! This little bit of nervousness is part of the fun.
So, we're going to give you some great first date ideas.


What's a Good First Date?

For Seniors?



Did you meet on line? Through a friend? While out somewhere?

It doesn't really matter.

There's nothing like the anticipation of that first date. But, what can we do to have a good first date? One that is fun, comfortable, and memorable?

As seniors, we're at the age where it seems like we've done most everything new on a date. All the cliche romantic stuff.

Dinner and a movie? Yawn… Boring… Maybe later. Not now.

What's a good first date? It should be something special. Right? It may be the last first date either of us ever has. How great would that be?

And, memorable. Yes, even though we're seniors we're still living loving human beings. Full of rich emotions. So, not just the old dinner and a movie stand by. No. There's got to be something better.Don't you agree?

So, what's a good first date for us seniors who have done a lot of living already?

Is There
Something Besides:
Dinner and a Movie?


YES!!

Dinner and a movie?

Forget about it!

What's a good first date for seniors?

LOTS of things. In fact all these things will make a great 2nd, 3rd, 4th…. date.

We put this list together to help you get through that abyss that suddenly appears when you have a first date coming up and you just don't know what to do to make it a great night. When your creative mind seems to go blank.

What Do You Want
on a First Date?


When you suddenly meet someone you'd like to get to know better, you can get a severe headache trying to figure out what to do on that first date that will make it special. And, memorable. Right?

That's how you got here! Good going! We're going to help you find a great idea that doesn't cost a lot.

From a massive 200 hundred person senior survey that we did, here's what most seniors told us they would like on a first date:


Something casual


Something where we are comfortable


Good conversation


Something fun to do, anything fun


A no pressure situation

Something inexpensive (

saving the big nights for when we have a meaningful relationship

)



Except for the "Good Conversation" (that's up to you two…) we included all these features in our "What's a Good First Date?" list.

So, let us take you to our 36 Great First Date ideas.

They're all very inexpensive and they inspire an easy flow of conversation.


Here we go!

Our 36 Favorite

"What's a Good First Date?"



Ideas


for Seniors





 A Picnic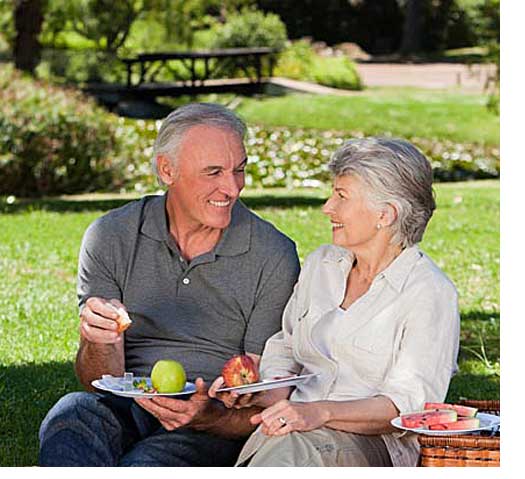 What's a good first date?
If you live where the weather is currently permitting, how about a picnic?

Yes, it's a great over 50 date. It's a daytime date, so there's no romantic pressure. You're outside. And, it's a great date for two people of any age. And, not just a great first date. You can picnic at the beach, or a nearby lake. If the lake rents row boats you can have your picnic out on the lake in the boat. A field, a park…. There are so many choices.

Suggest going to the grocery or a specialty food store together before the picnic so that you can both pick out things you'll able to enjoy together. Maybe include a nice chilled bottle of Pinot Grigio....

A picnic is also something you can enjoy through out life later on. And, you'll always remember that first one.
A Fair or Carnival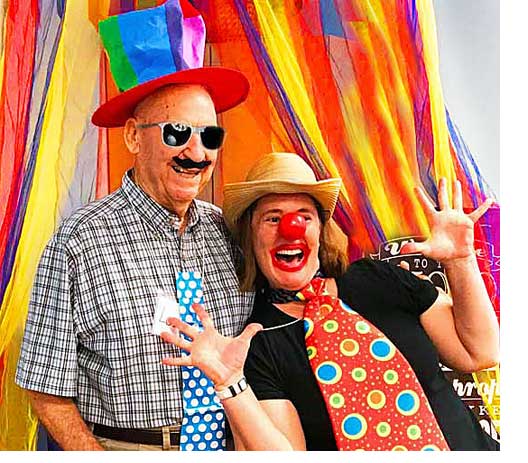 What's a good first date for seniors that can let us have fun like a kid again?
Sometimes there's a special fair or carnival close by for a limited time. Remember how much fun they used to be? They still are!

When we surveyed "What's a Good First Date for Seniors" this has been voted a favorite first date because there are different things to eat, games to play, fortune tellers, exhibits…. Uniquely fun. Out of the ordinary. And, definitely memorable. How long has it been since you've been to a Fair or a Carnival?


Wine Tasting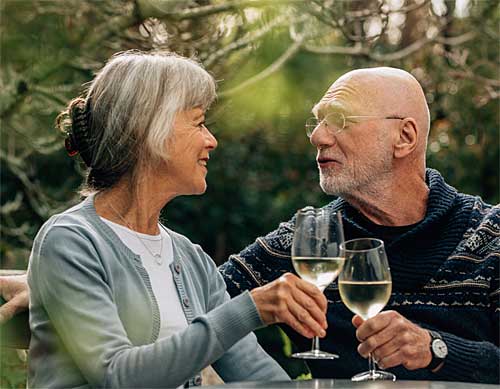 What's a good first date for wine lovers? Of course.... Are you anywhere near a winery?
Even an hour drive is not too much on the first date.
If your date isn't a wine drinker, forget this one. However, most adults enjoy a sip now and again. And, what better way to relax those first date nerves than with a couple glasses of nice wine?


Be sure to check with your date on this one. And, be sure not to drink too much before driving home.
Take a Cooking Class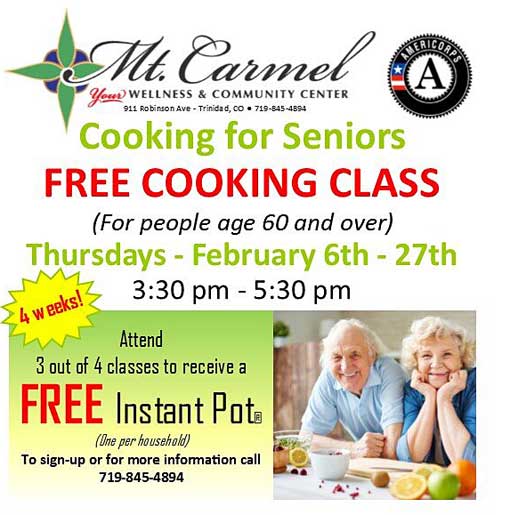 What's a good first date for seniors who LOVE food? Sharing a dinner together is a great way to talk and get to know someone. Right?

So, how about if you make that meal together?
Trying a cooking class with a food type neither of you have experience making is a really fun adventure. Whether you do a great job, or, mess the whole thing up, it's fun! If you stay together, it may even become a joint hobby.
And, sometimes these classes are even free.
A Mystery Dinner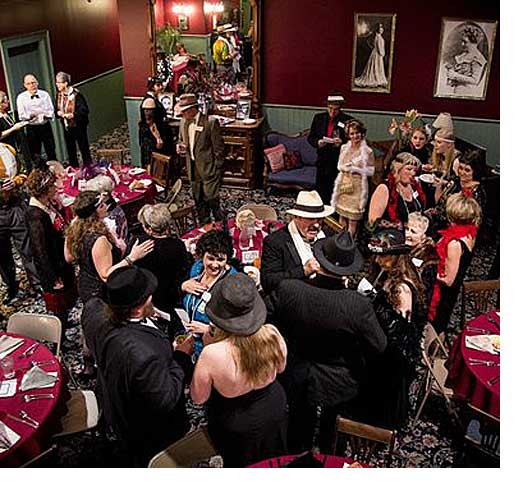 These are fun! And, often you can dress up in costume if you want to! Like 40s or 50s attire.

The dinners are usually good, in a nice restaurant, and then, when you least expect it, Holy Agatha Christie! Someone gets shot and everyone there has to figure out who the evil culprit was.


A Museum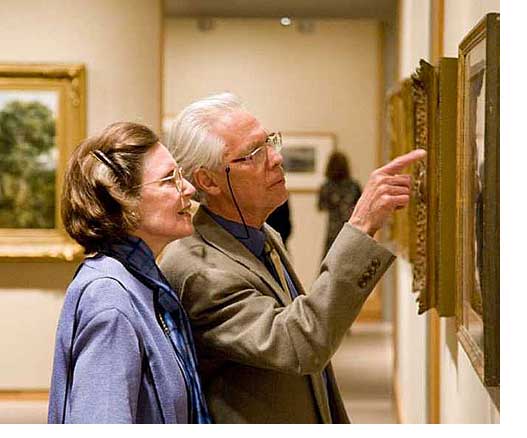 What's a good first date for art lovers?
If you are both art lovers, a good first date for seniors can be visiting a museum! Especially if there is a special exhibit in town, or, nearby.
Museum first dates are great because unlike a movie, or, the opera, you don't spend the first hour and a half in silence. You get to talk about things the whole time. No one really has to think about how to start a conversation in a museum because there is always a new painting, or, object to discuss as you walk around.
The atmosphere is relaxed. You can sit whenever you want to. And, usually there are places to get refreshments, or, even lunch and dinner.

You're only verbal skill needs to be, "What do think of that?" This is especially good if you are shy or your socializing skills have become a bit rusty.
Miniature Golf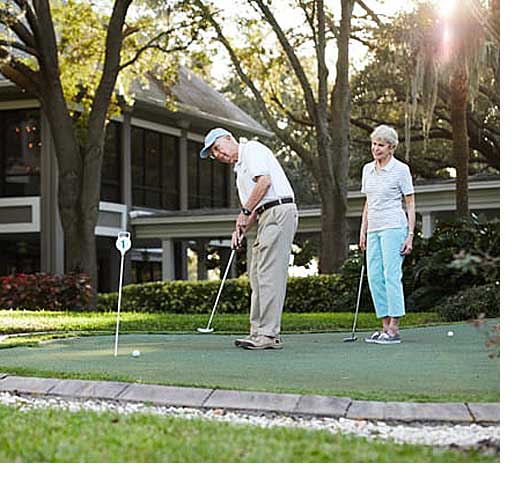 Right? We've all played this as kids.
We forget about all these fun silly little things we used to do to have fun with someone new. No one plays this professionally!… It's strictly a "let's flirt" kind of fun date. Maybe she'll even let you put your arms around her to show her how to putt…. 40 years later and it's just as romantic and just as much fun. A good first date at any age!
A good first date?
A Great One!


A New Foreign Cuisine


What's a good first date for the gourmet among us?
Trying a new type of food in a very ethnic restaurant can be an amazing experience! Sometimes it's so yummy. Other times you will wonder how their civilization ever survived.
If you're both into the idea, try to find something neither of you has experienced before. There's always a local burger to run to if the place is a disaster!
An Art Gallery Showing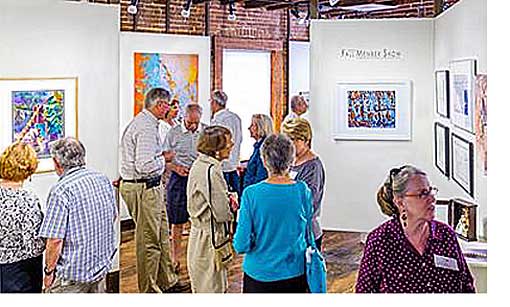 Like museums, if you both enjoy art, a good first date can be a gallery showing. It's an easy place to have a good time and get good conversation going. And,  with art, you'll get to learn a bit about each other's preferences.
Many of these showings and exhibitions take place in the afternoon, if you are looking for a no pressure type setting.
Afterward, if all is going well, you can go have a cup of coffee, or, a glass of wine and discuss the event. Art also hints of understated romance. So, if you're wanting to get the conversation a bit deeper, you have a very natural opening.
Shoot Some Pool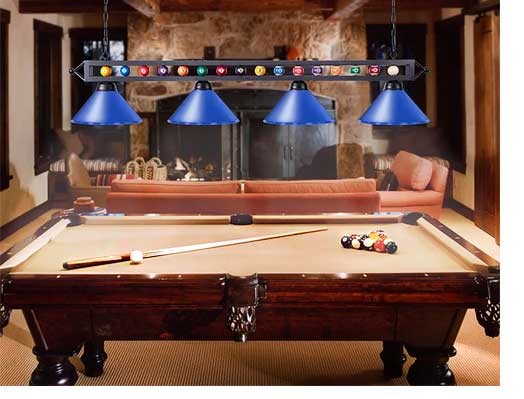 Want a very relaxed first date? Shoot some pool! As senior citizens? You bet!

Shooting pool is not just for hustles and the scary types we see in movies. No. It's fun! It's casual. It's no pressure and relaxed. And, even the super wealthy and elegant like their game of pool.
There are usually a number of very casual bars and even billiard halls in larger cities where normal people like us go to have a drink, "play a rack" or two, and relax.

I remember in Hollywood California, there was a place called the "Hollywood Athletic Club" on Sunset Boulevard. Very famous. The movie stars used to go there long ago. Fred Astaire went to play there. AND, that club has nothing to do with athletics. It was a classy pool hall. And, it was lots of fun even when I went.

Shooting pool is a blast. Even if you are terrible and have never played before.
Go the The Beach in Wintertime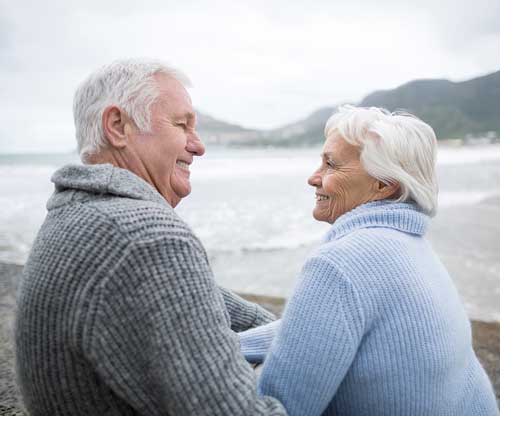 What's a good first date in winter weather? The beach! Yes, in WINTER!
Taking a winter walk on the sand, with almost no one else there, can be super romantic. It's quiet and beautiful. It can also be cold! So dress warm and bring a blanket to share.
You can just chat and walk, or, if the spirit is moving you both, hold hands, sit close together in the sand and watch the waves. A GREAT opportunity to invite that arm around your shoulders ladies…
Go to an Arcade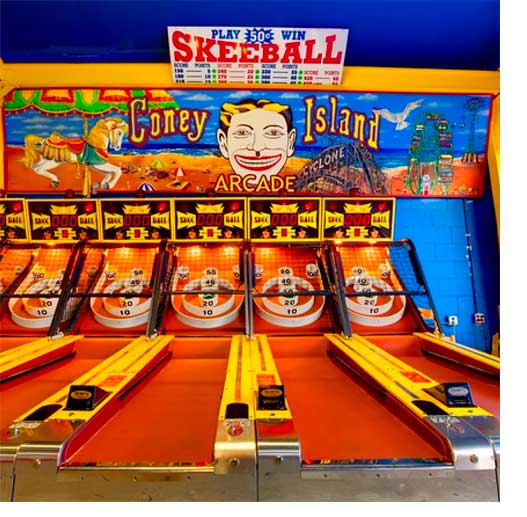 Want to play as free as a kid again? As senior citizens? You bet!
Try an Arcade.
Arcades have all kinds of games to play and win prizes in. There is usually a mechanical fortune teller. There is air hockey, foosball, skeeball, pinball,…
If you don't know what these things are yet that's OK. They're just fun games that take very little skill, but, can be very competitive in a playful way. There are also the photo booths where you sit close together and make funny faces at the camera and get those strips of pictures to take home. Remember those?
A fun night or afternoon!
Head to a Rink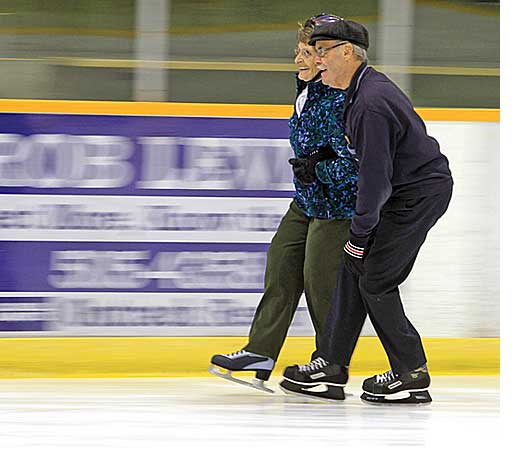 What's a good first date for more physically active seniors?
Skating!
Ice or roller. Whatever you feel comfortable with. If you're quite old and fragile, forget this one because you're going to fall. But, for the athletic, this can be a blast!
Remember when these were THE place to socialize? The romantic meet up? If you live in or near a larger city, these often have themed nights for 70s and 80s music. Skating to an 80s per ballad can't be beat!
The Picture to your left:
"At almost 90 years of age Howard Northey of Red Deer has made a regular habit of keeping active through his life. Here Howard Northey and Joyce Smela glide around the ice at the Arena on Tuesday."
Go Thrifting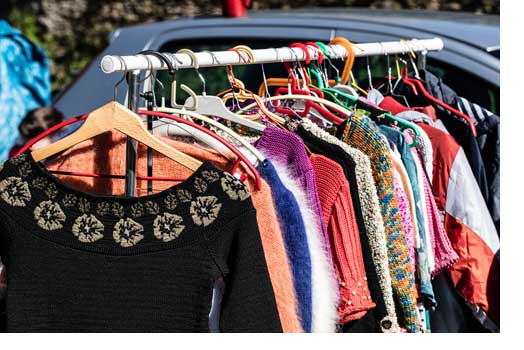 My wife and I love this still. And, it's a fantastic first date!

Did you know, wearing very old styles is actually ultra fashionable now? Yes, this is one of the most fashionable things young prople do these days. And, any clothes you buy on this date won't go to waste.

Set a budget limit, $10, $20 each (you get a lot for your money at thrift stores). Go to the local thrift stores and see who can come up with the best outfit (guys, it's going to be the ladies….). Then dress up in those clothes and go to dinner. Or, make dinner together at home.
Fly a Kite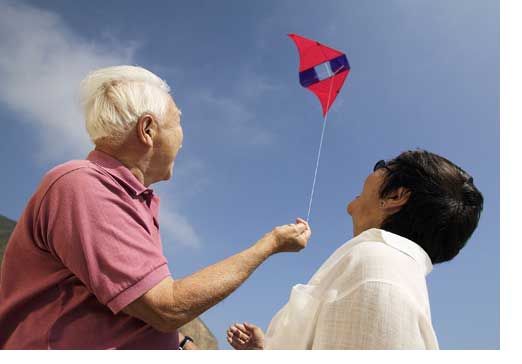 What's a good first date for a sunny Summer afternoon?
Go fly a kite!
This magic never gets tired no matter how old we get. And, it's a great outdoor activity for us seniors.

Buy a kite. Get the one that is the easiest to fly. Forget the coolest looking ones. They never seem to get off the ground. The cheap $15 bat kites always seem to work.
Go to the beach. Find a field. Even a large empty parking lot. Any open space. Then set that baby to flight. This never grows old.
Work on a Jigsaw Puzzle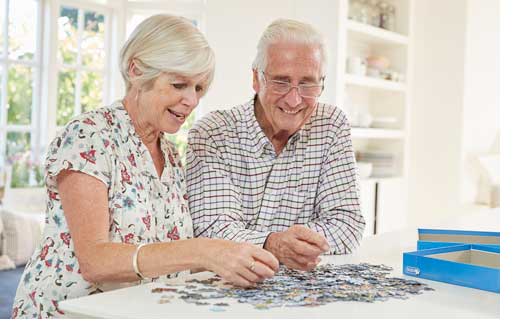 What's a good first date for a rainy day?
A rainy day. With a jigsaw puzzle. A bottle of wine. Or, a pot of tea. Some snacks. Sweet!…. You get to sit close. "Accidentally" touch hands…. yeah… you can't beat this one for a rainy day.
Get Up to Greet the Sun


What's a good first date that is unique even for us seniors?
The crack of dawn is not the usual dating hour. Fantastic! How many new things do we seniors get to do?
And, if funds are very limited, this is one of the most wonderful first dates that is free!

If you're near an east facing beach or lake, meet up there. If you're a city dweller, the rooftop will do just fine. Pack a thermos of hot coffee or tea and watch the miracle of the day begin! If all goes well, breakfast is right ahead!
Horseback Riding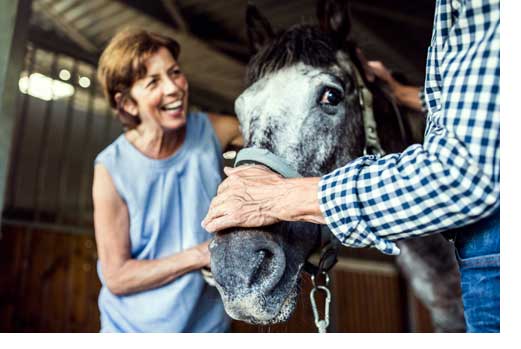 Yes. Even if you're a bit older, there are a lot of gentle horses that refuse to do anything but walk slowly. Call ahead and ask. They'll hook you up. A really memorable and good date for a Sunday morning.



Read to Each Other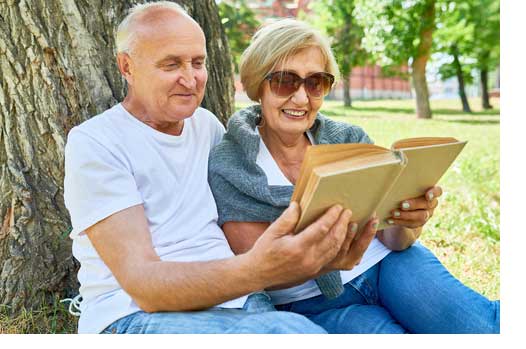 What's a good first date for the literary?
To some, this may seem way to boring… To the avid reader, even a young reader, this can be the dream date of all time!

Each pick your favorite poems. Or short prose. Even an excerpt from a favorite classic… There are no limits to what may inspire you both.

Bring your books. Light a few candles. Do I really need to explain further?
Painting Watercolors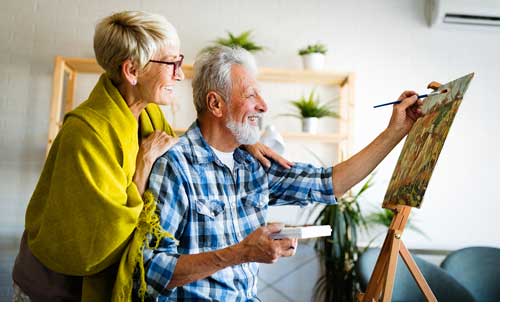 What's a good first date for senior citizens (or anybody) that is totally unique? And, wonderfully fun?
Paint some watercolors together. Outdoors is ideal.

This is one of my personal favorites. And, I am a terrible painter. Really awful. You don't have to be good. There is just something very sensual about the way water colors play on the paper.

Painting water colors is so soothing, and, somehow rewarding. Even if you're as terrible a painter as I am. 

Get a beginner set and try painting water colors together. Afternoon, evening, even morning. If it's a first date, or a 10th date…, it can be very romantic.

An Indoor Picnic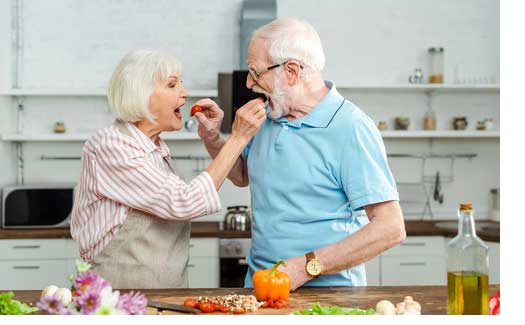 What's a good date when you don't really want to travel anywhere? Or, if the weather turns inclement?
Yes, picnics are one of our favorite. BUT, what if it's snowing out? Or, it's been raining for 3 days straight with no sign of clearing? Or, you'd just rather do something intimate inside?
Gather all kinds of goodies at the store together, come back home and light a fire, or just a few candles. Put on some music. Spread everything out on the floor and indulge. You can even do this with take out or delivery food. Watch the snow. Listen to the rain. Enjoy your favorite music. Or, a movie. It's a cozy date!
Build a Sandcastle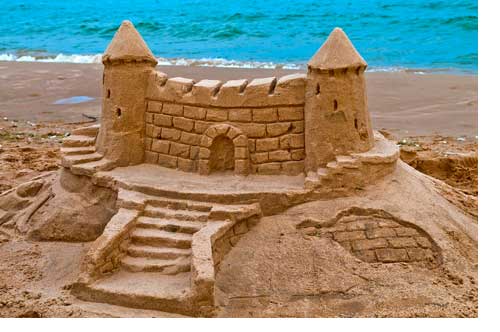 What's a good date for us senior beach lovers? Especially if you don't want to show yourself in a bathing suit yet? Or, you really want to do something active?

Build a sand castle.
Another wonderful OUTDOOR date. And, it will get you both dreaming!

It's Summer. Or, winter. It doesn't matter. Go to the beach with the full intent of building a wonderful sand castle. Pack snacks, or lunch, and drinks. You'll never forget this one!
Old School Photography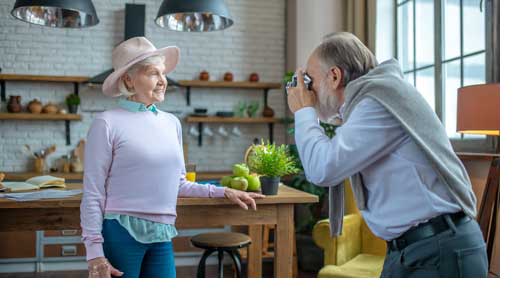 What's a good first date for seniors who want to have some gentle, but, active fun? How about some old school film camera photography?

Remember the fun and the HUGE anticipation of waiting for those pictures to be developed?
Yes, we all remember using film. Right? So, grab an old camera, choose a location, the mall, the park, a hike, the beach, a short road trip to a nearby town. Challenge each other to shoot an entire roll of film. While waiting for the film to be developed you already have an excuse for the second date!
Antiquing


Another personal favorite of mine. And, if you could see the inside of my house, you'd know where I spent a lot of time shopping.
If you're both into old things. Go to an antiques store, or, stores, See what you can find! There are treasures that you can't believe!
A Free Outdoor Concert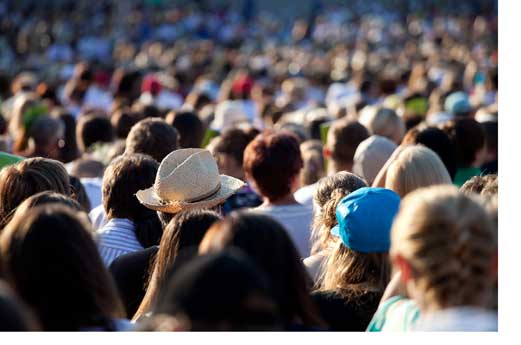 This is a good first date in the summer, obviously. But, do you remember going to these? Always a great time right? Remember to bring snacks or a picnic… You're never too old to feel 17 again!
Take a Yoga Class Together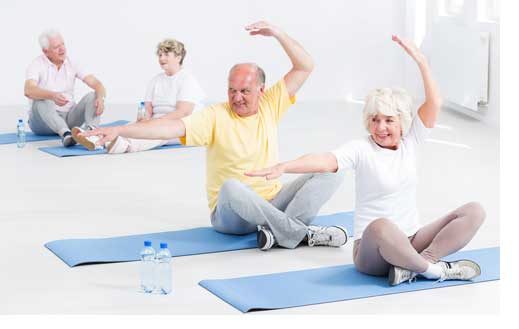 Everybody knows Yoga is mystical and magical.
We all know the benefits we've heard it possesses. And, yoga can be a good first date for those who want to share some gentle physical activity.

The classes are also done by ability. So, being an absolute beginner is OK. And, it's really good for you!
If you're both very out of shape it can be even more fun. Really! Don't be hesitant to step into the unknown. It's more simple than it seems.
The experiences can be uniquely funny and entertaining. And, you can both moan about your soreness the next day.

A Comedy Club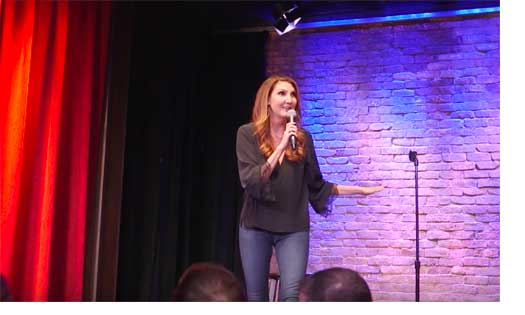 If you both enjoy listening to comedians, these are a really good first date because you're going to laugh together (hopefully!).
There's no pressure. It's entertaining. Sometimes the comics really suck. That's funny too. But, you will surely have some things to talk about and laugh about later. Over drinks? A small supper?
Farmer's Market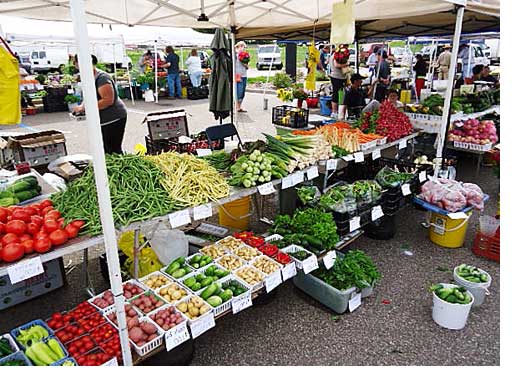 Who doesn't like exploring all the freshly picked treasures to eat here? Another great daytime no pressure good first date where you can both explore yummy things and share them later.

You can go with a predetermined budget, split up at the market, and challenge each other to come back with the most interesting stuff that you can prepare together later in the day.
Go Bowling


What's a good first date for senior citizens?
Sometimes it can be the same first date you had in Jr High School.

This old stand by never ever wears out. Remember having your palms feel sweaty when you asked your junior high school crush to go bowling. And,… then she said yes! Heaven had opened it's gates. It's still fun. Even if you are both terrible bowlers.
And, just in case you think you may be too old for bowling, we included a video of senior bowling (above) for you to watch!

Start a Fire


No. Not arson!…. A nice big back yard fire. Better yet, at a beach that allows these. Or, in your fireplace at home. Roast marshmallows. Make s'mores. Hot chocolates. Roast hot dogs on a stick....  Enjoy each other's company in the warmth and glow of the fire.
Sing Karaoke Together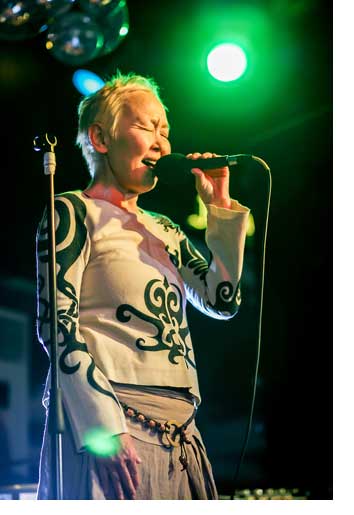 This is especially a good first date if you've both never done it before AND you are both terrible singers. That's right, terrible awful singers. Try singing a duet!
There's almost nothing more fun and nothing that can make you laugh harder. At the club, and, when you go for a late snack or coffee later.
Go to a Flea Market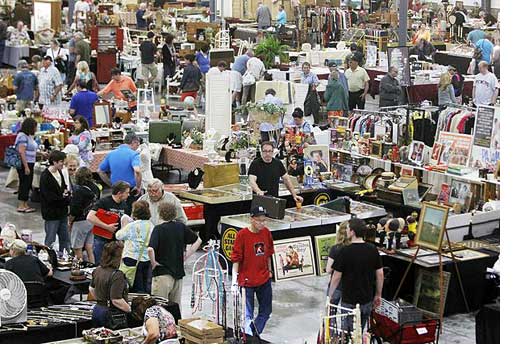 Why do we always enjoy looking at other people's old junk?
Because SOMETIMES we find a treasure in there!
A wonderful Saturday or Sunday afternoon first date that makes conversation easy.
A Dance Class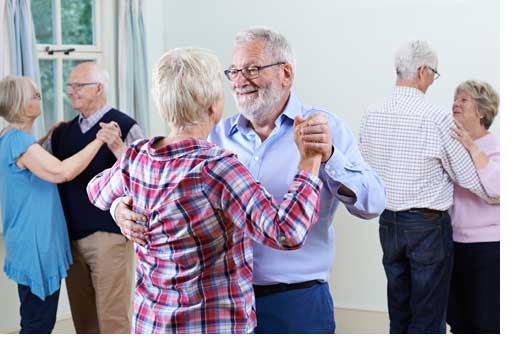 Dancing is a wonderful first date for senior citizens.
Even if you claim to have two left feet. A basic social dancing class is an easy activity for those who want to do something active and comfortable too.
You get to hold each other and move to the music. Undeniably gently romantic no matter what. You break down the touch barrier effortlessly and you'll learn a little something fun to boot. If you're really terrible, you'll have something that will always make you both laugh later.
Live Music


Some of us liked big concerts. Some, small clubs with a jazz band or even a smokey bar with Billy Joel at the piano (if you go back far enough).
Just a local casual bar or restaurant with a band or a piano player and a glass a wine is always a really good first date. Relaxed. Easy conversation. Good music.
Take a Brewery Tour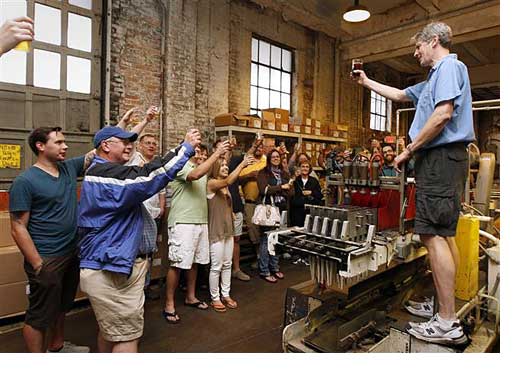 If you and your date both enjoy a glass of brew, try a tour at a local micro brewery. There are many hundreds across the country. You'll learn a little about making a good beer and you get to sample their wares along the way.
Get Lost Together (on purpose)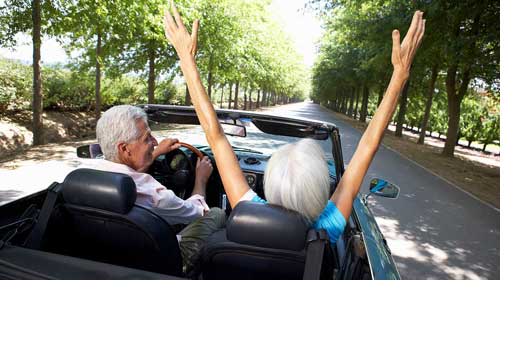 What's a good first date for seniors who want an adventure?
Get in the car, pick a direction and just drive until you want to stop.

Eat somewhere along the way that you've never eaten before. Check out the shops. Buy a souvenir. Just drive off someplace you've both never been. Even if it's not famous for anything.
This is a great anytime adventure!

Did You
Find One?


So, back to our original question: "What's a Good First Date for Seniors?"


Did you find one on our list?

Did you get inspired by at least one idea from the list?

We hope so.

That's all it takes! Just one good idea.

This first date is one you'll always remember. There's no need to stress out about it. All those first date ideas above, as simple as some of them seem, can be the start of something wonderful!

"Do You Have Any Special Advice About

Dating Someone New?"



Yes.

We care about all of you. Really. Putting this website together has brought us a lot of pleasure. And, your emails and comments have meant more than you know.

We realize it's probably been quite a long time since you dated. So, we just want to add a word about staying safe with your new date.


As in the rest of life, most men and women are good people just like you and me. This applies to dating sites too.

BUT, there are always the bad apples. And, these ones can make life miserable anywhere. You'll find they like on line communication because they can hide.

Being taken advantage of is especially true for men and women over 50. Mid life and older people like us may be smarter and wiser, but, we are also more prone to being taken advantage of because we are more lonely, trusting, and vulnerable. Don't let any of the rotten people fool you.

Here are a few tips:

#1)

Keep your personal information private. Don't give out your phone number or any other information until you have had many conversations and you feel the person is genuine.

#2)  

If a person sounds too good to be true, he/she probably us. Yes, we want some affection now. And, we deserve it. But, taking time and being prudent is always best when meeting and getting to know someone new.

#3
Take a LOT of time.

Although most people are genuine, we've all heard horror stories about men scamming women on dating sites. Women are scamming men too. It's a reality.

Keep personal information private. It's no ones business in any way shape or form.

#4

Don't buy into sudden situations that need your help. Those are almost always a scam.



Here are some other red flags to watch out for:

 -  If someone only texts and never calls. Drop them.

 -  If someone never keeps plans, no matter how believable the excuses may seem, forget about them. Move on.

 -  If he/she refuses to meet virtually first. FaceTime, Skype, Zoom, etc.

 -  Someone who comes on too strong and too fast. Take your time! If they seem in a hurry, run as fast as you can.

 -  Guys: If she's way too young, I mean WAY too young… run for it!

 -  If communication is inconsistent. If you can't call them…. There's probably a current spouse somewhere that you never heard about…

 -  Anyone who wants personal information. It's none of their business until after you're married.


 -  If he/she can't prove they live where they say they do.


This is THE BIG ONE:
If they ask for money for any reason, you can be sure you're a mark (the target of a scam).

 Especially if they've been overly nice and attentive. If they are taking all about your future together. If you are making life plans. They are "so in love with you". They can't imagine being without you. They may even come to visit you from a foreign country. Or, out of state. THEN SUDDENLY their mother, them, or their child needs an expensive immediate surgery…. They have no one else to turn to…. C R A P! Not true!

 How often this happens. It's so common that it's almost ridiculous. And, the lonely person gives them everything, just before the liar disappears. 

If you are asked for money, for ANY reason, no matter how much you want to believe that everything is true: Never Ever return another call. Never. Ever. Under any circumstances.





Jason Lee, a dating coach and communications expert, teaches older singles to always keep three things in mind when it comes to online dating sites:


#1  Trust your intuition.
#2  Protect your personal information.
#3  When in doubt, ask for help.

If you are using a dating site, and you have any concerns, the customer service department of the dating site is there to help you. You're paying them a fee. It is their obligation to help.

If they don't help you. Find another senior dating website.

Here's some more information from SilverSingles.com
Our #1 Advice

when

Dating Someone New



If you have any lingering doubts,
or, uncomfortable gut feelings:
Call the date off. Don't go.
And, don't continue communication with that person. The sharks can be tricky and smooth talkers. Trust you intuition. End the communication all together.

The Most Important Thing
is YOU!


OK. Great!

You have your new first date lined up.

You know where you're going and what you're going to do.

If it's going to have a chance for success, you need to remember one thing: Just Be YOU!


Remember: Just be yourself. If that's not OK for your date, then you're not with someone who is good for you either.


You are special



You are unique




You are just right for someone


So, relax. What's a good date going to be? Pick one of ideas above. Or, just use them to get your creative juices going. And then, have some fun!


And: Be patient. Don't worry if the first try is a complete failure. Maybe you'll find him/her on the first try. Or, maybe it will take a few tries with different people. If that's the case, Be Patient. And, keep trying. If you do, you'll find her/him.
CONCLUSION




Someone is wanting to find you
as much as you
are wanting to find them.
What's a good first date for seniors?

It's one where you both have some fun and get to know each other a little better. Just like that first date as a teenager.

The date doesn't have to cost a lot, as you can see from the list we put together. But, it should be refreshing, fun, and hopefully unique.

When we were making our "What's a good first date for seniors" list, we tried to give you some great ideas that everyone, even on a very limited budget, can use to have that great first date that leads to more. Hopefully much more.

And, remember, the most important thing when you're wondering:



What's a good first date for seniors?


What will make the best possible first date?


How do I make a good impression?



Here's the answer:

Just be Yourself!





Wishing You All the Best!  ~ William, Fiona, and Charlotte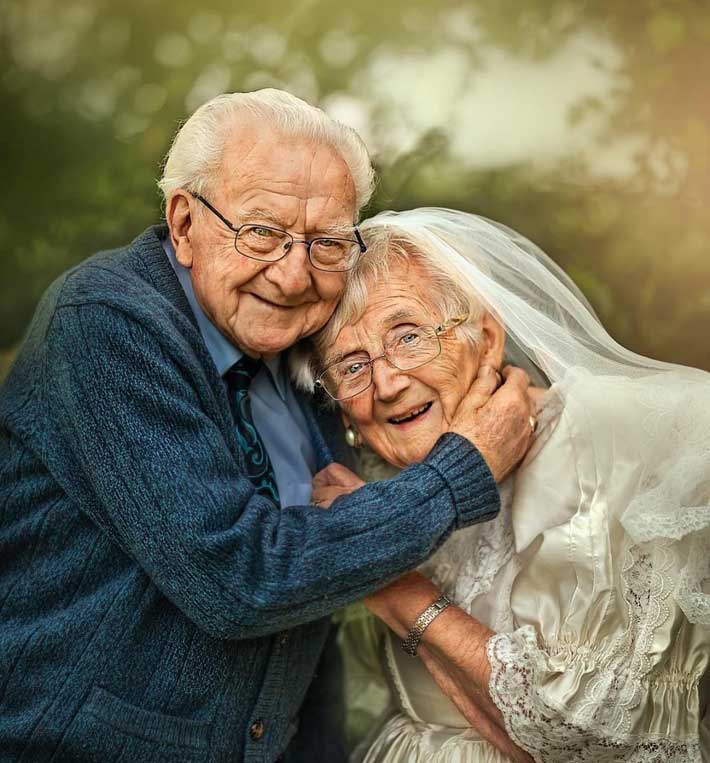 Senior Dating.... sometimes it leads to this!
go to: