easy
Line Dances for Seniors

with Free Video lessons



Here are 10 easy line dances for seniors
that you can learn in no time.
Here's What You're Going to Learn:

The Macarena (with a special lesson for those in a wheelchair)

Don't Miss Out on
The Fun of Line Dancing


Did you know line dancing is becoming more and more popular with senior citizens of all ages?
Why?
Because, even though we don't quite move like we did years ago, we seniors are realizing we can still have fun dancing. And, line dances are big part of that.
And, there are other Benefits!
BENEFITS
of Line Dancing


Are you thinking doing easy line dances for seniors is just fun? And, maybe decent exercise?
Well, they are. But, did you know there are many Wonderful Benefits to line dancing for us senior citizens. These include:


1.  Better cardiovascular health


2.  Greater muscular strength and endurance


3.  Improved bone density


4.  Better weight management


5.   Increased energy levels


6.  Improved flexibility


7.  Enhanced agility


8.  Improved balance


9.   Better cognition


10.  More opportunities for social interaction


11.  Lifts the spirit


12.  Builds confidence. Dance can make you better physically, mentally, emotionally, and socially.
ref: "12 Benefits of Dancing for Seniors"
And, take a look at this:
"A new study, published in the open-access journal Frontiers in Human Neuroscience, shows that older people who routinely partake in physical exercise can reverse the signs of aging in the brain, and dancing has the most profound effect." ref: "Science Daily"
Easy Line Dances for Seniors
are
Lots of Fun!


Yes, we can still dance as seniors. Even if we're quite old. Even if our abilities are a bit less than we'd like. We can still have loads of fun that we thought we would probably never have again and reap Amaging Benefits as well.

So, let's get started!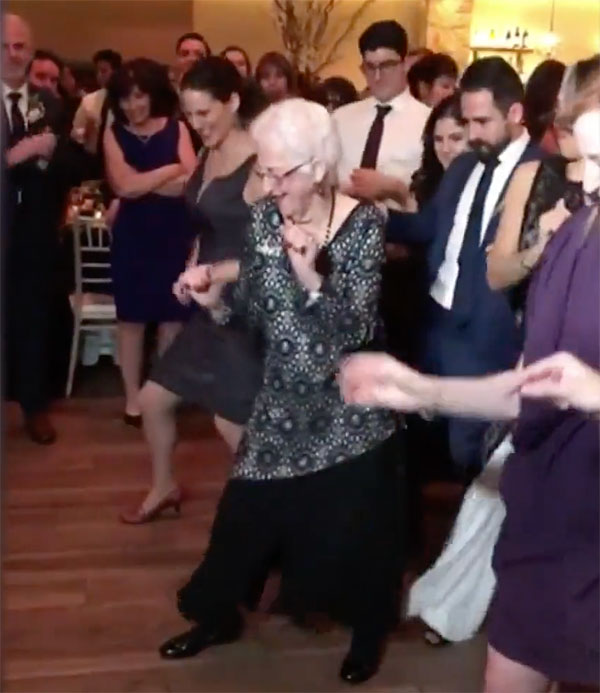 "The Hokey Pokey"


We're going to start out with The Hokey Pokey because it's one "line dance" (actually danced in a circle) you're going to find at virtually every wedding reception you go to. Also, every senior resort, senior community, senior cruise, etc..…
The best part about The Hokey Pokey is you need no lessons to dance this one. What you do next is in the lyrics of the song. The lyrics tell you exactly what to do and you can see everyone else doing it.
No one is too old (or too young) for The Hokey Pokey. Here's "Nana", 96 years old, doing the Hokey Pokey at her granddaughter's wedding:

"The Cupid Shuffle"


The majority of line dances come from country music. And The Cupid Shuffle is no exception.
The Cupid Shuffle can be danced to almost any song with a nice beat. It's super easy to learn and if you forget it, just watch the video one more time and it comes right back to you.
These girls make it look so sexy….. Don't worry. It's a lot simpler for us!

Here's a super good lesson from Robert Royston. He's a world champion of country dance and he makes the lesson entirely easy to understand and learn:
"The Cupid Shuffle"
Video Lesson:


Another wonderful feature of easy line dances for seniors is this: Line dancing is considered a "moderate cardio exercise". It improves balance. And, it is also a great social environment for us seniors. ref: Livestrong.com

"California Freeze"


Any Billy Ray Cyrus fans here?
Take a look a "The California Freeze". a relaxed and fun dance, danced to Bliiy Ray Cirus's "Achy Breaky Heart":
Now, we're going to start this series with a very simple lesson. It's very basic. Not a lot to learn. But, if you're just starting, this may be a handful and seem overwhelming. Don't worry. Don't say, "I can't do this stuff". OK?
If you're new to line dancing, or any kind of dancing, just watch Rob do this over and over before you even try it. Repetition is the key to learning to dance.
All of us who have been dancing for quite a while know that we learn the most, and the most quickly, by watching others dance.
Here, you have a very short lesson. BUT, if it seems too hard, here's the secret to learning any new dance, even your very first one: Do just the first few movements, maybe just 3 steps, over and over again until you are comfortable with them. Then ad 2 or 3 more. Then 2 or 3 more…..
If you will practice like this for even just 10 minutes each day, you'll get it. But, you have to practice each day. And, the more steps you learn, the easier it becomes to learn even more.
And keep this in mind: You can also practice you step to any music you like that has a nice beat. Using the same song over and over again can get very monotonous. So, pick songs you like, and keep changing the music.
OK. Here you go. The California Freeze:
"California Freeze"
Video Lesson:



"The Hustle"


I think we all remember doing "The Hustle". So, we are giving you this one second.
Dod you know "The Hustle" was the first modern line dance to popular music? This dance is so much fun that we still see 21 year olds going out to dance clubs with their friends to dance this great and super fun line dance. These are our grandchildren!
Here's a great Video Tutorial on line dancing the Hustle. It's not strenuous or too complicated. But, if you've never danced before it may seem a bit complex and overwhelming.
Don't worry. You have it here on Video. Take one move at a time until you have them all. You'll learn this faster than you think. And, it may bring back some very good memories:
If you want to slow the instruction down a little here's Zack to take care of you:
"The Hustle"
Video Lesson:



"Elvira"


"Elvira" a classic country line dance. It's also known as The Electric Slide. It may look a bit complicated at first, but, it's really easier to learn than you may be thinking.

This is what it looks like:
Here is the class.Your instructor is Margaret Gough:
"Elvira"
Video Lesson:



"Stray Cat Strut"


This is fun and easy to learn. Here's a group called "The Wolfliners" showing you how it's done:
And, here's the nice slow lesson from Patti.
Don't get frazzled when she says to do a "Jazz Box". That's a fairly simple line dance step that you'll be using over and over again. Watch her do it a few times and you'll get it:
"Stray Cat Strut"
Video Lesson:



"Cowboy Cha Cha"


This is another country line dance that you can either dance in line or with a partner. So, it' very versatile in any setting.
Here it's performed to the song "neon Moon" by Brooks and Dunn. A really beautiful song and it makes for a nice romantic partner dance too:
Isn't that a Beauty?
If you've ever done any ballroom style Cha Cha Cha dancing, you're going to love this and you'll get it in a flash.
If you're completely new to dancing, or if it's been a long time sine you've danced, don't worry. Brook goes nice and slow with her lesson.
About 2/3 through the Video you'll see her speed it up and dance it with her girls. Nice and smooth!
If this dance seems like too much at first, just learn the very first part. You can dance that over and over. Add more of the lesson as you become more and more comfortable:
"Cowboy Cha Cha"
Video Lesson



"Tush Push"


Remember the picture above of Granny Dancing? She was doing the "Tush Push"!

This one is high energy and lots of fun! Not as easy as the others, but, once you get line dancing for a while you'll pick this one up easily.

Take a look at the Line Dance Stompers doing it before you get to the lesson:
And, now here's a great lesson, that starts nice and slow, from one of our favorite online teachers, Brooke, who also taught you the "Cowboy Cha Cha":
"Tush Push"
Video Lesson:



"The Macarena"


No article on Easy Line Dances for Seniors would be complete without "The Macarena"!
The Macarena is a very popular party dance at weddings and other social events. It never goes out of style. It's fun, has lots of rhythm. Even if you're very shy or self-conscious about your dancing you can participate in this one. Because: Even if you do it badly, no one minds and you'll have a ball.
Now, for the Macarena we picked a Video of a "Flash Mob" Macarena. A Flash Mob Dance is where people pick a random spot outside, or, in a mall or supermarket and just do their dance. Take a look:
For Those With Some Mobility Disability

Did you know "The Macarena" is that it is a dance we can share even with those who have some mobility restrictions?

We're highlighting The Macarena because, if you're having a party or a gathering, it's a very popular up beat line dance that can be done by everyone at the party. Even by seniors who lack leg strength and need to stay seated or who are in a wheelchair.

Sherry is a fantastic instructor who is going to give you a GREAT easy to follow and learn lesson so you can dance the Macarena right from your chair. She jumps up in the middle of the song.
Don't Worry!
You can stay seated and continue on right from your seat:
"The Macarena"
Video Lesson:



"Conga Line"


Last on our list of The Top 10 Easy Line Dances for Seniors is "The Conga".

If you can walk, even poorly, you can have fun in a Conga Line.

The Conga Line shows up so often at weddings and parties just because it's fun and anyone who walks can do it. Everyone can participate (even if you've never danced). AND: You don't have to do it right!
Here's what I mean:
Have you seen that before?

Silly? Yes. Fun? Yes. Definitely. For everyone!

The actual dance is really quite easy to learn. So, here's how to do it right. Scroll up to about the 1 minute mark to get the actual dance lesson. It's so simple!
"Conga Line"
Video Lesson:


Easy Line Dances for Seniors

CONCLUSION



Easy line dances for seniors are fun and easy to learn.

Most of them can be learned quickly. Even by those who have never danced before.
There are just two things we want you to remember:
1)  The whole idea is to have fun. If you don't do them exactly right, it's OK.
2)  When you're learning these easy line dances for seniors, even if you want to learn just one of them, do it with a friend. Or, a few friends. It's not a dance competition. The mistakes we make together while we are learning provide a lot of Laughter and Fun!
Enjoy! ~ William, Fiona, and Charlotte
go to:
"16 Easy Dance Moves for Seniors"