Getting an
Easy Smart TV for Seniors


Everything you need to know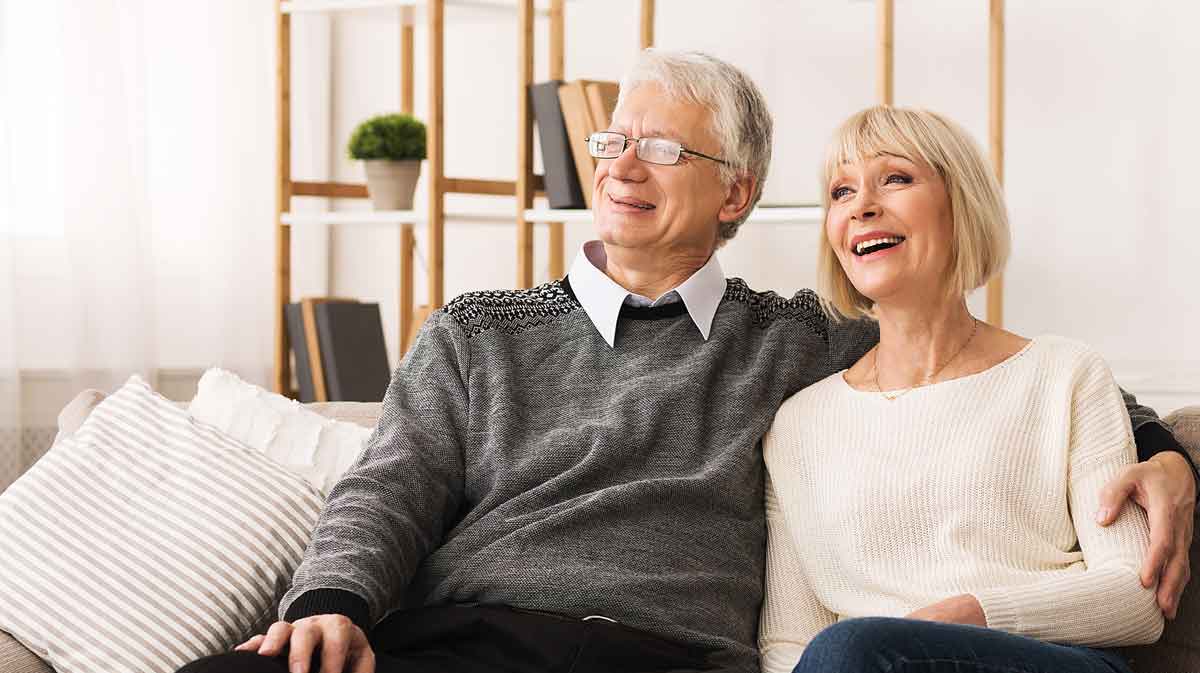 Getting an Easy Smart TV for Seniors, one that isn't complicated to use, isn't always that easy. Do you agree?

I'll bet, if you've already started looking for one, that it's been a little more confusing and complicated than you originally imagined. Am I right?

Well, you're not alone. This whole new world of technology can be a bit daunting to us seniors sometimes.

So, today we're going to show you the easy way to pick the best Easy Smart TV for Seniors. One that meets all your needs and desires at a price that doesn't break the bank.

The Very Good News: An excellent 55 inch Easy Smart TV for Seniors, with a beautiful picture and clear sound can be had for under $400.
Smart TVs
vs
Old Fashioned TVs


Old fashioned TVs were great. But, there is so much more possible now that they are on the way out. People are just not buying them anymore.

Old fashioned television only played whatever you could get from an antenna, satellite dish, cable, or DVD player. But, that was it. AND, you had a steep monthly feel for the cable or the satellite.

Smart TVs enable us to connect to anything on the internet. Just like smart phones and computers. This opens up an entire new enormously wide world of options and apps for our enjoyment.

They are also easy and more convenient to use once you learn the new functions.
What You Can Do
on
A Smart TV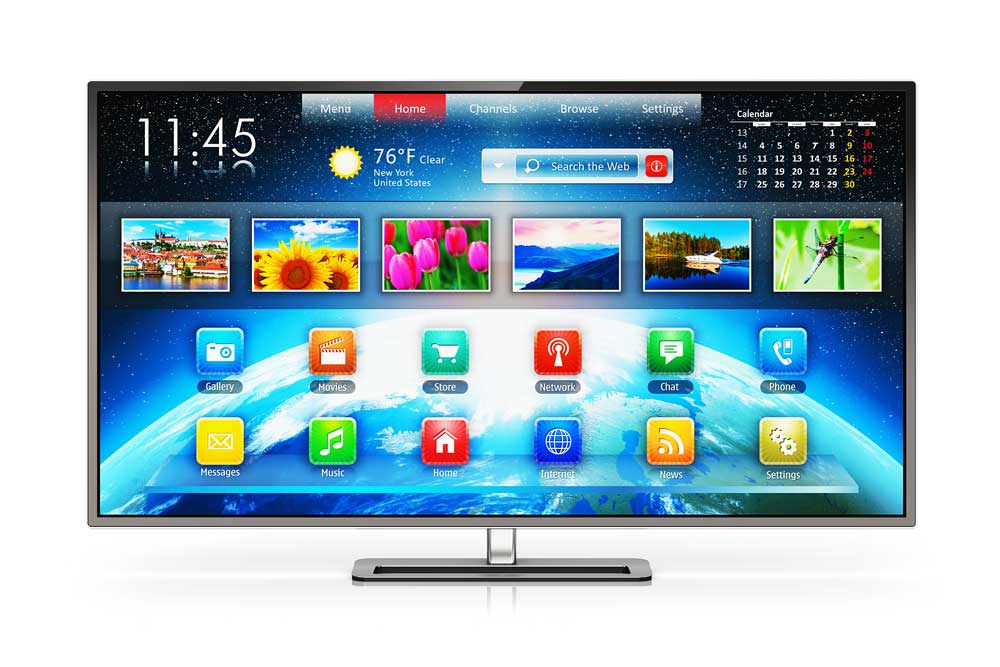 Most of us seniors don't realize just how much a TV can do these days.

With an Easy Smart TV for Seniors we can:

Stream Videos (movies) on Netflix, Amazon Prime, and HULU to name only a few

Check your Social Media (like Facebook)

Check and Control very convenient connected devices like:

Doorlocks
Doorbell Monitor (see who is there without going to the door)
Light Bulbs
Electric Wall Sockets
Security Cameras
Watering Systems (for your garden)

and more…..


You also can have:

Voice Recognition

I LOVE this feature! Talk about easy! You control your TV just by talking to it. Like talking to a person. You don't need to use the remote control which is hard for some seniors to read.
Smart TVs
Keep Getting Smarter


Want more?

Easy Smart TVs for Seniors are getting smarter and smarter. It's almost scary!

When we seniors were kids, and our parents wanted to change channels, we kids were often "the remote control". Remember that? Dad wanted to watch the news and he simply asked (or told) one of us to get up and turn the dial. Right?

Well, besides the practical list above, here's what else an Easy Smart TV for Seniors can do:


Identify the actors in the movies, and even


Pick out the clothing on the actors (no kidding!), and give you the option to buy the same thing


Pull up info and trivia from sources like IMDB


Share content to and from your mobile devices


Nice! Right?

A Smart TV has become the central control device in many connected homes. It can provide control of a full household of connected devices. You can control a wide variety of devices all from the TV. And, this will be easier and easier to do as time goes by.

It just keeps getting better and better.
Do We Need
ALL The Features?


Do we seniors need ALL the available features available on an Easy Smart TV for Seniors?

Probably not. And, it's the complexity of so many things that usually makes a lot of us too confused and frustrated while shopping. Am I right? These modern tech things can sometimes drive me crazy! We want this new TV to be easy and fun.
Here's a case in point:

I was recently shopping at Walmart and decided to browse the TV section to see of there were any new models that would be a better Easy Smart TV for Seniors..

There was a salesman trying to sell a senior couple a very expensive one. He was explaining all the multitude of features it had in order to try to make it seem like the best choice. He started talking about 4K, Gaming, Dolby sound, etc.... I could see the couple was getting a little confused and ultimately they walked away without buying anything.

I've seen this happen over and over again with senior citizens.

On this particular day I took a rather bold step and went over to the couple. I introduced myself, and asked why they did not purchase. They told me it was too complicated and seemed too expensive ($2,700) and that all they wanted was an easy Smart TV for seniors that they could use easily. And, not pay the astronomical price the salesman was talking about.

Instead of easy, the salesman can make it seem terribly complicated. Especially for seniors who are not very familiar with computer tech.

It doesn't have to be difficult at all. It can be, and usually is, quite easy once we learn what to do. And, as seniors, most of us don't demand too much from our Smart TVs. Paying $400 is plenty and we can get a very nice set for that price with a nice large screen.

Survey:


The 5
Most Important Features

We Seniors Want



There are so many features and options available in Smart TV, that overwhelm while shopping is very common. How do we choose?
With this in mind, we decided to find out what seniors want most in a Smart TV so that we could help to make your shopping easier. So, we sent a simple survey questionnaire to 125 of our readers. 98 responded.

The Survey was titled: "What Are The 5 Most Important Features You Want in an Easy Smart TV for Seniors?"
There was also a blank space where our seniors could add any information they thought might be helpful.
Here's what they told us over and over again:


"Our main issues, when it comes to television watching are poor eyesight
and hearing deterioration.
These things can make it difficult to enjoy TV."

And, these are the 5 things they almost all agreed on were the most important features of an Easy Smart TV for Seniors:
#1  A Large Screen



A BIG screen is FUN! Much more like going to the movies. Right?

Also, as we all know, many seniors have some vision issues. It's just part of getting older. So, a larger screen is a big plus.

We don't need to get an enormous movie theater screen. But, a 43 - 65 inch screen is a LOT easier to enjoy than an old fashioned 23 inch. Especially when we forget our glasses.
#2  A Very Clear Picture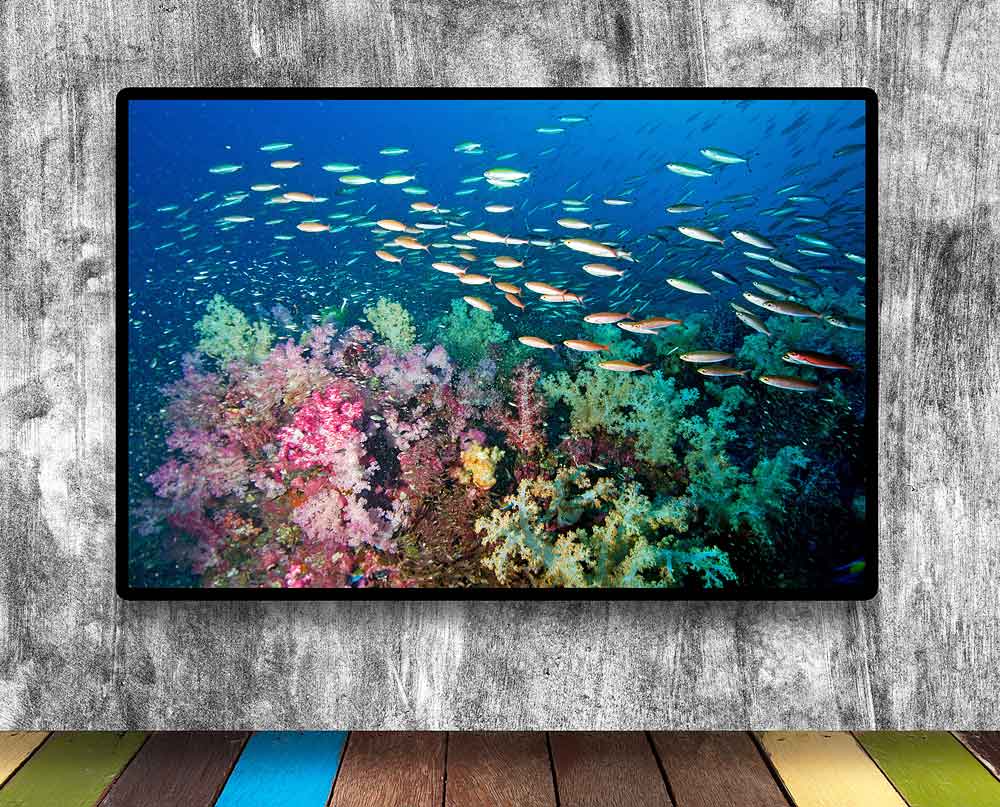 The clearer and sharper the picture, the more enjoyable it is going to be for the eyes of aging seniors. Older TVs didn't have the sharpness and clarity of the newer TVs.

Now, if you bought a flat screen TV in that last 10 years you probably bought a TV with 1080 HD output. That's still pretty darn good.

The newer TVs go all the way up to 4K output now. Without getting too technical, all this means is 4K has 4 times the resolution of 1080. That is because 4k has four times as many pixels as 1080. 8,294,400 pixels for 4K vs 2,073,600 pixels for 1080. And, the sharpness and resolution of this new standard is quite astounding! especially with todays larger screens.

You can get a fantastic 55" easy smart TV made by TCL, online from B&H Photo Video, for $549.99. This is the model: TCL 5-Series S535 55" Class HDR 4K UHD Smart QLED TV
This TV is actually our #1 seniors pick.
Why buy it from B&H?
Simply because B&H has the absolute best customer service of any photo, electronics, and video dealer in the entire United States:
It's easy to get a real person on the phone.


Shipping if fast and dependable.


If you have any problems, they handle them immediately.


And, if you need to return an item for any reason, they give you very courteous friendly service also.


If you use their credit card (which has no yearly fee) they will also pay the sales tax on whatever you buy.
Personally, I have been buying from B&H for 42 years now (They have been in business since 1973). I buy all my photo gear and electronics from them. I even bought my current MAC computer from them (I saved $400).
ALL the major stores will give you the same price. The difference is: B&H will give you the old kind of personal friendly service that we normally miss these days.

#3  Good Clear Sound



Good sound quality is probably the thing most of us seniors will be missing. Our ears, just like our eyes, are not always quite what they used to be. And, even if yours are still great, the sound coming out of a flat screen TV always leaves something to be desired because big deep speakers don't fit in these flat cabinets.

An auxiliary speaker system, even a cheap one ($40) can greatly improve the definition and clarity of the sound and improve your viewing experience.

You don't need to get a whole "home theater" sound system. Just some size for good sound. A device called a "sound bar" is low profile and can be quite inexpensive.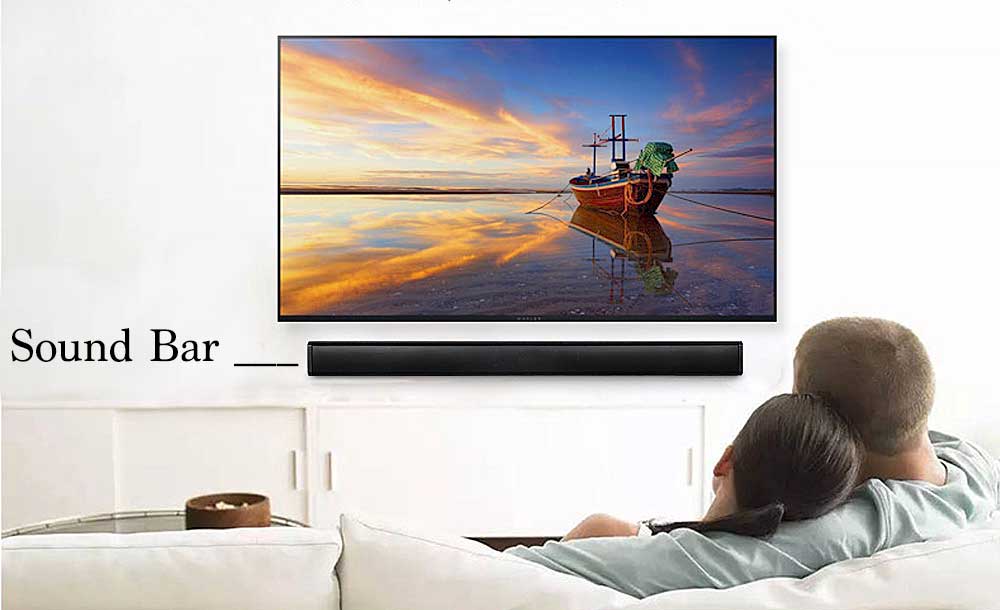 #4

  An Easy to Organize
Menu


The "Menu" is the first thing you see when you turn the TV on. Just like going to a restaurant! It's where you pick what you want to do or see.

The Menu should be easy to navigate. This is a BIG part of the "Easy" in an Easy Smart TV for Seniors. The Menu should be simple and straightforward. All the Apps and functions should be easily accessible. And, everything should be large enough and easy for us seniors to see.

In the case of an Easy Smart TV Menu, "Less is More". The simpler the better.

Even if you are challenged on the computer (as I am), and you are constantly asking your 9 year old grandchild to show you what to do (like I do), a simple Easy Smart TV Menu becomes quite easy to navigate in a very short time. Just keep the kid handy….

We seniors also want nice big icons that are easy to see and navigate.

When you are shopping, have the salesperson show you what the menu on the TVs you like best look like, and, how they work. Try using the TV in the store while you are there talking to the salesperson. Use the remote. See how it feels. See if it is easy to use. If not, move on to another model.
#5  Price Under $550



Well yeah. Most of us seniors don't have cash just pouring out of our pockets as we walk, and, we spent a large part of our lives earning what we have. So, we don't want to waste it.

There is no need to spend over $550 on a 55" Easy Smart TV for Seniors. $300 - $400 is normally plenty for a 43 inch size set that is easy to use and easy to see. Add an auxiliary speaker set for $40 or so and you're going to be in TV heaven.

The $4,000 8K sets with all the bells and whistles…. not worth it.


That's it! Those are the 5 most important things our seniors told us they want in an EASY
Smart TV for Seniors.
What Are The Main BENEFITS
of
An Easy Smart TV for Seniors?


The first main benefit of an Easy Smart TV for Seniors is access to movies, tv programs, music, etc… without the need for a cable of satellite service.

Then, there is voice activation. Lots of fun. Easy! You just tell your Smart TV what you are looking for and it finds it. This is also an especially nice feature that makes it very easy to operate the TV for seniors who have trouble seeing the remote well, or, for those with manual dexterity issues.
What Are
The Best Brands?


After dozens and dozens of hours of shopping and comparing, we still find SONY to be the best. It has been the industry leader for many years.
TCL and Samsung make very good models at the best prices. They were the two most popular models in our seniors survey. You will see more information about these two at the bottom of this article.

If you need a really simple easy smart TV for seniors, TCL TVs fit the bill very nicely. And, everything you will probably want (including ROKU) is already built in. They are not as well built or as loaded with features (which also makes them easier to use), but they are inexpensive and a a great value.
How Much
Do They Cost?


The price range varies dramatically. And, they can get very expensive. Over $4,000!

However: It's easy to get a very good 50 inch Smart TV, even with the new ultra clear 4K output, for under $500 that has a great picture and very good sound. As you get larger the price rises quickly. The same quality set at 65 inches costs $997. A steep jump up!

50 inches is plenty large enough. The favorite TV in our home is only 43 inches.
What About

Extended Warranties?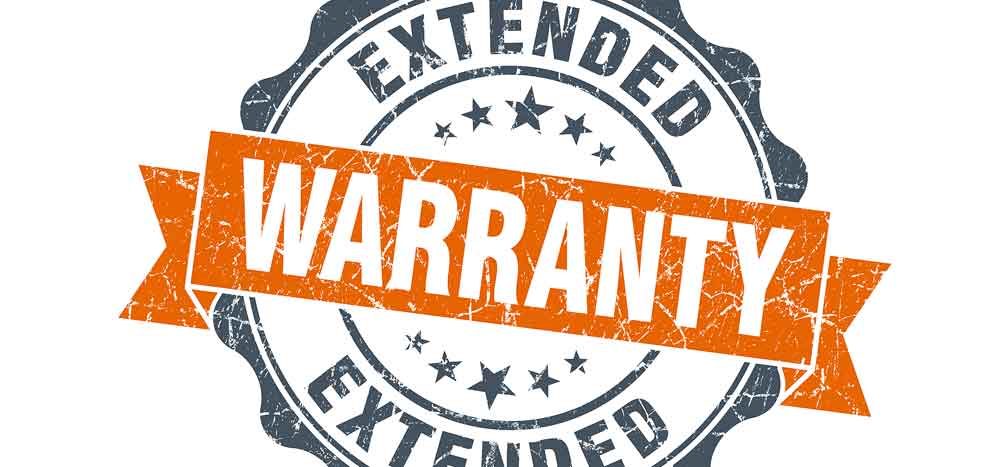 Save Your Money.

Have you ever noticed that large stores which sell you any kind of electronic item, appliance, or lawnmower always ask if you want to buy the extended warranty?

Why?

Because this is the area where they probably make the most profit. Yes, the most.

Why?

Because these warranties are rarely needed. Especially for flat screen LED TVs. Interesting, right?

Most of the components and inner workings of a modern HDTV are very resilient. Even the fine LEDs used to make the brilliant pictures are quite shock proof.

If you get a bad set, a lemon even, it will usually be apparent within your first few weeks of using it. Probably much sooner.


 Most of the major stores have a 30 return policy. So, you can just bring it back and exchange it in that time period. Simple. Easy.

Beyond that, most manufacturers also offer a one-year warranty with the set.

On top of that, many credit card companies have price protection policies. So, you may want to contact your cc company to see what they offer. That will also help you decided which card you want to use.
Not All Smart TVs Offer
All the Services


Most people, young and seniors alike, don't need every service available.

Not all the Smart TVs are the same. Because Smart TVs are relatively a new thing, not all the manufacturers offer all the features and services. Don't concern yourself with this when picking the model you like best.
Why?
Because all the major brands catch up with each other pretty quickly. And, the newest services almost always download automatically into the Smart TV you have chosen before too long.

Different manufacturers offer different operating systems that control the TVs. They all offer some, many even most of the apps and features. But, each will have their own selection of what they offer. And, how you can access everything differs from set to set.

So, when you are considering which TV will be best for you, think of all the features that may be important to you. Personally I don't need a lot. I like streaming movies, seeing who is ringing my front doorbell, and looking at pictures and videos from my smartphone. Also, I LOVE voice command! Simple. Right?

Decide what YOU want. Maybe you're a gamer and like video games. Maybe setting the thermostat, turning the lights on and off, and controlling all kinds of household devices is something you want… Or, maybe like us, you just want movies with easy viewing and convenience. And, you want to stop paying that monthly fee for satellite or cable connections. It's all about what YOU want.


*note:  Don't worry too much if you find your favorite TV doesn't have every single feature. If one major company adds something, the other major companies generally follow shortly.

Even when there is a delay, it usually gets worked out with the software and firmware updates in a fairly short time. So, we suggest getting the model that has the picture quality you like best.
"How Do I Choose
The Right Smart TV?"


There are so many brands that it can be mind boggling. So, what is the best Easy Smart TV for Seniors?

Go to a large store, that has a large selection of Smart TVs, like Best Buy, Sam's Club, Walmart, Macy's, etc… Better yet, go to a few of these stores.

Look at the TVs that are playing something as you are there.

Then: Find a salesperson and tell her/him what features you want. Have her explain which models have all these features. THEN: Ask what other features are available that you might enjoy, and, which TVs have those.

Don't forget to watch the TVs you are thinking about while you are there. TAKE YOUR TIME. Look at the picture quality. See if it pleases you. Listen to the sound. They're not all the same.

Ask if the ones you like are easy to hook up.

If setting it up seems too complicated, most stores have a service (for a fee) where they send a technician out to set everything up for you. Ask if the service is available where you are shopping.

Once you get all of that settled, you're ready to get the one that will be right for YOU!
Finding the BEST Easy Smart TV for Seniors means finding the one that fits your needs and desires and your pocket book the best.

"How Can We Get
The Best Price?"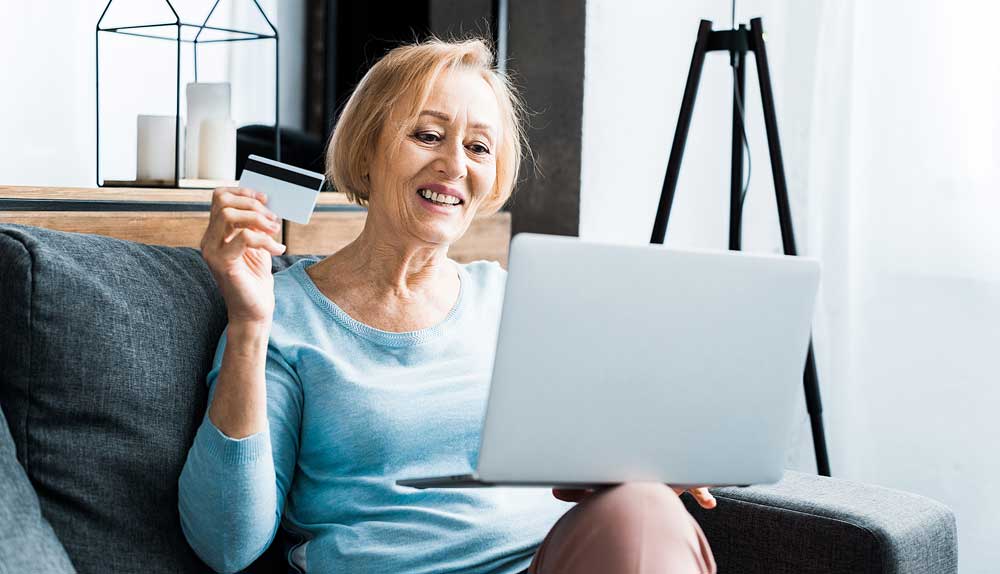 If you're willing to pay full price, you can get all the features you want right now. No waiting.

However:  If it is not currently a Holiday, and you don't need your TV right away, you can almost always get a better with the "Holiday Sales". And, there are always Holiday Sales.

All the major stores usually offer some GREAT sales on TVs at Holiday time. And, here in the USA we have a LOT of Big Holidays. So, whatever day it is, you won't have to wait too long.

And, you may also be able to get a bigger better TV at the price you were willing to pay for the smaller model.
If you are shopping on line (after you've been to the store to try them out), we have three listed at the bottom of this page. The first two were the most popular choices in our seniors survey. The third is simply the very best one there is.
The links we provide, with the pictures and descriptions, at the bottom of this article will take you to Amazon where you will get the very lowest price we could find on all three of these models.

"What About
Hooking the Whole Thing Up?"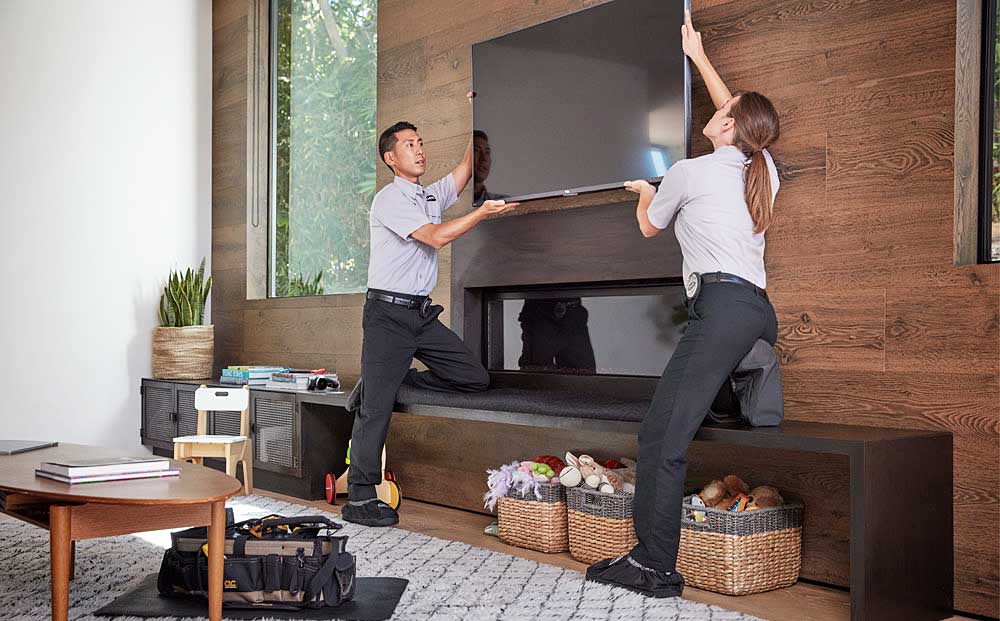 I am a "Non Techie" senior citizen. I am tech challenged (that means, not so good at anything tech). From the stone age. I am just not that technically oriented and I don't really want to have to learn most of it. Like most of today's seniors, I grew up with Black and White TV. My nine year old neighbor shows me how to operate most tech functions these days….

Still, I wanted all the fun and convenience of an easy Smart TV for Seniors.

So,… I used "The Geek Squad" from Best Buy to set mine up. (I didn't even read the manual.) It cost me $149. Not cheap. But, for me, worth the savings in frustration and aggravation. Most large stores have a similar service available.

Here's what the Geek Squad did:


Unboxed everything


Attached the stand


Put the TV where I wanted it (wall mounting is extra)


Connected all the pieces and internet


Programed my remote


Set up the voice command control (way fun!)


Connected 2 streaming services (my choice: Netflix and Amazon Prime)


Made sure all the wires were neat and not a horrible looking mess


Showed me how to use everything


Now, even for me, it's F U N and easy to use!
"Which Companies
Make Smart TVs?"


Every major TV manufacturer is now trending toward making their TVs "Smart".

Why?

Because most consumers (not just us seniors) now want the luxuries and ease that a Smart TV offers. The convenience. The FUN. The savings of not paying for a cable or satellite dish each month. The ability to use voice commands and not have to play with all the buttons if you don't want to…..

The list of manufacturers includes:


Sony
Panasonic
LG
Samsung
Sharp
TCL
Toshiba
Vizio
Hisense
Philips



Budget friendly Smart TVs from TCL and Hisense offer built in ROKU.

Most of the manufacturers will boast about having the latest and greatest Smart TV features. But, you'll need to watch out for some of the budget off-brand TVs that vaguely mention their Smart TV capability.

These "bargain" off-brands may have below normal performance, limited App selection, and possible security holes. That is why we always recommend staying with one of the major manufacturers.

"How Do Smart TVs
Connect to Everything?"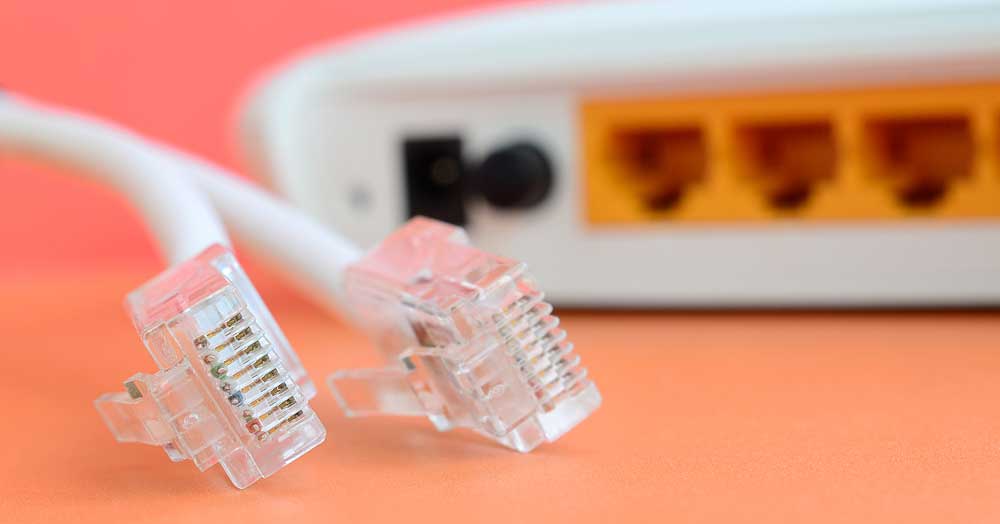 A Smart TV connects to the internet just the same way your computer does. With either an Ethernet cable of WiFi.

Then just like your smartphone, you choose your Apps (the services you want). You will have pay for the ones that are not free.

It's not all paid subscription services, however, with a growing number of ad supported free streaming services like PlutoTV, Tubi and Crackle.

You'll still have free access to all the free television stations an old fashioned television does if you use an antenna.

What about all the household gadgets like lights, thermostat, front door cameras, door locks, etc...?
Appliances and other electrical devices have special "receivers" that get WiFi signs from your Smart TV.  You have to buy the special receivers and door locks, etc. But, there is no monthly charge for these things once you own them.
"Will a Smart TV
Regularly Update By Itself?"


Yes. Provided you turn on the "update automatically" just like you do on your computer.

Just like the Operating System in your computer (for example: Microsoft Windows is an "operating system"), Smart TVs regularly update their software and firmware to make the systems run smoother, add features, and make the system more secure. This is done right over the internet, just as it does for your computer. Usually late at night.

Smaller TV brands are not as quick to update and not as efficient with the processes. So, as we said before, at this point in time, it's wise to stay with major brands.

In the long run it pays to stay with a major brand like Sony, Samsung, LG, etc… We pay a bit more for these than the "bargain" brands, but, we get the best updates, customer service, and reliability for the extra dollars spent. Part of the "EASY" in Easy Smart TV for Seniors.

I'm old. Well, not that old (69). But, old enough not to want to have anymore unnecessary aggravation. So, I bought a major brand and I have never had to worry and complain.
"Can a Smart TV
Crash Like a Computer?"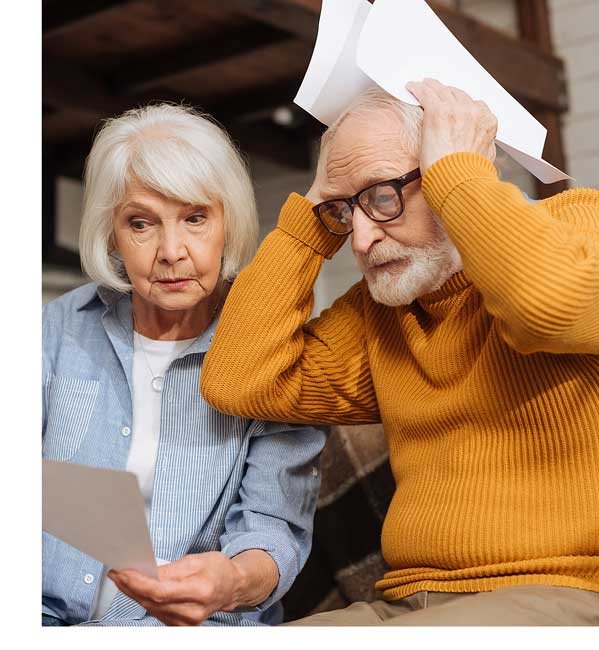 Unfortunately, yes.

As Smart TVs take on more functions (that were once strictly on the computer and smartphone) there is the risk of hanging up and/or crashing. Because it is electronic, even the very BEST Easy Smart TV for Seniors may occasionally get stuck.

Fortunately, if this does happen, most of the time the issue can be resolved just by turning the TV off, waiting 30 seconds, and then turning it on again. Simple.

These problems are far more apparent in the low-end "bargains" that usually don't have the superior power,  hardware, and software of the major brands.

I find most of us seniors just don't want that grief. So, even though a major brand may cost more than the "bargain" brand, it's worth it for the lack of aggravation as time goes on.

Remember:  All the brands are competing for your dollars. The majors all try to have the best systems. The "bargains" try to be the cheapest ones and make us think they are as good as the better ones. They simply are not. What you save on with the "bargain" brands, you may pay for triple with aggravation.
"Aside From Apps
Do Smart TVs Have Other Benefits?"


Yes!

Lots of fun stuff for us seniors!
First:
Voice Command



One of my very favorite features! This makes you feel quite like royalty. You just talk to your TV. It then carries out your command! We mentioned the voice command feature earlier on. But, here's a little more detail.

Voice searching is as easy as speaking. You can access streaming services, live TV, weather, the latest celebrity "news", stock prices, etc… with ordinary speech. You can even order a Pizza or an Uber! All from the comfort of your own easy chair or couch. No need for the remote. Just speak!

Some models come with voice command built in. Other models require you to get an Alexa accessory for about $50.
ROKU features voice command with all their streaming systems.

Share Your Photos and Videos



Many Smart TVs let you share your photos and videos from a connected smartphone on the big TV screen. And, if you haven't yet tried this, it's fun!
Great Sound!



One of the newer, and best features for seniors, is the great sound you can get with some easy to attach accessory speakers. Like the "Sound Bar" we showed you earlier.

Built in speakers are OK. But, if you need a little clearer sound to understand the audio easily, a "sound bar" or other external speaker is a great help. Prices start around $40.

There is of course the option to use headphones if your spouse is sleeping.

ALSO:  Sony and LG are offering Dolby Atmos (sound enhancement and higher definition) on several models. So, with these, you not only get some superior sound, you can use your Smart TV as the home stereo system too. It makes streaming music from online radio stations a very easy and nice experience.
Gaming



You will find online "gaming" available on many sets. The games are not as complex and advanced as say PlayStation or Xbox games. But, they are fun and often quite addicting.
"Will I Need to Buy
Anything Else?"


That's a very good question that we are frequently asked when our readers are looking for the best Easy Smart TV for Seniors. Is everything included in the box?


Yes:  If you are table mounting the set and you like the speaker sound it has built in.
No:  If you want better sound, and/or, you want the set mounted on the wall.


The new flat screen TVs have the most wonderful pictures ever. Right? So far superior to the old television sets we all knew.

BUT, the sound is never that amazing. It hasn't kept up too well in improvements with the great new picture quality. The reason for this is that the flat housing of the TV just has no room for large deep speakers.

No problem.

There are many supplementary speaker systems you can get, right at the store you get the TV from. And, the most popular type is called a "Sound Bar".
As far as sound goes:  We suggest getting ONLY the TV first. See if you like the sound in your home. If it's good for you, don't bother getting the extra speakers. If you don't love the sound, or can't hear it well enough, a supplementary speaker will make a huge difference.
The second extra you may want is wall mounting brackets if you want the set mounted on the wall.

Can You Make a Regular TV
a
Smart TV?


What if you have a modern flat screen TV (or, if you recently purchased one) can you make that into a Smart TV?

Great question!

Yes!

There are many accessories available that will turn a regular TV into an Easy Smart TV for Seniors.

There are two accessories that are dominating this area. They are a "ROKU" and a "Fire TV Stick". Both work great.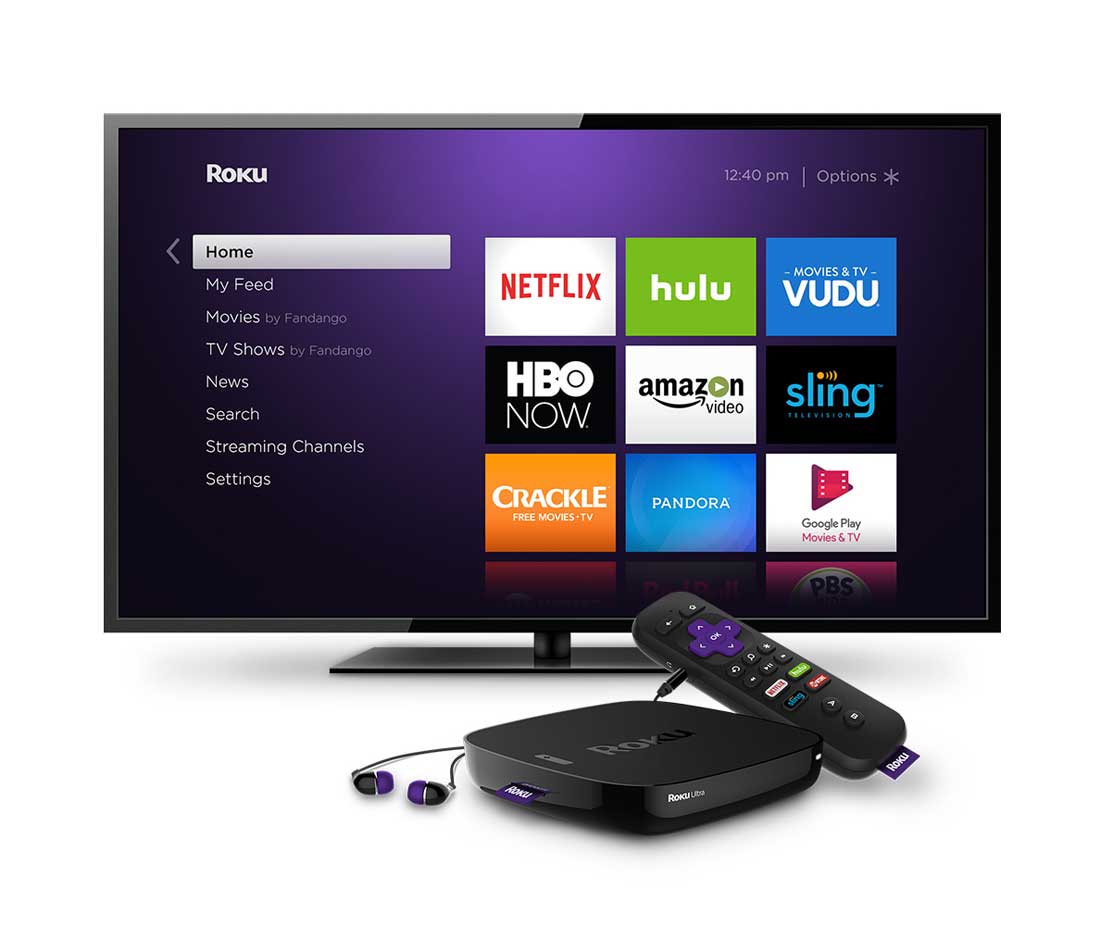 Other streaming options include:


Chromecast with Google TV
Nvidia Shield TV (2019)
Amazon Fire TV Cube
Apple TV 4K
Xbox One S (for streaming games)
TiVo Stream 4K
Xfinity Flex

But, these other services are usually for more specific applications, more complicated to understand, need more "tech" ability, and not a great place for beginners or us seniors to start.
"Which Streaming Device is Better,
ROKU or Fire TV Stick?"


Let's compare the two most popular streaming systems that can turn a regular TV into a Smart TV.

Almost every senior we asked likes ROKU better for the simple reason that it is easier to use.

ROKU will boot (start) right to the home menu where you can see all the apps you have downloaded. The app store is visible immediately. It is incredibly simple to use.

For those of you who are "tech challenged" (don't understand tech well at all) like I am, this is a major plus and the reason my wife and I chose ROKU in the first place.

ROKU also offers more options than any other accessory or any Smart TV on the market today.

Fire TV Stick is also relatively easy to use, BUT, it does place an emphasis on everything Amazon Prime. Everything else takes a bit more skill and know how to find.

ROKU has the most channels and playlists of all kinds of things. Like "Old Western Films" , etc… Amazon doesn't have this.

ROKU also has "The ROKU Channel". It's a free streaming service that has ads (commercials). But, it's free. So, you don't have to pay for all kinds of app subscriptions.

Both systems come with a remote control. There is a built in microphone so you can use voice commands to get where you want to go. You can see how easy this is here: "What voice commands can I use with my Roku device?"
"Which is Easier
to Use?
ROKU or FIRE?"


It's a little easier to find what you are looking for on ROKU. That is the other reason we went for the ROKU.

ROKU scans a very large number of streaming services and lists them by price with the ones you subscribe to and the cheapest ones up front. It's a great set up that can save you lots in the long run.

And, a Great Feature:  You can rearrange the Apps on your ROKU screen in order of your personal preference. You can't do this with FIRE.
Here is a VIDEO that shows you how easy it is to connect a ROKU:
Here is a VIDEO using the Fire TV Stick:
"Which One
is
Cheaper?"


They are both about the same.

Both ROKU and TV Fire Stick have different levels of service. The basic is currently $29. The most expensive is $99. It's a one time charge, so, if you have the extra dollars we think it's worth the splurge for the best ones.

If not, the basic systems are all you may want or need. And, you'll still have a great user experience.

You can find all the selections on Fire TV Stick. BUT, they always put emphasis on their own selections. ROKU has no bias.
"How Does a ROKU
 Compare to an Easy Smart TV for Seniors?"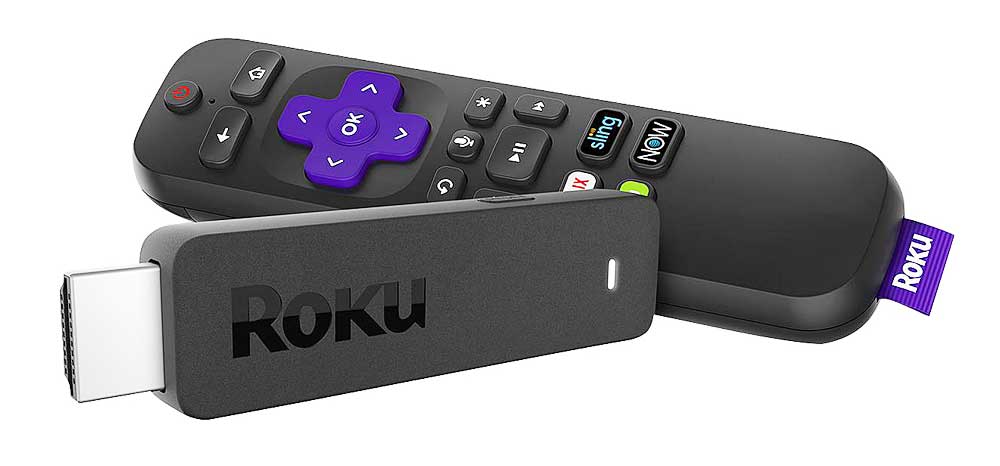 ROKU Streaming Stick
with Voice Command
This is a GREAT and important question. Especially if you already have a good modern flat screen TV.

If you already have a fairly recent Flat Screen TV (less than 10 years old with 1080 HD) you don't need to buy a whole new TV to get an Easy Smart TV for Seniors.

As you just learned, all you will need is an easily attachable streaming device (like the ROKU).

Is buying a Smart TV any better than buying a streaming device?

For most of us seniors, NO.

Really.
Here's a similar example: Why buy a brand new car if you have a good recent model that only needs a better stereo system? Right? It's the same idea with an Easy Smart TV for Seniors.

We don't need to buy a whole new Smart TV if we have a fairly recent flat screen model with a 1080 picture already.

In fact, the ROKU Streaming Stick+ delivers thousands of channels and Apps and offers more options that any Smart TV on the market today. And, yes, it has 4K streaming ability. Cost? Currently, only $39.99.

All the seniors I asked, who use one, just love it.

So, if you have a fairly recent HDTV, but you want the services of an Easy Smart TV for Seniors, getting a streaming accessory like ROKU or Fire TV Stick is usually the most prudent and easy thing to do.

On the other hand, if you have an old TV, with Rabbit Ears and aluminum foil for an antenna (remember those?), yes, you will need a new TV for streaming. And, you might as well get a Smart TV because they are going to have all the latest technology built in.
"Should I Buy a Smart TV
or
Cheaper TV and a ROKU?"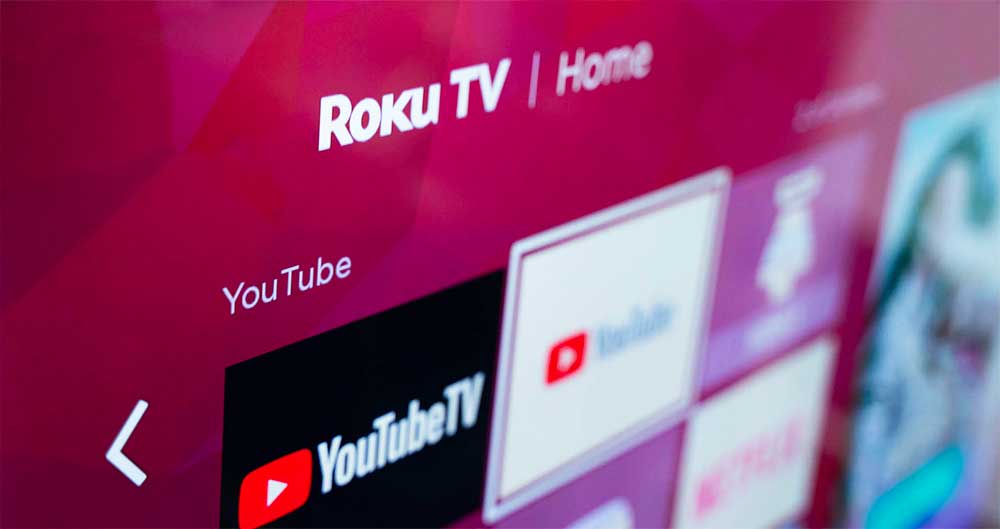 If you're wanting to buy a new TV,  Smart TVs cost more than comparable ones that lack the smart services.

HOWEVER: The price difference is is quickly becoming less and less. Most all of the sets will soon have smart services built in.

The price difference can also be deceiving. The better TVs offer better picture quality. This is important when you are buying a very large screen TV.

They also offer better processing, and more convenient features. Like more HDMI ports on the panel for more convenience and greater ability to use multiple connected devices.

In 2021, you probably can't even find a 4K TV that doesn't have smart capabilities and the ability to connect to the internet. And, you can now find good 4K sets for under $600.

Still, a good 1080 HD Smart TV for us seniors, or anyone else, is fantastic and we can get a really nice one with a 43" screen for under $400. With a 32" screen, for around $200.


* note: Unless you are getting a monster 10 foot screen, you don't need the 4K to get an amazingly good sharp clear picture.
"Can a Smart TV Be Hacked?
Or, Contract a Virus?"


Yes. Just like a regular PC computer can. This is because you are using an internet connection.

Most of us seniors are not too tech savvy. We don't realize there are villains out there who want our personal information. And, that they can get it from us when we use tech devices like computers, smart phones, and Smart TVs.


Once we get used to using our Smart TV for a variety of things, we will be tempted to use it for everything we can.

DON'T.

Most smart TVs run on a version of Linux (the operating system. Like Microsoft Windows). This is a popular operating system that hackers know how to get into very easily.

To be secure: avoid doing anything on your Smart TV that you wouldn't want the whole world to know about. Like: banking, shopping, Facebook, or anything that requires personal information.

Most of us seniors don't realize Smart TVs are not as secure as even the common PC computer.

It's very prudent and wise to use your Smart TV ONLY for viewing and listening pleasure. Send no personal information on it. Ever.

And, if your TV comes with a built in camera (not very common now), make sure it has a physical lens cover. You don't want anyone watching you. If there is no lens cover, a simple piece of black electric tape will cover it nicely.
Can a Smart TV
also
Get Local Channels?


You bet!

A modern Easy Smart TV for Seniors can do everything an old fashioned TV can do.

A lot of us seniors still enjoy our old fashioned television programs. Right? Smart TVs aren't any different from regular old fashioned ones in this respect.

If you have (and decide to keep) cable or a satellite connection you will continue to receive the same stations.


If you don't have or want cable or satellite, but, you want regular TV stations, you'll need some kind of antenna to pull in the free over the air stations that we all know.
Most Radio Stations stream their broadcasts live online now. Unfortunately, television stations have not yet followed this service.

Still, a number of television channels do offer their own streaming Apps. And, many popular shows can be found on the Apps like Netflix, Amazon Prime, and HULU.
"Does The Smart TV
Have a Better Picture and Better Sound?"


Not necessarily. And, these two things are very important to most seniors.

All the better TVs have better pictures and sound than the cheap ones. That's why they are more expensive. Make sense?

The thing is Smart TV features were first offered on the more expensive sets. So, it's easy to presume that Smart has a better quality picture and sound.

Again, not necessarily so.

Smart TVs are now crossing over into the very affordable models. All this means is the picture and sound quality are not a product of the "Smart" features. The picture and sound quality are determined by the quality of the TV itself.
Using Apps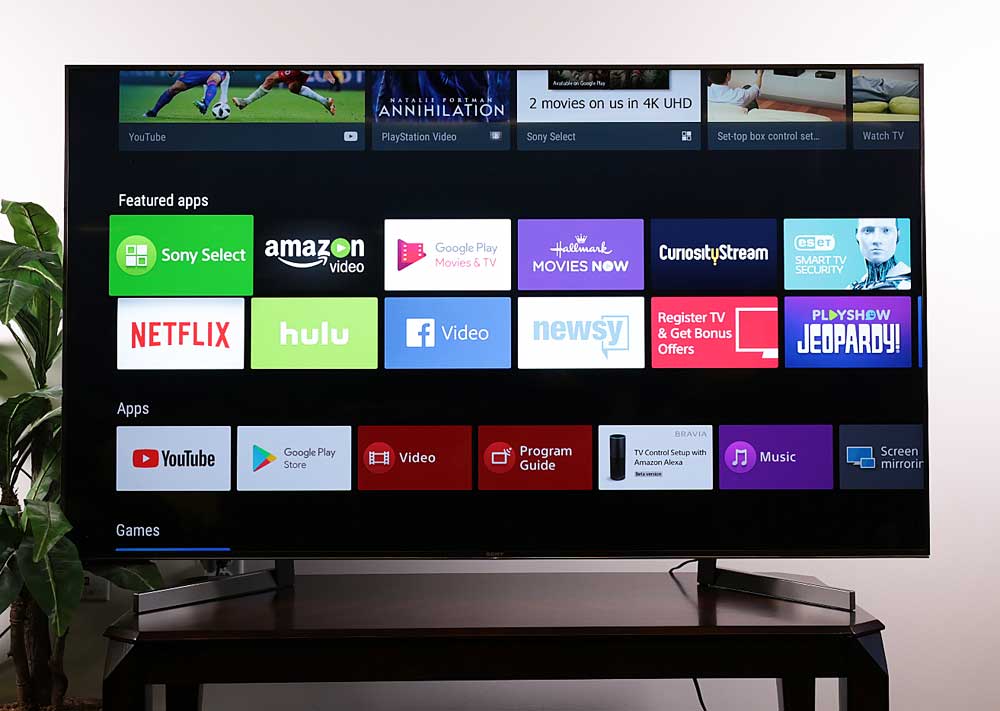 Different Apps
displayed on the Menu
Even though you won't be paying for cable anymore, the systems are NOT entirely free.

Yes, there are many free channels. And, with ROKU there are even more great streams with the "free with ads" channels.

However: Using the Apps for connections to streaming services like Prime, Netflix, Hulu, etc. still require the monthly subscription fees. There are also "pay per view" movies.
Each App you have will appear as an icon (small individual picture) on your menu screen.

"What Are
The 3 Main Benefits
of A Smart TV?"


The 3 Main Benefits for seniors using a Smart TV are:


Access to a very large number of channels


All the TV, Movies, and Music require NO cable or satellite connection


Easy and FUN to use (once you learn how)


Getting the Best
Easy Smart TV for Seniors

CONCLUSIONS



When we went looking for the Best Easy Smart TV for Seniors there were just so many options, slight differences, and totally incomprehensible "tech" words and terms that we realized the shopping situation can easily become overwhelming for anyone.

For us seniors it is even more difficult because most of us are not used to all the latest "tech" words, terms, and technicalities that seem to change every six months. Just going from Black and White to Color was the big milestone for many of us. Right? Myself included. I really thought Color and a Remote Control was Nirvana! The Holy Grail of television.
Ha!
So, we wanted to sort through all this stuff and make the shopping situation easy for seniors. And, it can be if you don't try to understand everything (Especially in one day).
This little list should help out.


Here's what we found:


1)  ALL the major brands make a good Smart TV

2)  If the model you liked best doesn't have every feature, it probably will soon. And, your system will most likely get free software upgrades to remedy the problem in a very short time.


So, MOST IMPORTANT: Pick the one you like best. The one whose size and picture quality you enjoyed the most. Don't worry too much about the sound. You can always upgrade the sound later with a simple external speaker for about $40.


3)  Stick with the major brands. They are the most reliable. The "bargain" brands are usually no bargain once you start using them. They tend to lack features and you will probably regret saving the extra money later.


4)  DON'T buy the extended warranty. The new TVs are usually pretty well put together. Most everything that will go wrong usually happens in the first couple of weeks. Well within most major stores 30 day return policy. Spend that money having some fun somewhere.

5)  Buy from a major store/supplier, in person or on line. Why? If you need to return it for any reason, like malfunction, it will be an easy task.

6)  If you already have a good modern 1080 HD flat screen TV, you are going to save a bundle, a sizable bundle, and get all the features most of us seniors want, by getting an inexpensive streaming accessory like ROKU or Fire TV Stick and attaching it to your current TV. A ROKU will turn a regular modern flat screen into an Easy Smart TV for Seniors.

7)  ROKU is rated the best streaming accessory of all by every reviewer. Fire TV Stick second. Cost:  $29 - $99 for either.

We have both a Smart TV, and, a $39 ROKU for our other older flat screen in the bedroom. We find neither better than the other for our viewing enjoyment.




Want to make selecting an Easy Smart TV for Seniors easy?

Just Remember This:  ALL the Smart TVs have the basic features. All the major brands will catch up to each other very quickly with any new features.

So, pick one of the major brands you enjoy watching the most. Try it out in the store with a sales person. If it is easy to use, get it. Everything else will fall into place.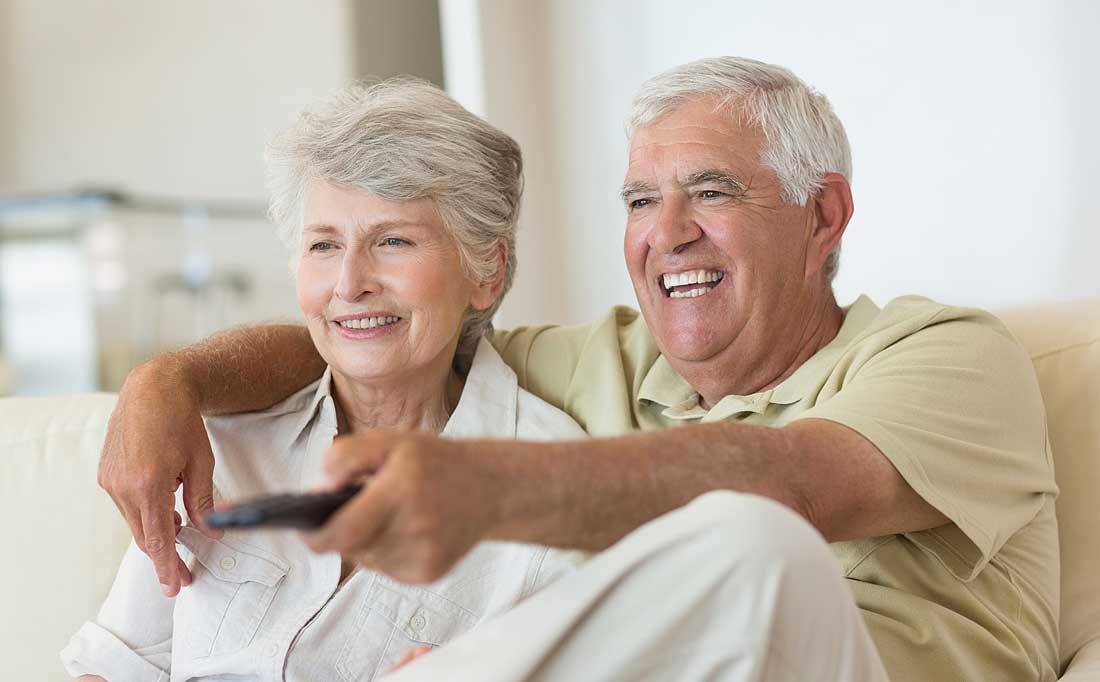 Happy Watching! ~ William, Fiona, and Charlotte


go to:
The 3 BEST Smart TVs for Seniors

Here you'll find:
1)  The very best 55" Easy Smart TV for Seniors for under $550
2)  The ultimate smart tv for those who want the Rolls Royce of Televisions