Power Lift Recliner Chairs
Getting an
Electric Power Lift Recliner
You'll Love - 2022



last updated March 29, 2022
5:08 pm
A Power Lift Recliner, also commonly called an Electric Lift Chair, is one of the favorite gifts you will ever give yourself or one of your loved seniors.

There's no more struggling when standing up.
Some Common Questions and Answers:


 1)  Will a lift chair be beneficial for me?
 2)  What are the benefits of using a lifting chair?
 3)  How do I choose a good one?
 4)  How much does a good one cost?
 5)  Will Medicare cover the cost?

 6)  Is a power lift recliner comfortable?
 7)  Do you have a VIDEO Demonstration?
 8)  Will a power lift recliner look good in the living room?
 9)  Is a power lift recliner easy to use?

 10)  What should I look for in an electric power lift recliner?
Standing Up Easily
Whenever You Want


Every time you have to wrestle yourself upright from your chair it's just not fun. Right?

Remember a time when you'd think: "Gee, I'd like to go get some cookies." And, just get up and go for them. Oh, the little thing we used to take for granted!

We never used to think: "Well, maybe later." Because the thought of going through the process of getting out of the chair was just too much of an effort.

No, we just got up easily whenever we wanted to.

Well, with an
Electric Power Lift Recliner
, you'll be able to get up from your chair easily again.
Whenever you want to.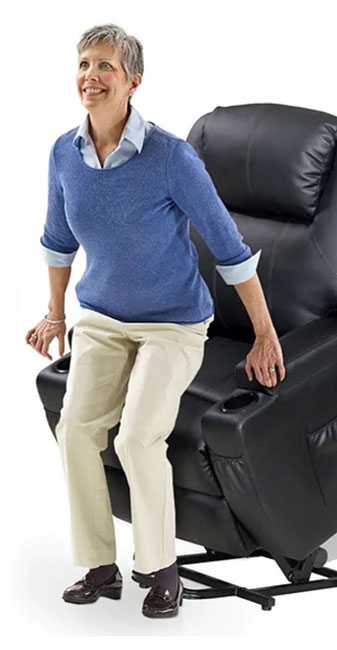 "Will a
Lift Chair
Beneficial for Me?"


There always comes a day when we need a little change in our way of doing things. Right? It's nothing to be ashamed of and nothing to fear. It's normal if you're lucky enough to get as old as we are. To continue to enjoy our lives comfortably we simply need to adapt.
Getting up and down from our chair, doesn't need to be a problem or an uncomfortable experience.

When getting up and down from a chair, or especially the sofa, is getting difficult for you or a loved one, electric power lift recliners may be the right move. A Power Lift Recliner can really be relatively inexpensive for all the benefits and comfort it provides.

What are the benefits?

Let's take a look:
"What Are The Benefits
of
Using a Lifting Chair?"




Comfort


Even before thinking about getting out of the chair easily, let's think about sitting in it. How comfortable will it be? We're seniors. Comfort matters.


A good Power Lift Recliner is designed to give the user maximum comfort. From head to toe. From the deep padded backrest to the reclining angles and the leg support. These babies are comfortable!


Yes, we're seniors now. We're a bit bonier and a bit more fragile. Seat padding is important. Very important. Especially because we sit a lot more now. In power lift recliners, your head, back, legs, and waist are all cushioned.


One of the best features on most power lift recliners is the leg rest. It is designed to lift up your legs as the back reclines. This is a great relief to not just elderly seniors, but to anyone who uses the chair.


This type of reclining evens out the pressure of the body on the chair. Making the experience very comforting and enjoyable.


Easy Standing


With a Power Lift Recliner, an electric motor lifts you up and can set you down. Not only do you get out of it easily, you can sit down in it without flopping and falling into the chair. It's a gentle pleasant entry.


And, when you're getting out, there's no need to push from the knees with the power lift. This is an especially great feature for seniors with knees that hurt.



Independence


This is one of the very best, and we think one of the most important benefits of a Power Lift Recliner. You get up whenever you want to. Easily.


No one has to give you a hand to settle down and relax either. You gain independence and you don't feel like a burden to anyone. And, no one annoys you. You sit the way you want to. When you want to.


Most Electric Power Lift Recliners have a very simple remote control that does not require you to be a tech wizard, or, have any kind of expertise to use. (Cell phones and computers are bad enough for us sometimes, right?). These remote controls are simple to use and don't require extra help to use easily.


With the remote control, elderly seniors can get in and out of their power lift recliner chairs easily.


None of us like to feel like a burden. It's one of the things us seniors hate the most. Feeling like a burden to others. Especially for something as simple and frequent as getting up and down in our chairs.


With an electric lift chair we don't feel like a burden. Because we gain independence here. We can sit down comfortably and easily, in any position we want, and then get up when we please. By ourselves.




Sound great?



It is.


We have never heard one person say: "Oh gee. I'm sorry I bought an electric lift chair." Never.


Virtually everyone not only has good things to say about them, they rave about them!


If you have trouble getting up again after being seated, especially after being seated for a while, we think you're really going to love one of these.

The only question is:
"How Do I Choose
a
Good One?"


That can be a difficult decision because there are so many Power Lift Recliners on the market.

Most of them look pretty much alike. But, the prices are so different. What makes some cost so much more than others? Is the extra cost worth it?

We're going to show you how to make an educated decision on which lift chair to buy:



We want you to get a really good electric lift chair


A chair you truly enjoy sitting and resting in


A chair that gets you in and out easily


A quality chair that will last a long time


A reclining chair that is comfortable head to toe


And, we don't want you to waste your money buying a power lift recliner that is unnecessarily expensive


SO, let's deal with the first consideration first: Price.
"How Much Does
A Good Power Lift Recliner Cost?"


Price is a consideration for most of us seniors when we make a purchase. Am I right? We're smarter now. There's no need to waste money.

So, let's see how we can make the best decision on which Power Lift Recliner we seniors should buy.

Electric Power Lift Recliner Chairs vary in price tremendously.

They can range from about $350 to $3,000. That's a HUGE difference. Right? The average price of a chair lift is around $800. If your budget is limited you can get a very nice one for under $600. If you know what to choose. And, as a senior your insurance may help pay for it.



Are the cheap ones any good?


Are the most expensive worth the extra money?


Obviously, what you purchase will depend on your budget. Right? Most of us want a good value.

If you're a senior driving a Rolls Royce and Living comfortably in Beverly Hills, California, I would say get the $3,000 one.

Why not? If you can afford a Rolls Royce and a Bentley, so get a super duper Power Lift Recliner with silk fabric, all the special wood frames, etc... and all the extras... NOT NECESSARY for either comfort, lifting you up comfortably, or superb enjoyment. But, if you're super rich.... The imported silk fabric can be custom matched to your other silk fabrics....

Is the $3,000 chair worth $2,500 more than a good $500 chair? Not to me. They're not that much nicer. They don't really lift you up any better. But, they do have a number of refinements that may be desirable if you have the extra money to spend

But, for the rest of us, less than $600  will get us a really wonderful power lift recliner that:
Works Great


Is Very Comfortable, and


Lasts a Long Time
"Will Medicare
Cover the Cost?"


There is a great article from againginplace.org which tells us:

"Yes, lift chairs are covered by Part B of your Medicare coverage. They are considered durable medical equipment (DME) used to treat certain conditions like arthritis or other balance or mobility issues......  the reimbursement is typically between $280 and $300."
A Very Wonderful Power Lift Recliner Chair
for
$400 - $600


There are 3 basic levels of chairs. ALL of them will set you down and lift you back up.
The main difference is the amount of control you have on reclining.
There are:
2 Position Recliners


3 Position Recliners


Infinite Position Recliners


I will get into more detail on all three of these soon.
First:  If you're like most of us seniors, you just want a nice comfortable fully adjustable lift chair, that looks nice, that is easy to use, and that lifts you up easily and sets you down comfortably. Right?

Believe me, you don't have to spend $3,000, or even $1,000 to get a very nice recliner lift chair.

$400 - $600 can get you a wonderful chair! Yes, a really comfortable one. If you have more money available for your recliner, the infinite position recliner gives you the most control of your position.
But, a good 2 or 3 position chair will still be quite comfortable and it will lift you up nicely.


We're going to give you just one caution here. When you're shopping:

Stay away from the super bargain cheap ones.

Oh yeah. Saving $100 - $200 sounds great to me too.

BUT:

I've never sat in one of those very cheap super bargain ones and felt really comfortable.

The padding is cheap. If it has plastic or poor quality fabric for the covering. The plastic almost always smells. These very inexpensive chairs tend to break down quickly. The fabrics that are not plastic are are not durable. And, the electronics often go bad really fast. That's why they're cheap. Make sense?

Worse, when you get thoroughly disgusted with it, you have to go buy a good one and all the money spent on the crappy one was wasted.

So, we should do it right the first time. Do you agree?
Enjoy the Experience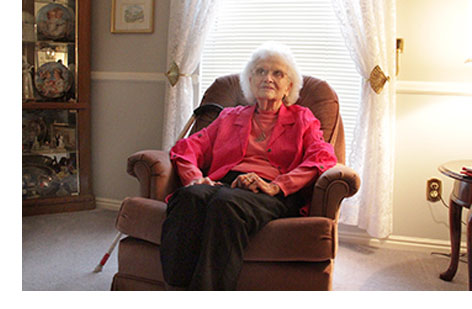 This is the recliner chair you're going to be spending a lot of time in. You want to enjoy the experience of sitting (or snoozing) in it every time.

That doesn't mean you have to get a very expensive one. You just want to be sure to get a nice one. And, you can get a very nice one for $400 - $600.

You don't need real silk fabric, exotic hardwood frames (that you never see), or "whisper quiet piezo electronics" to have a very comfortable reclining lift chair.

So, out of the over 70 power lift recliners we looked at just for seniors, we're going to be showing you the two very best values we found in each category: 2 position, 3 position, and infinite position. We think you'll be extremely happy with all the ones we found best.

We'll also show you a hand full of others, so that you can see the differences.
"Is a Power Lift Recliner
Comfortable?"


I think everyone has heard of, and probably seen (if not owned) a La-Z-Boy recliner or similar reclining lounge chair. That big fat chair in the den or living room in someone's home. Am I right? Maybe your Dad had one? You sat in it when no one was there. Right?

The old fashioned recliners are a really comfortable TV chair. Big, thick, relaxing...... That's why they were, and still are, so popular. Everyone loves them.

The only thing different with an Electric Power Lift Recliner  that us seniors want is that these power lift chairs were designed especially with us seniors in mind.

They lift us out of the seat AND they can gently lower us into the seat too.

Other than that, they are the same idea as the old fashioned (and ever popular) recliner. A super comfortable reclining chair that we can spend lots and lots of very comfortable time in.

The lifting invention is genius.
VIDEO
Demonstration


Here's a short video we found on YouTube that will show you just what an electric power lift chair can do:
Our Favorite Chair
in the House


As seniors, especially elderly seniors, more and more of us are thinking how nice it would be to get in and out of our most comfortable chair easily.

And, what's the hardest thing to get in and out of? The sofa. Right? Do you agree?

So, we often avoid sitting on the sofa (even though it is the softest most comfortable place to sit), or the big fat fluffy recliner, simply because getting out of the sofa and the fat fluffy seat can be a real chore sometimes. Am I right?

We often wind up choosing the most uncomfortable hard chair because we can get up again with a lot less effort.

Well, how about having the most comfortable chair being the easiest to get up from? That would nice. Right?

How about if we could fully recline in our most comfy chair if we felt like it? Maybe take a nap in it if the spirit moves us? Or, even just sit up straight and prop our legs up?



Now that sounds more like it. Doesn't it?

And, what if the chair could also give us a nice little massage when we felt like having one? With an Electric Power Lift Recliner, the possibilities just keep getting better and better.
"Will a Power Lift Recliner
Look Good in the Living Room?"


Another great feature: A good power lift recliner is a handsome piece of furniture. They don't look like some piece of ugly sterile equipment for injured people.

A nice power lift recliner fits into a living room like any other piece of high quality living room furniture. And, no one really knows they are an electric lift chair unless you tell them or show them.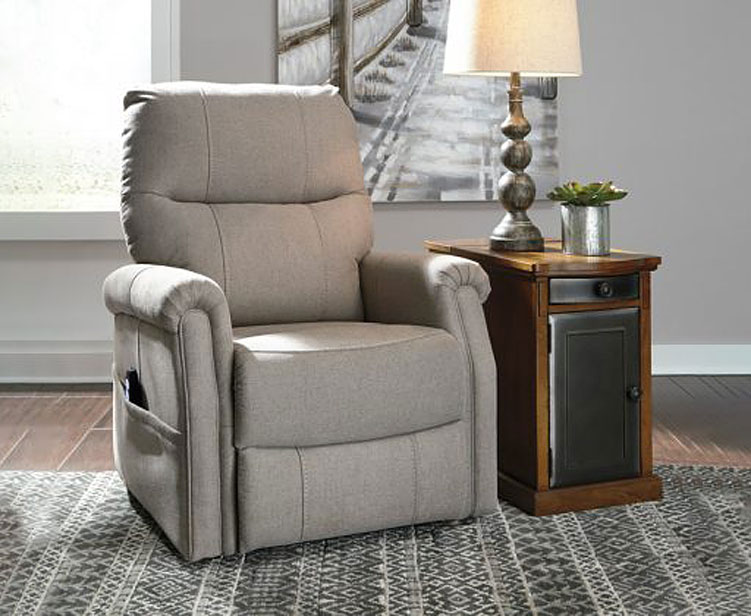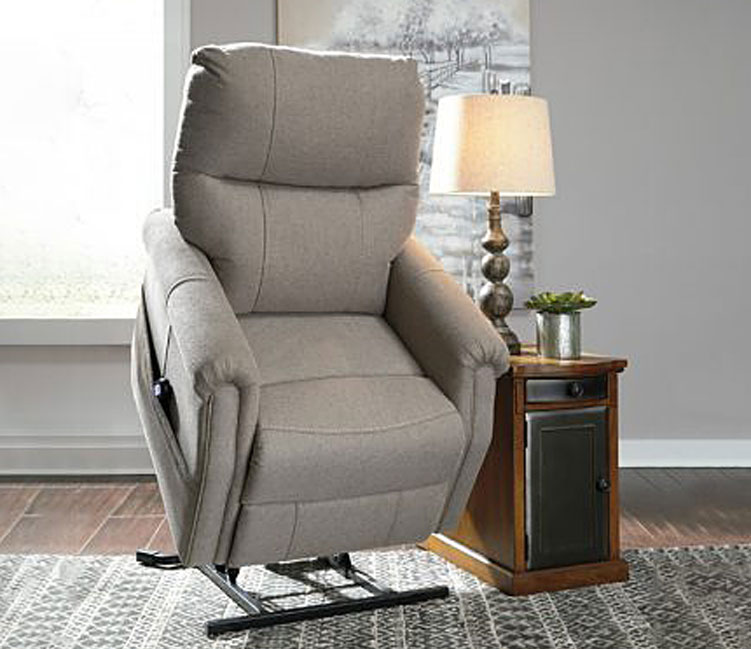 "Is a Lift Chair
Easy to Use?"


Yes!


Now, getting up easily is what it's all about for us seniors. Right? Getting up easily when we want to. And, settling back down without falling into the chair or sofa.

We used to it. Now that we're seniors, it's getting very hard for some of us. That's where an electric lift chair comes in. We can stand again easily. Even when we are tired.

Sure, we'd all love to get up on our own. Easily. By ourselves. Like we used to. And, with some regular specialized exercise for getting up, a lot of us seniors can regain that ability.
But, many of us just can not get up easily any more. And, many of us seniors will never be able to rise easily from a chair again without a fight.

So what?
Don't worry about that anymore. Don't let that get you down anymore. I'm serious. With a power lift recliner, getting up from the most comfortable chair in the house becomes easy again.

For those seniors, who have reached the point in their lives where getting up from a chair is difficult, there is no need to be upset or dismayed. And, we're glad you found our web page here. Because now you know, there is no reason not to be able to get up easily and comfortably from the most comfortable chair in the house.


An Electric Power Lift Chair will get you right up, as often as you want, almost effortlessly.


And, if you get a good one (remember: we said "good" NOT "expensive"), it will be super comfortable to sit in. Or, recline and have your legs lifted up while you watch TV. Or, chat with your family.

You can even get a massage feature on many of the recliners. I know I've talked about that already, but, I'm just mentioning it again because I personally find the massaging quite heavenly and worth the small additional cost if you have a little extra to spend on it.
Make Sure
The Remote Control
is
Simple and Easy to Use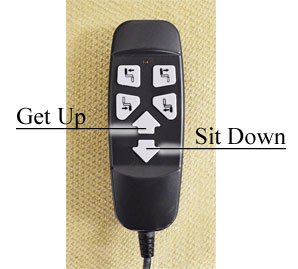 Some manufacturers make very complicated remote controls that are terribly difficult to use.
Before you buy, make sure the chair you like has a simple remote control like the one pictured here. A simple remote control like this will be very easy to use. Even for people who have a little trouble remembering. Or, who are not wearing their glasses.

"How Will I Know if a Lift Chair
Is a Good One?"


That's what we want to know before we even go shopping. How to quickly differentiate the good ones from the not so good ones. Otherwise the shopping experience is going to be overwhelming.

We found more than 70 Power Lift Chairs to choose from. Wow. Too many. Right?

Why so many? Simple. People, young and older, love a comfortable reclining chair. So, lots of companies are making them.

Now, here's what to look for in an Electric Power Lift Recliner:
"What Should I Look For
In an Electric Power Lift Recliner?"


Buying an Electric Power Lift Recliner for seniors is a lot easier when you know what to look for.

Here are the 8 main things we found you should look for in your chair:
Comfort
First:
Your Power Lift Recliner need to be comfortable.


Most elderly people who get one are going to be spending a lot of time in this chair. The more comfortable it is, the more they will enjoy it. And, the more they will want to use it.

The padding should be soft and yet of a durable quality so that it doesn't break down quickly and cause hard and/or lumpy spots. This is one of the biggest problems with the "super bargain" chairs.

The chair should be padded well in the seat so that the elderly can sit up in the chair to eat and still be comfortable. And, the padding and cushioning should be ample in the back and leg rest so that an elderly person can comfortably nap when reclining.

You'll be surprised how much you will want to use a good power lift recliner, that you love. Most seniors spend a lot of time in a recliner chair that is very comfortable. It very often becomes their main place in the home. Some, like my mom, will even sleep in it often. So, comfort from good padding is a key factor in selecting our power lift recliners.
How Many Positions Are There?
This is where you're going to find the biggest price differences.


As we mentioned earlier, there are 3 levels of power lift recliners.


2 Position




3 Position




Infinite Position






All three types will lift you up nicely. The more adjustable the recliner, however, the more pricey they become. So, let's take a look at how they are different and you can then decide which one is right for you.





Now, sometimes people get so concerned with the electric lifting power feature that they forget about what it's going to be like when they are actually sitting and resting in their recliners.


How comfortable is their sitting position?


How comfortable is their reclining position?




The very best, and most adjustable recliners, are called the "infinite position lift chairs".


With the infinite position models, the reclining back and leg lift have separate motors. What this means is:  You can adjust the recline and the leg lift independently. In any desired amount. It also means you can also adjust the amount of recline and lift very specifically to suit your own preferences.


The 2 and 3 position recliners limit the reclining and leg lift adjustments. So, they are far more economical. But, you are limited to 2 positions with the 2 position models. Straight up and a 45 degree angle of recline. With the 3 position models you get those same two positions plus full recline.


With these two types of recliners, the leg lift is not adjustable separately. It moves in a factory set position with whatever back recline you choose. And, you can not raise your legs on the 2 and 3 position models without reclining the back.


Still, the reclining positions on both of these feel real nice. So, if you can only afford a 2 or 3 position lift chair, it is still a very comfortable recliner, that will lift you up nicely, and it is still well worth getting.


Advantages of the infinite position models:
You can adjust both the back recline and the leg lift to exact position you want.


The second motor in the infinite position lift chairs not only lets you pick the exact amount of recline you want for your back, it also allows you to move the leg rest, independently of the backrest, to whatever height you desire.


This is a very important feature for leg comfort.


For example: People who want to sit upright, and have their legs extended straight forward will need an infinite position recliner chair.

 So, if you want to set the exact positions of recline and leg lift you will need the "infinite position lift chair".

Size Matters
OK. Sorry. I could not resist the joke.
But, size is a very important consideration when you are choosing an Electric Lift Chair. It will be part of the comfort factor.

If you choose a chair that is too big your legs may not touch the floor when the person is sitting up straight. If you choose a chair that is too small the person's lower back may not fit comfortably.

It's not difficult to get the right size chair. It doesn't require custom measurements. You just want to get one that fits right and is strong enough for the person using it.

The size of your recliner chair is simply determined by who is going to be sitting in it. Who are you buying it for?

You don't want to buy a small compact chair for a big tall heavier person because it seems easy to move. It will be a disaster. But, a smaller chair for an elderly person that they can push around without help is a great advantage.

Most chairs are average size for average size people.

But, there are specially made smaller chairs for smaller people, and, there are specially made larger chairs for for larger heavier people. And, these are not custom made at some terribly high price. They are regular items. There are lots of smaller and larger people.

So, be sure to check the size of the chair when you see one you like. And, see if it is made larger or smaller if those are your needs. Remember: comfort is the main factor you want to consider with the power lift chair you choose.
Safe Working Load
This only means: "Are you within the chair's safe weight limit?"
Not all chairs are equally as strong. They can not all lift the same amount of weight. You want to be sure the one you buy can lift you easily.

If you are an average or small sized senior, there's usually nothing you need to look for here. If you are a larger or heavier senior, you'll want to check this on the chair you like.
The load capacity is usually listed in the advertisement, in the manual, and there is usually a sticker somewhere on the chair as in the picture below.
The Maximum Personal Weight Can Be
155 Kilograms
(342 pounds)
Easy of Use
In real life, when the elderly use their power lift chair, ease of use is more important than it may seem to you right now.


Please don't take this recommendation lightly. If you or the person you're getting the chair for can't remember how to use it, what good is it going to be? Right?

Most elderly people don't want a power lift recliner, no matter how comfortable it may be, if it is not easy to use. And, like my own mom, it's easy for some elderly people to forget exactly what button to push if the remote is complicated.

My own generation (I'm almost 70) is not usually technologically inclined. I have had to ask a 10 year old for computer instructions on occasion. These new kids seem like tech geniuses! Seniors 80 and upward often don't own any tech items like computers, cell phones, etc. So, make sure the power lift recliner you like has a remote control that is EASY to use. (We're going to be featuring this in the recliners we recommend.)
What Else Can it Do?
Now, the main purpose of getting a power lift recliner is to get in and out of it easily. Right?

Our #2 concern is comfort.

But, a good power lift recliner can do more than just reclining and getting you up and down.

This is where the fun begins!

A modern power lift recliner has a number of additional options that you can purchase. There is massage, and heating. Not necessities. But, very enjoyable. Some will have other enjoyable options like cup holders. Again, not a necessity. But, a pleasurable perk.

All these features make a Power Lift Recliner a very worthy purchase that addresses a lot of comfort and pleasure factors for elderly people who sit a great deal of the day.
3 More
Points to Consider


The Coverings
There are a number of covering available. Many people decide they want the best possible chair. So, they want a soft durable leather covering.

For those that sweat easily. Leather may not be the best option.

On the other hand, for seniors with incontinence, cloth and fabric covering material may be a choice they soon regret.

We normally, suggest either leather or faux (imitation) leather coverings. They are the easiest to clean and maintain. They are also usually the most durable. If sweating is a problem, a simple blanket over the material usually solves the problem.
Space
Where are you going to place the recliner?

A standard model power lift recliner slides out and backwards. In the middle of a room this is not a problem. But, if you have a small area or want to place the recliner against the wall you will need to get a chair specially designed for that. Don't worry. There are many. These recliners open forward without banging into the wall behind them. Be sure to check that in the features of the chair you like.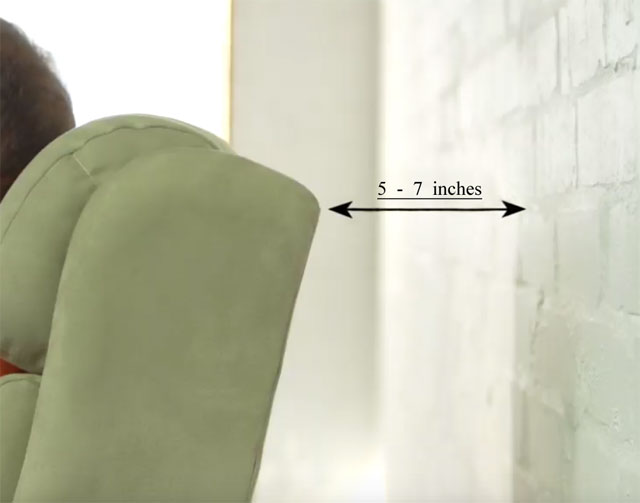 Advanced Features
Other features can often be added to the basic power lift recliner. We've already mentioned some of these, but, they are worth considering, so I'll repeat them: These include heated seats, vibrating seats, variable massage settings (I personally love this feature), variable lifting speeds, cup holders, etc.
All these things are fun and enjoyable. They may be an extra cost on the chair you chose and they may seem unnecessary to some of us. But, for people with a lot of aches and pains, or those of us who just plain enjoy them, these add ons are often more than worth the additional costs.
CONCLUSION


Now that you know what to look for in an
Electric Power Lift Recliner
, for seniors, and you know how much you need to spend to get a good one (and not be ripped off), it's time to go shopping.

  

For a Happy and More Independent Tomorrow   ~ William, Fiona, and Charlotte