72 Good Gifts for Old People
72 Good Gifts for Old People

Our 2022 Seniors Survey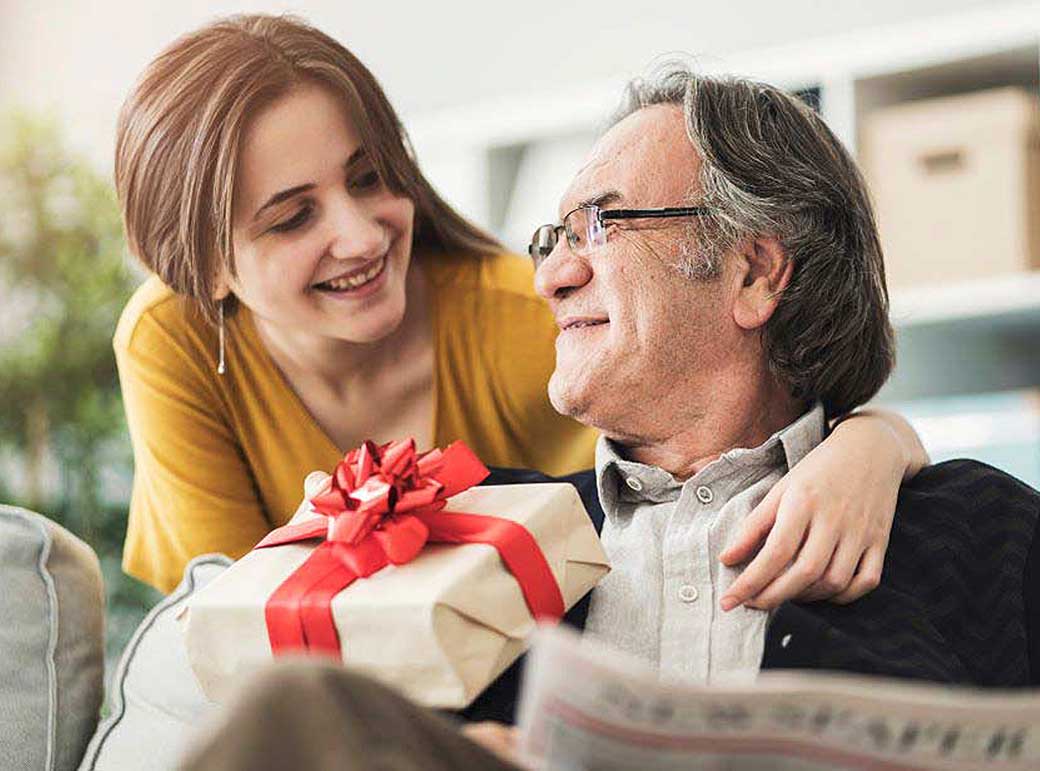 Finding good gifts for old people is not always that easy. Am I right?

Do your favorite old people always tell you not to get them anything, when you ask them what they want for a Holiday or Birthday? Do they, "already have everything they need."

That makes finding a great gift that they will love even harder. Right?

That's what this article is all about. Finding a special gift that will put a smile on their face. Something they will use and enjoy. Something wonderful that they maybe didn't even know existed.
How did we find good gifts for old people?
Simple. We surveyed 201 seniors and asked them what they wanted. Here's what they told us:

72 Wonderful Gifts
Seniors Said They Desire


If you're looking for good gifts for old people, a great gift for a senior loved one, that they will actually use and enjoy, why not ask other seniors what they would like to have? And, that's what we did. We put this list together from a Senior Survey where 201 seniors responded.

In this list you'll find what was on the top of their "Wish Lists", and the items our seniors voted best.

These are gifts for our older seniors. The active, the frail, and everyone in between. Gifts for those with visual and auditory issues. Gifts for the cognitively impaired.


The list includes gifts that are not only:


Fun



Entertaining


Thoughtful


Helpful


Cozy and Comforting



These are gifts that seniors said they would like to get. Gifts that can help improve the quality of life for old people.

If you're looking for good gifts for your favorite seniors and old people, we think you'll find something here that they will use, enjoy, and be thrilled to receive.
Shopping for Old People
is Different


For most of the family and friends, finding a good gift is usually quite simple. If they didn't already give us a clue about what they want for Christmas, Hanukah, their birthday, graduation, wedding, etc…. we just need to ask. Right?

We get a few answers and pick one. Usually not a big deal.

BUT, what do we get for old people who always tell us: "Oh, I don't need anything."? Or, "I already have everything I need."

That's no help!

They so often follow that statement with, "No, really. Don't get me anything. I have everything I need. Save your money…. Get something for yourself instead. Or, better yet, the grandchildren……" Right?

Still, we want them to have a special gift too. Don't we? Of course! Because it's fun to get stuff. Because it makes a person feel loved and cared about. No matter how old we are. Do you agree? And, there are lots of good gifts for old people out there.

We don't want to waste a bunch of money on something that will just be put in the bottom of the closet or in the depths of the basement or the back of the attic.

And, don't we all dread that gratuitous smiles that comes with a quiet, "How nice. Thank you very much."? Then silence as they hold the box motionless, or, place it on the table next to themself and never look at it again.

So, let's take a look at some of the great things there are out in the Universe that our favorite old people will really enjoy getting, using, and having:
Practicality
and
Functionality


When the results for "Good Gifts for Old People" came back to us, practicality and functionality seemed to top the list.
When we were kids, games, toys, jewelry, sports equipment (like skates, skis and baseball bats) were always winners.

As young adults, things for the house were always a winner.

Now, as seniors, Practicality and Functionality seem to be the real winners for us. Have you found this to be true also?


Things that make a task easier


Things that can fill empty hours with fun (

like word games and puzzles

)


Things like cozy PJs


Handy kitchen items (

like devices that open jars

)

That's what our surveyed seniors told us.


I'm 70 this year and I personally love really nice soft cotton socks, flannel shirts, and quality cotton pajamas. I can never have too many of these things. (I am so easy…) My wife likes gardening tools. My sister, wooden cooking utensils and nice bowls of any size.

My Dad loved new slippers.

My best friend and his wife (both in their 70s) never have too many fitness or exercise items. Ever. And, their basement looks like a professional gym.
Finding the Magic


In this article we're going to show you 72 specially selected items that (according to the 201 seniors in our survey) make really great, practical, functional, appreciated gifts for the seniors in your life.

You're even going to find great ideas here for those older seniors who refuse to give you clues because they say they "already have everything they need".

Well, sure, they may have everything they "need". But, what about a surprise they may really enjoy? Something they might never buy themself? Or even better, something wonderful they can really enjoy, that they never thought of?
Are YOU

Feeling


Overwhelmed?


These days, when looking for good gifts for old people, we happily have the internet. An endless catalogue of everything in the world, right at our fingertips. And, almost everything is buyable.

BUT, now that you have the entire shopping world at your fingertips, the task sometimes seems even more daunting.

Overwhelming sometimes. Right?

Too many things. And, too many really useless things. Too many choices… just too many everything that are just not right for your very loved senior(s).

Trying to find good gifts for old people, that we think they will really want, can truly be an exhausting chore. And, then we still don't know if they will like the stuff.

Shopping should be fun for you too. Right?

So, here at weloveourgranny.com, we surveyed a nice big bunch of seniors (201 to be exact!) to try and fix this dilemma for you. We had these seniors recommend and vote for their favorite items. They gave us these 72 gifts as the very best and very most appreciated gifts that they said they would love to receive.

Are you ready?

Come take a look:
Table
of
Contents



1  Fun and Practical gifts
2  Gifts for old people who say they have everything
3  Gifts for Grandparents
4  Soothing and Comforting gifts
5  Brain and Memory game gifts
6  Gifts for Health and Fitness
7  Gifts for the Blind and visually impaired
8  Gifts for the Deaf and hard of hearing
9  Gifts for old people with Joint Problems
10  Good Gifts for old people with Cognitive Issues
11  Gifts for old people with Mobility Issues
12  The Gift Voted #1


#1)  Fun and Practical Gifts



This category of good gifts for old people has some really clever ones. And, since "practical gifts"  are something old people really tend to enjoy, let's get them some that are fun to use too!
Easy Smart TV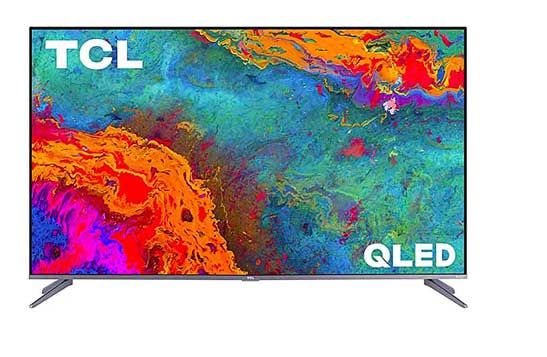 We know you may not be looking to spend a small bundle when buying presents during the year.
But, we're starting off with one of the more expensive Good Gifts for Old People for just one reason: In our Survey of 201 senior citizens, 98% of our seniors surveyed who did not already have a Smart TV, wanted one. Once they knew what these wonderful things can do.
Our surveyed seniors also voted an Easy Smart TV the #2 gift on their "Wish List".

Let's take a look at some of the things an Easy Smart TV can do.


With an Easy Smart TV, you can:

Stream Videos (movies) on Netflix, Amazon Prime, and HULU to name only a few

Check your Social Media (like Facebook)

Check and Control very convenient connected devices like:

Doorlocks
Doorbell Monitor (see who is there without going to the door)
Light Bulbs
Electric Wall Sockets
Security Cameras
Watering Systems (for your garden)

and more…..
You can even control the whole thing with voice commands! That means you just talk to it and it does what you ask.
Amazing! Right?
And, these are especially good gifts for old people because they can monitor what is going on at the front door and from security cameras around the property. When the doorbell rings, they can see who is there without getting up, and without opening the door. What a good feeling.

These Smart TVs are such wonderful devices for seniors that we have written a full article on them so that you can learn more about them and see all that they can do. The article is: "Getting an Easy Smart TV for Seniors"
A very good Easy Smart TV, with a large easy to view 55" flat screen, doesn't have to be very expensive either. And, in this next article we show you where to get a very good one for under $500: "The 3 BEST Smart TVs for Seniors"

Not an inexpensive gift. But, a very worthwhile and comforting investment for all of our favorite and cherished old people.
iRobot Roomba Vacuum


Does your favorite old senior HATE vacuuming? Or, is it very difficult for them?

An iRobot Roomba Vacuum (at Walmart) may be just the answer.

These little babies begin our list of "Fun and Practical" items. They do a surprisingly great job of vacuuming up the floor (providing the floor is free of obstacles).

Turn it on. Then, sit back and relax while the iRobot does the vacuuming for you. We love these! And, our cat finds it fascinating.

Non-Slip Socks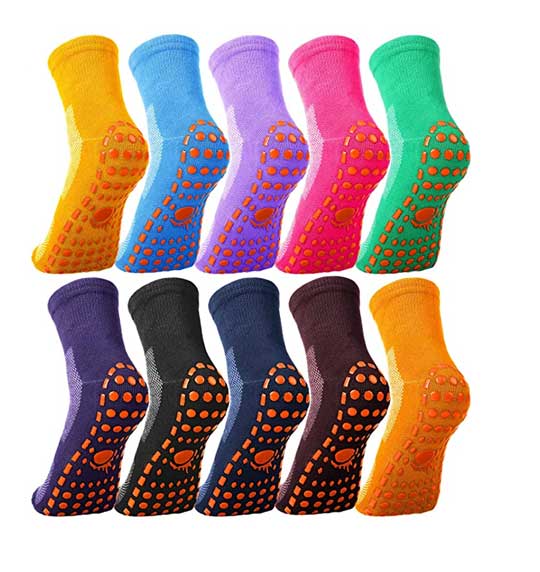 I can not tell you how much I personally LOVE these Non-Slip Socks! (at Walmart) And, apparently a LOT of other seniors do too because they came in #4 on the "Good Gifts for Old People Wish List".

I am a sock person. I love socks on my feet. Most of the day. And, when I sleep.

I often walk around the house with nothing but socks on. AND: How many times I have slipped and fallen are already beyond count. This can be a real hazzard for us seniors. We break a lot more easily these days.

Non slip socks with rubber grips on the bottom are a God Send! They keep our feet comfy and cozy while also preventing falls.

These little friends come in wide range of colors and styles for both men and women.

Do your seniors a favor, get them a bunch! (You're going to want some too!)
Portable Induction Cooktop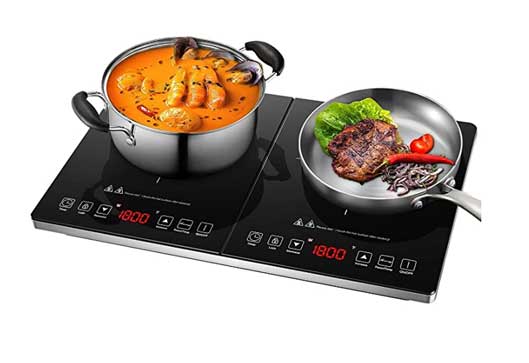 Are you ever concerned about your dear seniors cooking on the stove and getting burned?

Induction Cooktops (at Walmart) can help. Why? Because they heat only the pot and not the stovetop. There is less chance of getting burned.

Now, there is one catch. For the pots and pans to work on an induction cooktop, they must be made of iron or steel. The reason is induction heating works by exciting the atoms in the cookware (so they have to be made of a magnetic material).

Watching out for our elderly seniors is a big priority for many of us. And, these induction cooktops help for sure. One of the very good gifts for old people who still enjoy cooking up a little something now and then.

Light Therapy Lamp


Before my sister turned me on to these Light Therapy Lamps (at Walmart), I didn't even know they existed. But, she used to suffer miserably from lack of light to her eyes in the winter months. It's called: Seasonal Affect Disorder. And, she was always very unhappy in winter.

Did you know having enough light hit our eyes is important for feeling good?

A light therapy lamp goes on the desk or table in front of you while you read, use the computer, or watch TV. It softly shines quality light on you.

The light mimics the natural light frequency of natural outdoor light and this can really brighten a person's mood. My sister can attest to this completely. As can I, when I talk with her when she uses her lamp regularly during winter months.
Earthly's Unpaper Towels


Un-paper towels???

Yes. Very good gifts for old people who don't want to waste a lot of paper (and trees!). These are such a great idea for everyone, actually! And, these towels are stronger and better than regular paper towels.

Everyone here at the office and at home loves using these Earthly's Reusable Unpaper Towels instead of regular one shot paper towels. They are stronger. Super handy. You wash them out, and then throw them away when they finally wear out.

Another wonderful things about these towels is: the unbleached fabric is environmentally friendly, besides being absorbent, and strong. And, the bright lemon design looks much cuter than the plain white paper towels in your kitchen.
Earthly Unpaper Towels
at Amazon
Light-Up Magnifying Mirror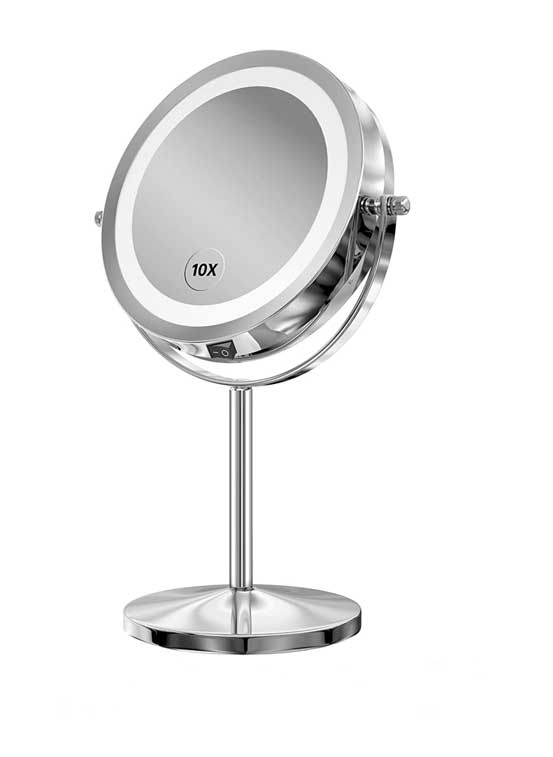 Remember when you didn't have to wear you glasses to shave? Or ladies, do your makeup? "Getting older is not for sissies!"" ~ Bette Davis

And, for those who can't stand for long periods of time, personal grooming can be a real trial. Right?

Having a solid sturdy Light-Up Magnifying Mirror, with a HUGE 10x magnification, that you can place on a table, desk, or dresser can make it much easier to take care of daily grooming.

The magnification and light up features makes it ever so much easier for older seniors to take care of all their grooming needs. These light-up magnifying mirrors make especially good gifts for old people with any vision difficulties.
Weather Monitor


I've been using a Weather Monitor for years now. And, boy are they handy!

A lot of us seniors like to know what kind of weather we are going to be stepping into before we open the door and go outside. Right?

A weather monitor does just that. They attach to a small outdoor sensor. They give you the current conditions and a forecast. They are also available with large displays that make them much easier for older senior eyes to read.
Weather Monitor
at Amazon
E-Reader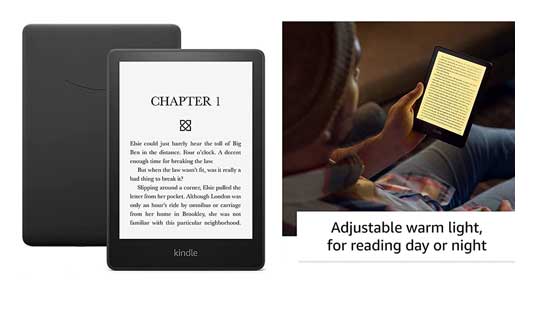 What about good gifts for old people who are still avid readers?
If your favorite senior likes to relax with a good book, or different books at the same time, but doesn't want to carry them all around, an e-reader might bring a smile to their face.

With this one lightweight device, that they can carry in their pocket or purse, they can have dozens of titles right at their fingertips. Anywhere. Anytime.
There are many to choose from, but we found the "Kindle Paper-White" model (a little more expensive) easiest to adjust for individual vision and light preferences.

All E-Readers
at Amazon
Paper White E-Reader
Single-Serve Coffee Maker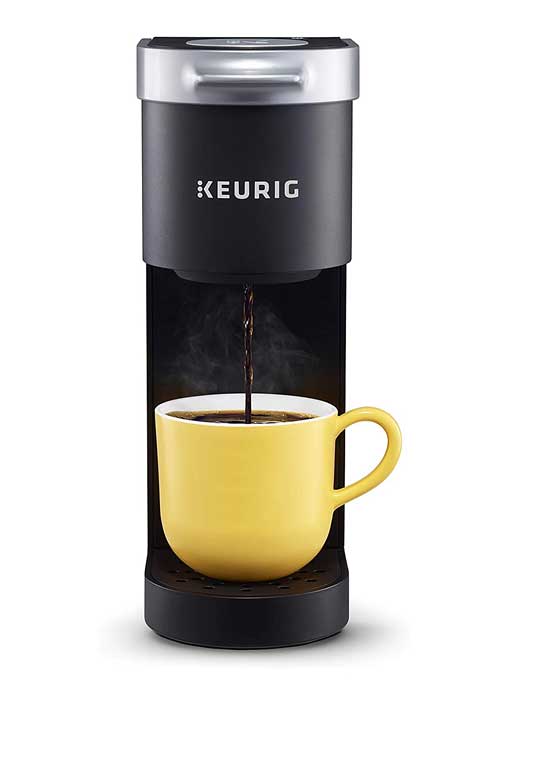 Fresh coffee can't be beat! Am I right?
One of the really good gifts for old people, who love their coffee fresh and hot, is this single serve coffee maker.

But, have you ever tried making just one cup of coffee in a regular coffee pot? Me too. Terrible! Mine came out tasting like dirty water.

So, we often brew the whole pot, drink one cup, and then throw the rest away because it sits around too long and then becomes an awful brew. Such a waste.

Single-Serve Coffee Makers make brewing a single cup a Joy! So easy. No waste. A lot less to clean up.

Plus, the best part is: Each cup is always freshly made and you get to drink it at the peak of it's flavor.
Single Serve Coffee Maker
at Amazon
Amazon Echo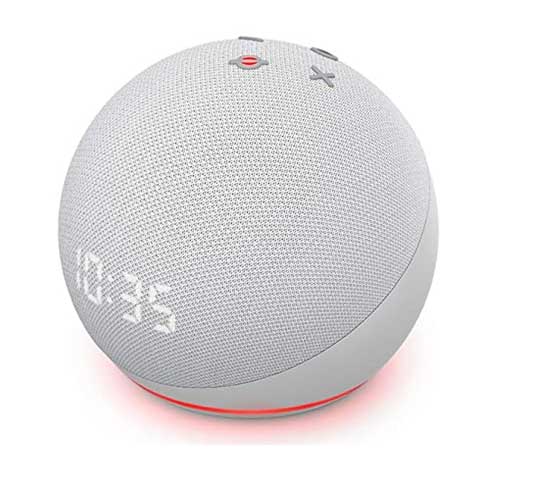 This little device is a real winner for old people!

The Amazon Echo is a wi-fi connected device that makes it possible to do a wide variety of tasks from a single place. A most welcome gift that can help our favorite old people have more control over their environment more easily.

Turn on good music, control the lights, find out the weather, and, it can give you reminders. These are especially good gifts for old people with mobility issues, or, those who find doing all these little tasks before bed a bit of a chore.
Take a look at all the things Amazon says this amazing little item can do for your seniors:
Perfect for your nightstand - See the time, alarms, and timers on the LED display. Tap the top to snooze an alarm.
Ready to help - Ask Alexa to tell a joke, play music, answer questions, play the news, check the weather, set alarms, and more.
Control your smart home - Use your voice to turn on lights, adjust thermostats, and lock doors with compatible devices.
Start Routines with your motion - Turn on compatible lights, play your Flash Briefing, or turn on the coffee maker when you walk into the room.
Connect with others hands-free - Call friends and family who have the Alexa app or an Echo device. Instantly drop in on other rooms or announce to the whole house that dinner's ready.
Designed to protect your privacy – Amazon is not in the business of selling your personal information to others. Built with multiple layers of privacy controls including a mic off button.

The one you see pictured here is called the "Echo Dot". It's a best seller at just $59.99.
Amazon Echo Dot
at Amazon
Automatic Card Shuffler


Do your favorite old people love card games as much as we do?

These automatic card shufflers are good gifts for old people who love playing card games (like gin rummy, canasta, bridge….) but who often back away because shuffling the cards by hand is too difficult due to impaired or weak motor skills.

An Automatic Card Shuffler is an inexpensive gift (under $20) that can get them back into their favorite games!
Automatic Card Shuffler
at Amazon
Apple AirPods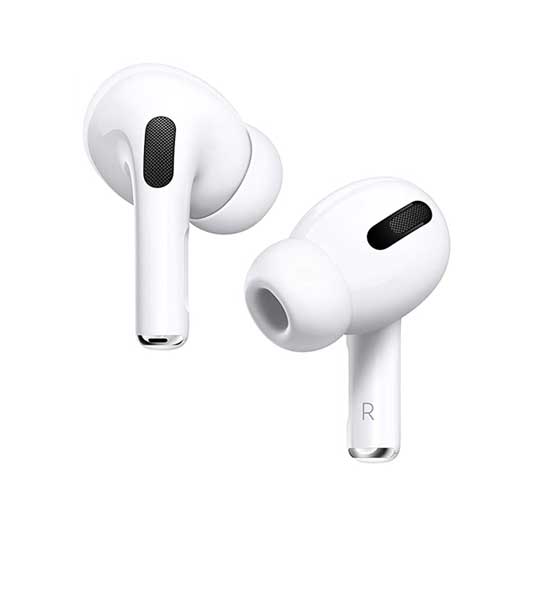 Apple AirPods are a great invention. They are simply small earphones that tuck into your ears and don't need any connecting annoying wires.

AirPods have full connectivity with Apple devices (they are made by Apple) and are compatible with Android devices also. On Android, however, you can't use some of the additional functions like Siri, one-click pairing,  or pop-up.

One of the things that make AirPods good gifts for old people is that it is often easier for some seniors to hear things like music, movies, radio shows, etc… through high quality ear pods. And, AirPods can be tucked into a pocket with no loose wire hassels.

AirPods also are especially nice because old people can enjoy listening to things nice and loud without bothering anyone else around them.

AirPods come in an attractive little charging case that also has location tracking. That means if you put these little darlings down somewhere, and forget where you left them, you can easily locate them with the tracking software. A wonderful feature for our forgetful moments. Take a look at how easy this is:
Apple AirPods
at Amazon

#2)  Good Gifts for Old People Who Say
"They Already Have Everything They Need"



These are the trouble makers. Right?

Not anymore!


For whatever reasons, many grandparents and seniors will tell us not to get them anything because they "Already have everything they need."

Finding good gifts for old people like these is often a real chore. And, too often, we fail anyway. Do you agree?

Well, this year you can stop worrying.

We have some special unique ideas for these folks who "Already have everything they need" that will happily surprise them.
Take a look:
Scratch Map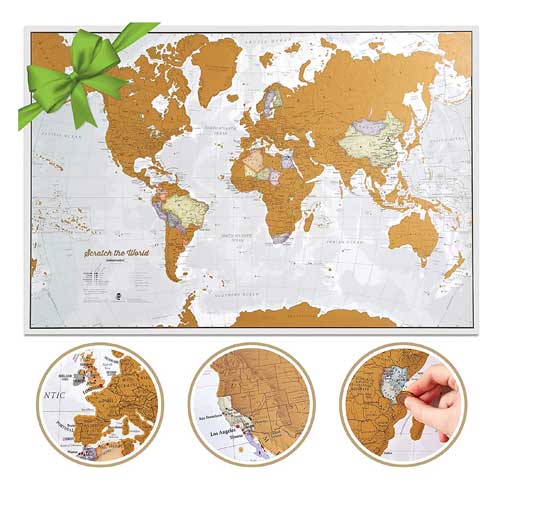 When it comes to unique good gifts for old people, a Scratch Map can be a real winner.

If your parents are some of those seniors who planned to travel when they retire, and, have started doing so, or, have even just begun their planning, a Scratch Map makes a wonderful gift that they will truly love getting and using. Just looking at it can really get their traveling juices flowing!

Scratch Maps are wall maps that allow our senior travelers to scratch off places they've visited and keep a living evolving showpiece of their adventures.

100% of our seniors surveyed who are now travels, and don't already have one of these, said they wanted one.
Scratch Map
at Amazon
Gift Basket or Box


Most of us seniors like treats. Am I right?
Good gifts for old people include handy treats that they can enjoy whenever they want to.

Gift Baskets and Gift Boxes can be found with all different kinds of goodies like chocolates, cheeses, wine, cookies, crackers…. and combinations of various things.

You can also order gift baskets on line and have them delivered directly to your seniors with a nice note card enclosed with your own message.
Gift Basket
at Amazon
Heated Shiatsu Massage Pillow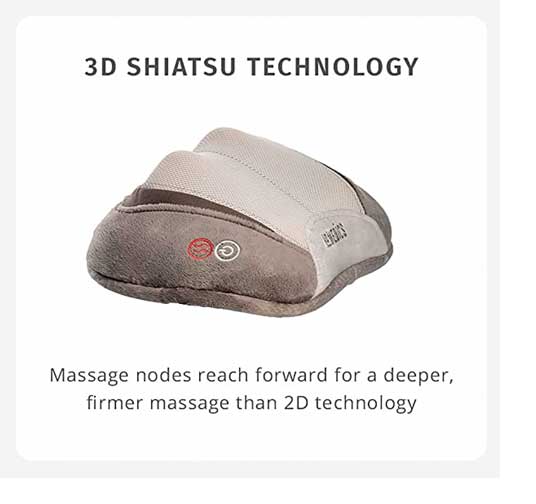 These feel just plain wonderful! This Heated Massage Pillow is another item that sits in the top section of my own personal "William List".

Having the time to relax in your favorite recliner, sofa, or your bed with a warm massage pillow is one of the gifts of the senior citizen kingdom!

Heated massage pillows are good gifts for old people because they can bring welcome relief and relaxation to some of the normal aches in our necks and lower back that come with getting older.

If you buy one for your favorite old person, and you try it, you're going to want one for yourself also!
Heated Shiatsu Massage Pillow
at Amazon
Theater Tickets


It may not seem like a big deal to you, going to see a play, or an opera, or even a movie. Because you can do this anytime you want.

But, when was the last time you saw your Granny go out to a show of any kind? Probably never. Right?

Do you know how excited she will be? At first she may say, "Oh no. I just couldn't go." But, even very old people in a diaper can put on their best clothes and hobble into most theaters. And, once inside, and the show begins, you're going to see one very happy and smiling old lady or old man.
Armchair Caddy


How many times have you sat down in your big comfy chair, ready to watch a Movie on TV and realized you forgot your TV glasses? So, you go get them. Sit down again, ready to go.

Oh no. Forgot the remote…. Got it…. Ahhhh back in the chair…. where's my phone…. back up we go…. Right?

When it comes to functional and practical good gifts for old people The Armchair Caddy seems like it was designed just for us seniors.

Lots of handy pockets to hold all our little items for TV watching. Or, reading. Or, sewing…. And, it drapes right over the arm of the chair. Sit down the first time and we're ready to go!

There are six handy pockets and there is a rubber backing, so it won't slip off the arm of the chair. And, it comes in 30 colors, so they can coordinate with their own decor.
Armchair Caddy
at Amazon
Acupressure Foot Massage Slippers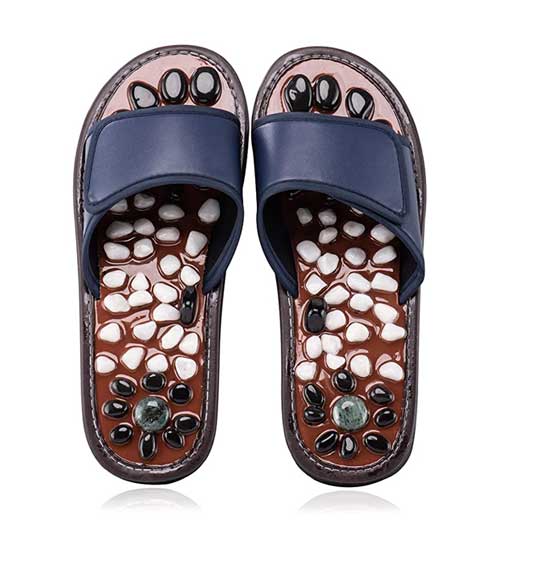 I'll bet your favorite older seniors have never seen these before. And, they are wonderfully good gifts for old people with tired feet.

Are you familiar with acupressure?

It's just like acupuncture, only no needle are used. Just touch.

These Acupressure Foot Massage Slippers have buttons that touch your feet at various pressure points. Wearing them can help stimulate blood circulation, relieve tension, and mellow nerve sensitivity.

Each pair comes with extra pressure point buttons. So, you don't have to worry that they will wear out too fast or if you accidentally lose a button.

Acupressure Foot Massage Slippers
at Amazon
Jam Sampler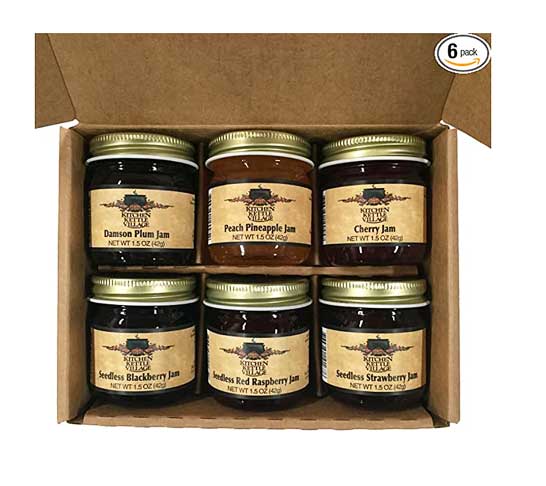 Simple good gifts for old people often bring the most pleasure because our favorite older loved ones actually use them. And, love them!

Toast with butter and jam…. Is that the way your senior likes to start the day?

These Classic and wonderful jams are all time American favorites.

Look at these flavors:

Blueberry
Strawberry Preserves
Apple Raspberry
Apple Cinnamon
Pepper Jam
Apple Butter

Your favorite seniors will be looking forward to breakfast every day!
So many kinds of yummy
Jam Samplers
at Amazon
Window Bird Feeder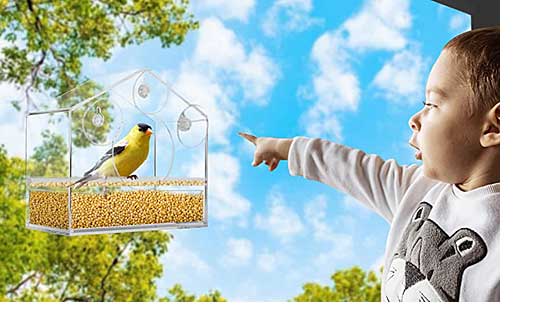 Window Bird Feeders are a fantastic gift for those who love to watch birds. And, even for those who never have, the fascination becomes almost overwhelmingly Joyous and Sublime.

What we like best about window bird feeders is they easily attach right on the outside of whatever window you want. (We put them on the window near our breakfast table.) Now, you and your new friends can enjoy breakfast together!
There are so many shapes and styles to choose from! These make especially good gifts for old people who are homebound.

Window Bird Feeders
at Amazon
Photo Coasters


Photo Coasters came up as the #6 choice (out of 72) on our Seniors Survey: "Good Gifts for Old People". Gifts they loved getting.

Why?

Well, you know how grandparents have pictures of the grandkids, usually in magnets on the fridge?

BUT, how long do we actually hang out by the fridge? Right?

These inexpensive coasters sit right on the table. Right there with Granny and Grandpa. Lift the drink. There's their precious grandchildren. They can spend time with these pictures of their favorite young people. And, we think you'll notice the smiles linger on their faces for a long while each time they do.
Photo Coasters
at Amazon
Golf Range Finder


Got a senior golfer in the family?

These Golf Rangefinders are handy little devices to have in the golf bag. They tell you the distance to the hole from where you are standing and help you select the proper club for your next shot.

A bit gadgety. But, fun.
Golf Rangefinders
at Amazon

#3)  Special Gifts
for Grandparents



Wi-Fi Digital Photo Frame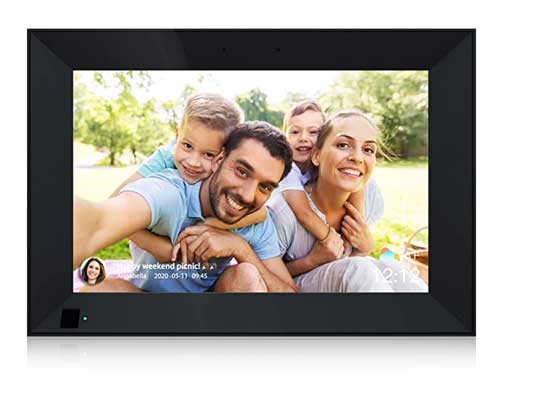 Good gifts for old people always include photos of the grandchildren. Grandparents, who don't already have one of these Digital Photo Frames, will love it and be super surprised by this gift. Guaranteed!

All of us seniors grew up with favorite printed paper pictures that we often put in frames. That's where a favorite picture goes. Right? And, who are the grandparents favorites right now? Yes! Their grandchildren. Of course.

Well, in this age of technology, we can upload multiple pictures from our smartphones into this one frame and change them as we please. Without even touching the frame!

Wi-fi Digital Photo Frames will enable you to upload pictures into the frame from your smartphone directly. A great way to keep the grandparents connected to what the grandkids are doing on any given day.

These frames also make especially good and desired gifts for elderly seniors in nursing homes. You can surprise them over and over again with wonderful new photos of their grandchildren.

Wi-Fi Digital Photo Frame
at Amazon
Recordable Book
From the Grandkids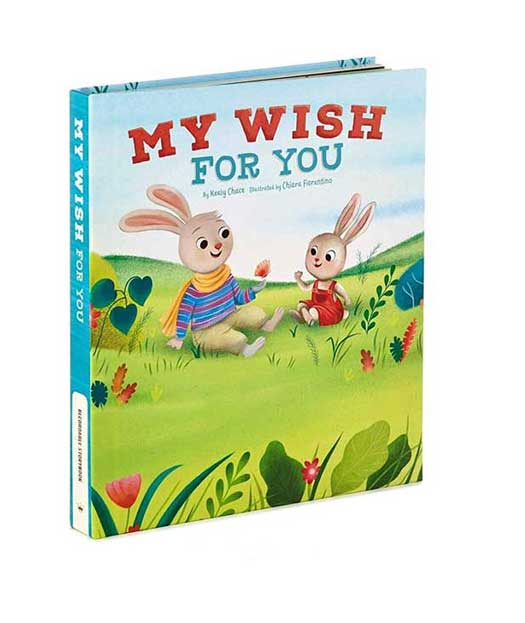 Unless the grandparents hate the grandchildren, almost nothing will touch their hearts more than a Recordable Book from the grandkids. One of these books will bring an immediate smile to their faces, Joy to their hearts, and be a gift they will cherish forever.

Most books are stories for children under five. The child records the story in their own voice. When Grandma and Grandpa open the book it plays back.
Grandma and Grandpa can listen to their tiny voices anytime. Even when they are far away. Grandparents can enjoy these books for years to come.

When we did our survey of 201 seniors, this was one of the "Good Gifts for Old People" that they voted to include on their "All Time Favorite Gift List".
Heart warming
Recordable Books
at Amazon
Grandparent Talk Game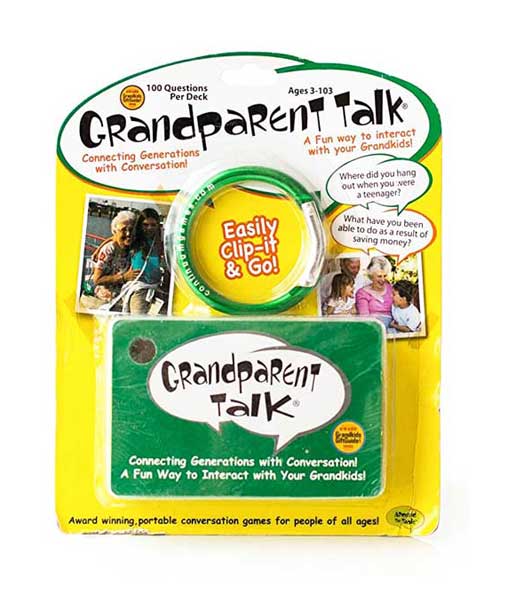 Games that enable seniors to play with young grandchildren are always good gifts for old people.

The Grandparent Talk Game is an excellent way for grandparents to have some fun playtime with young grandchildren.

Instead of grandparents (adults) asking all the questions (which often makes young children shy and uncomfortable), there are 100 cards with questions kids ask their grandparents. Great. Right?

Questions like: "Did you have a favorite toy as a child?" "What was your first car?" "What were your grandparents like?"

The Grandparent Talk Game is a great way for grandparents to connect with young people at family gatherings. Or, simply when they go to visit. The children get to feel and be in control of the conversation. This game is also an easy fun way to help a child's communication skills develop. And, the kids get to learn things about their family in a way that is relaxed, fun, and comfortable for them.
Grandparent Talk Game
at Amazon
Grilled Cheese Toaster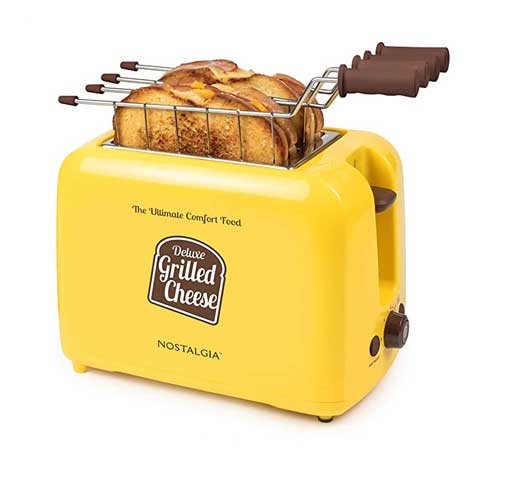 Good gifts for old people always include one of life's simple and favorite pleasures: Eating! Isn't lunch and snacks with Grandma and Grandpa always a favorite?

This Grilled Cheese Toaster is so handy whenever you want a nice hot delicious and nutritious snack. Or, a quick meal. And, it's a favorite for when the grand kids come over and want something warm and yummy to eat.

The Grilled Cheese Toaster is easy to use, easy to clean, and comes with two reusable toasting baskets.
Grilled Cheese Toaster
at Amazon
Memory and Keepsake Journal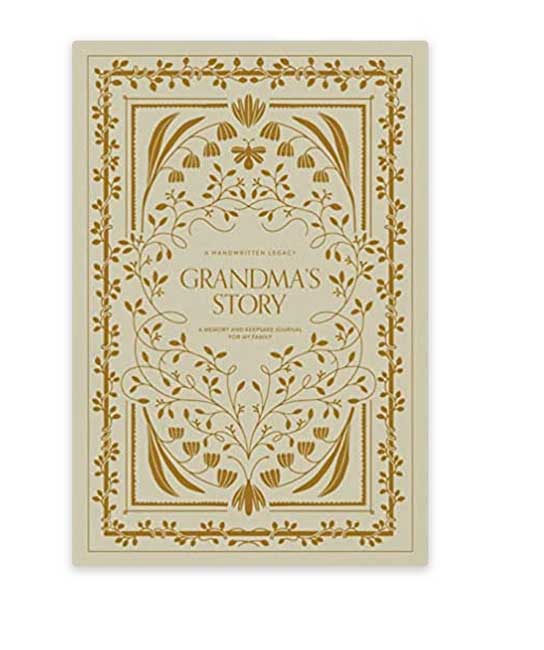 Good memories are some of the very best good gifts for old people.
Remember keeping a diary?


Memory and Keepsake Journals are the senior version of these. But, what ideas do we write about now?

The big advantage of these journals (that feature guided prompts) is that ideas are right there for you to work with. Most of these books also have places for photos, momentos, and a family tree.

A great way to bring a smile to grandparent's faces and share family history with future generations.
Memory and Keepsake Journal
at Amazon
Photo Book


A Photo Book personally made by you, with captions that identify the people by name, and, tell the places where each photo was taken, can be one of the best gifts for old people with dementia.

This is an especially good gift they will cherish. One they can touch and hold. And, one they can enjoy anytime for years to come.

You can get these books very inexpensively (starting around $11) online at Walmart.

#4)  Soothing and Comforting Gifts



Heated Mattress Pad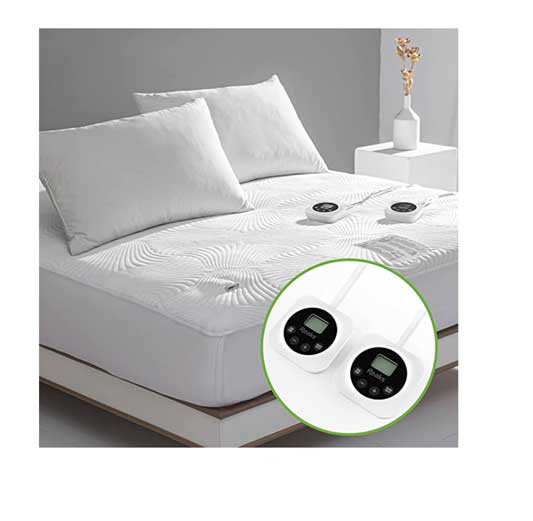 As we become older our circulation may not be as good as it once was. And, this can often cause us to feel a little cold. Very often disturbing our sleep.

A good night's sleep is important to everyone. But, we don't always want to keep the heat on all night. That can get quite expensive. As well as being wasteful. And, we may not want to run a risky electric heater in the the bedroom while we are sleeping either.

What can we do?

Good gifts for old people include things that keep them warm and cozy. A Heated Mattress Pad can solve the problem of getting cold in bed very inexpensively and comfortably.

A heated mattress pad warms the whole top bed surface. The covers on top of it keep the warmth in. So, even if you toss and turn, you don't have to warm up the covers all over again each time you move. They will already be warm and just waiting for you.
You can also get your heated mattress pad with a single temperature control for the entire surface. Or, separate controls for both sides of the bed so that each person may pick their own comfort level.

Sweet dreams!
Heated Matress Pads
at Amazon
Reusable Microwave Heating Pads


Most of us seniors, especially our really old people, usually have some kind of ache or pain. Just about every day. Am I right?

Some nice heat on these places is often the most comforting thing.

Reusable Microwave Heating Pads are just the thing so many seniors wish they had, but, don't know they even exist. These are always good gifts for old people. And, gifts they appreciate.

The heating pad pictured here is for the neck and shoulders. But, you can get these soothing heating pads to fit almost every area of the body.

Reusable Microwave Heating Pads
at Amazon
Throw Blankets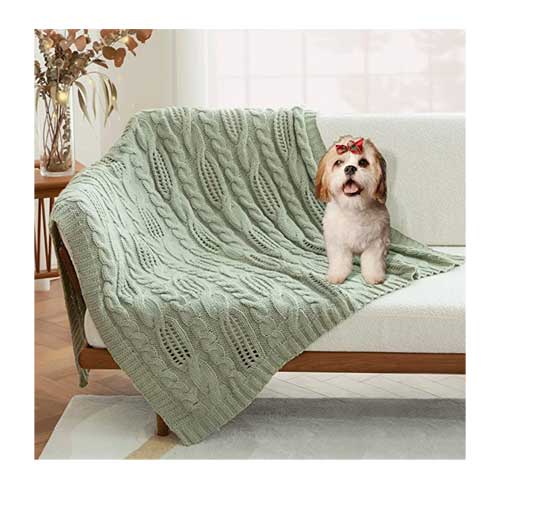 My Mom couldn't get enough of these. Or, make enough of them. She was an avid seamstress. Loved to do needlepoint.

As she got older, she spent more hours watching TV and sewing. She began making "Throws" because she could watch her TV show and not have to concentrate too heavily on the easy sewing.

Soon we were receiving one every Christmas.

At first I thought, "What good are these? They're not really blankets."

Well, try one out on a winter night, while you're watching a movie or your favorite TV show. Or, while reading a book. Or, playing on the computer. So nice!

Throw Blankets are not so big that they are hard to maneuver, like a regular quilt, and not so small that you are left with bare spots. They are just enough of a blanket to keep the draft away and keep you comfy and cozy. That's why they are such good gifts for old people. They are handy and easy to carry around anywhere.

These "throws" are surprisingly loved gifts.
Soft, cozy
Throw Blankets
at Amazon
Sleep Sound Machine


Sleep issues are common as we grow older. And, for those in a city or by a busy street, the constant spewing of noise can be a real disturbance.

Sleep Sound Machines make "white noise". Or, play nature sounds like birds and crickets, ocean waves, a running stream, etc… These natural sounds are calming and can usually help us relax and fall asleep faster.
The Douni Sleep Sound Machine we have pictured makes a wide variety of these nature sounds and is a fantastic buy right now for $36.

Wouldn't you rather listen to the ocean than the traffic, sirens, and kids screaming outside? So, would most old people.

Totally worth a try.
Douni Sleep Sound Machine
at Amazon

#5)  Brain and Memory Game Gifts



Good gifts for old people include fun things that can actually improve memory and cognitive functions.

This category has so many wonderful options that we have written two entire article and resource center for you on the topic. They are:
"Easy Brain Games for Seniors"
"Easy Memory Games for Seniors"


Not only are brain games fun and challenging (at all ability levels), these games have many benefits that include:


*  Improved Short Term Memory
 *  Improved Problem Solving Skills

 *  Better Concentration


 *  Greater Ability to Focus

 *  Quickened Reaction Time

 *  Better Sleep

 *  Stress Relief

 *  Improved Decision Making Speed

 *  Faster Mental Processing of Information

 *  Sharpen Reasoning Skills

 *  Improved Finger Dexterity

 *  Increased Planning Skills

 *  Mood Enhancement

 *  Improvement in General Daily Tasks and Functions


Brain games also give the grandchildren more easy opportunities to interact and play with the old people they love the most!

#6)  Good Gifts for
Health and Fitness



Are there seniors and grandparents in your family that are fitness nuts? What are good gifts for old people in this category?

Well, here are great gifts to help these brave seniors make the most of their pleasure from home, or, when they are on the go.
SodaStream Sparkling Water Maker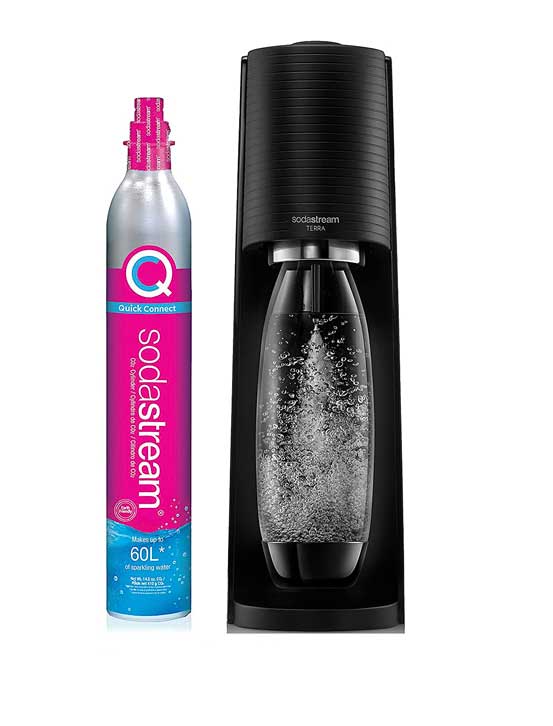 For those of us (myself included) who enjoy sparkling water, but, don't enjoy the hassle and environmental impact of all the bottles, the SodaStream Sparkling Water Maker is a must have.

With a SodaStream sparkling water maker, we can also make our own sodas, fruit refreshers, and wine coolers.

Did you know that a large number of old people are at least somewhat dehydrated? And, even with some of the athletes in the group, it's a struggle to get them to drink enough water each day? Good gifts for old people include items that help them stay hydrated.
Many adults find sparkling water more fun to drink. So, they drink more. The SodaStream Sparkling Water Maker will give them easy access to all the sparkling water they desire each day. And, no hassles with endless bags full of empty bottles that have to be recycled.

By having more delicious water beverages that we really enjoy, we tend to drink more water each day and stay better hydrated.
SodaStream Sparkling Water Maker
at Amazon
Resistance Bands and Workout DVDs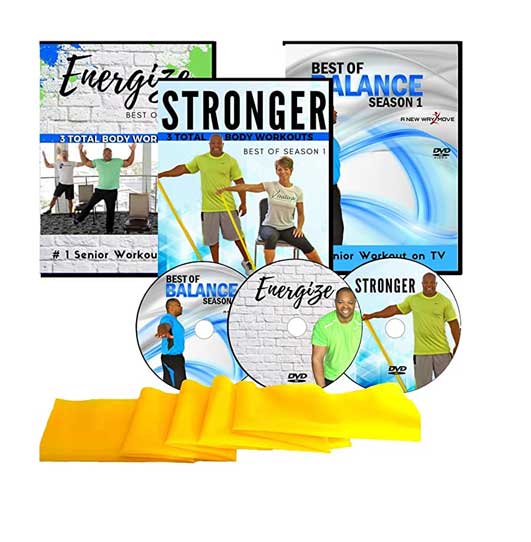 For the old people on your list who are exercise buffs, there are Resistance Bands and Workout DVDs.

BUT: Did you know resistance bands are one of the very best ways to help seniors interested in improving their physical fitness to get started?

Yes! And here's why:

Resistance bands are one of the safest and most enjoyable ways to start doing progressive resistance train. Something we all hear the importance of now that we are seniors.

Unlike weights, if you accidentally drop your resistance bands on your foot, you won't get hurt. They are just big rubber bands.

Resistance Bands come in different resistance strengths (thicknesses). And, you can also adjust the tension on each band just by where on the band you hold it. Simple!

These are also very good gifts for old people who want to exercise while they travel. There are so many different wonderful workouts (for all levels) to choose from.

Resistance Band Workout and DVDs
at Amazon
Indoor Exercise Bike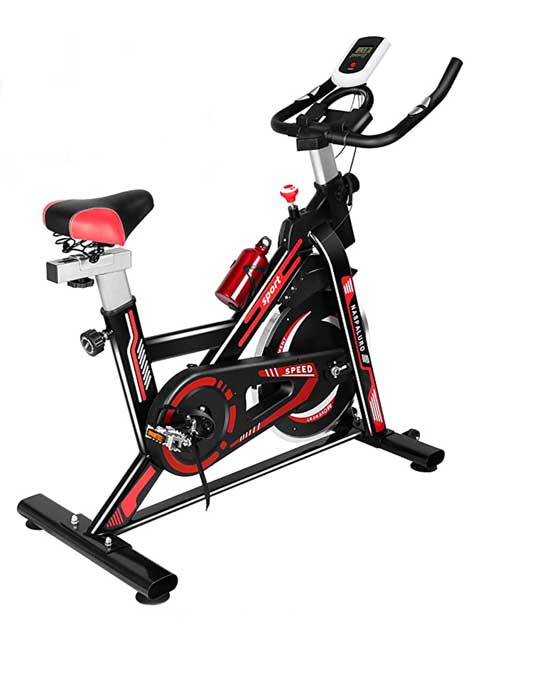 Good gifts for old people include anything that will make exercising easy for them. Something they look forward to doing.
Indoor Exercise Bikes are a terrific way to get a real good cardio workout without the impact running has on knees and backs. And, you won't have to worry about your favorite old people leaving the house alone, or, having them risk walking or running in the snow and on ice.

If they need a wider seat and/or back support, recumbent (seated with backrest) bikes are also available.
Exercise Bikes are available in a rather large price range, depending on what you want. They're not going to be racing in the Tour De France on one of these, so there's no reason to go crazy with a super expensive one. $300 will get them a very decent one. But, you can get them going with one for under $150.

Indoor Exercise Bikes
at Amazon
Under Desk Bike Pedal Exerciser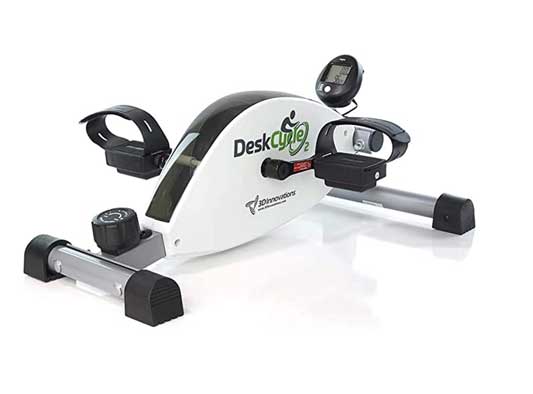 Do you hate the idea of having to devote all of your attention to exercises when you are doing them? But, you still want to get some exercise each day?

The Under Desk Bike Pedal Exerciser may be for you!

The Under Desk Bike Pedal Exerciser was designed for busy executives who say they don't have time to exercise. So, they could put one of these gadgets under their desk at the office, exercise while they are working, and no one knows the difference.

Brilliant! Right?

Well, you can do the same thing watching TV, crafting, painting, coloring, quilting, browsing the internet, or anytime you are busy with any seated activity.

One of the best parts of using an Under Desk Bike Pedal Exerciser is: You can't fall off of it!
Under Desk Bike Pedal Exercisers
at Amazon

#7)  Good Gifts for Old People
Who are Blind
or
Visually Impaired



Good gifts for old people you love who may be blind, or severely visually impaired, are usually not always easy to find.

So, here is a special list of very pleasing and wonderful gifts just for them:
Be My Eyes


If you are looking for good gifts for old people who are blind, or who have severe visual impairment, this is one of the very best gifts you can find.
Many old people, who are blind, don't even know "Be My Eyes" exists.
Once they did, this was their #1 "Wish List" gift.

"Be My Eyes" is a free app that works on both iOS and Android.

With this smartphone app, a blind person is connected to a sighted volunteer who can see whatever the blind person points her phone at. Anything. And, this service is completely free!


If they need to:

Read a label
See the action on the street they want to cross in real and present time
Adjust the thermostat
Set a timer
Turn on an alarm
Check expiration dates on foods
"See" Anything


A volunteer can from"Be My Eyes" can help them. Right away.

Super!
Take a look at their VIDEO to see this in action:
Audible Subscription


For many old people, reading a book is just no longer pleasurable, or, even possible. Still they don't want to have to sit in front of the TV to enjoy a story or an adventure.

Or, maybe they'd just like a book before turning out the lights for sleep.

With an Audible Subscription your favorite visually impaired seniors can choose a free audio book from thousands of titles and listen to it on their smartphone or computer, anywhere and anytime.

For the reader who just isn't able to comfortably read anymore, or a blind person, this can be one of the very best "good gifts for old people"! AND: They give you your first listen for free.
Audible Subscriptions
at Amazon
Large Print Measuring Cups and Spoons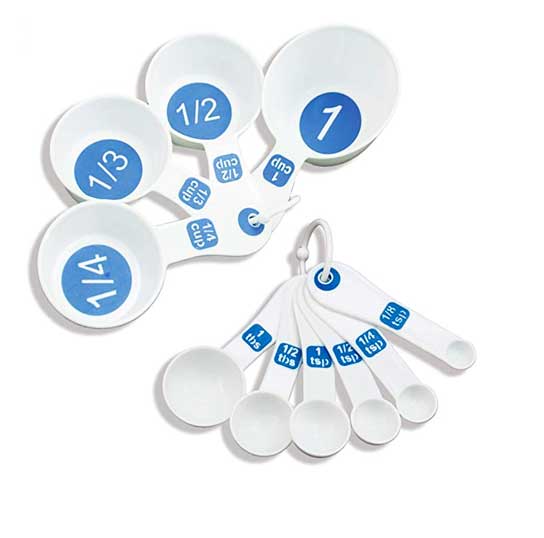 There are lots of little simple things that are good gifts for old people who are poorly sighted. Like Large Print Measuring Cups for cooking.
Even those of us with excellent vision often have a bit of a time getting out the right measuring cup when we are baking a recipe. Right?

Now, a lot of old people still love cooking and baking. It may even be one of their very favorite things to do. And, it's frustrating to be held up in the process because they can't see the right measure easily.

These great Large Print Measuring Cups have extra large type, on both sides, to make finding the right measure as easy as it ever was
Large Print Measuring Cups and Spoons
at Amazon
Magnifying Glass Necklace


This is one of the handiest items for not just old people, but, almost every senior. These make very good gifts for old people who wear reading glasses. And, that's most of us. Right?

I'm 70 right now. In pretty darn good shape I think. But, reading the small print on items when I go to the grocery store can be like an adventure into outer space. Some of the printing on packages and bottles is truly microscopic. Even with my normal reading glasses I can't read it. Same for you?

So, for us old people who can't read this stuff, a little magnifier makes everything easy. They're not all fancy like the one pictured to the left. So, men can get a nice plain one too that they can tuck under their shirt.

A Magnifying Glass Necklace is an ideal gift for women. It looks very nice around the neck or over a blouse, and, it can make reading that small print possible again!

These little jewels come in a wide variety of styles. So, it's easy to find one your lady will enjoy wearing, or, a plain one men can feel comfortable with.
Magnifying Glass Necklace
at Amazon
Talking Watch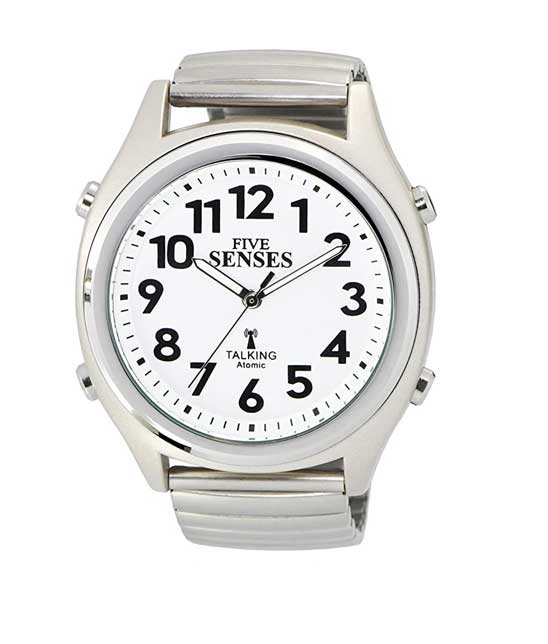 Good gifts for old people with vision considerations include anything that helps them with doing things that well sighted people take for granted. Like telling the time.

Wrist watches are just too small for many people with sight difficulties to see.

So, how about a Talking Watch that:


Tells the time audibly with a single touch
Sets itself automatically
Adjusts itself for Daylight Savings Time

Cool! Right?
Talking Watch
at Amazon
Wireless Low Vision Computer Keyboard


I still type with what is called the "hunt and peck method". That's the polite way of saying I still type with two fingers and have to look at the keyboard to do it.

Embarrassment….

Well, I recently found out that a lot of old people, who are new to all the modern technology and never learned to type before, still do the same thing.

Now: I see the keyboard quite well. BUT, other I know have trouble see the letters they need to find. They often get frustrated and cut their computer enjoyment time down just because it takes them so long to see the letters well enough.

No need for that anymore.

You can get your loved one a Wireless Low Vision Computer Keyboard with larger bolder letters in high contrast. For the visually challenged: Soooo much easier to see and use. And, no wires to get fumbled up in.

These helpful keyboards come in both wired and wireless models and are extremely good gifts for old people who like to use a computer but can't see the keyboard very well.

Wireless Low Vision Computer Keyboard
at Amazon
Tip n Split Magnifier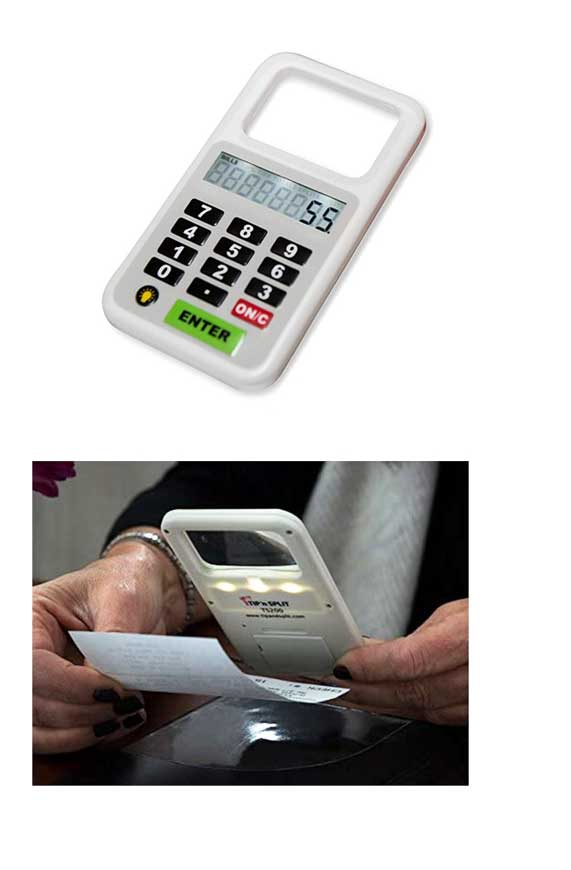 How often have you gone to a restaurant and forgotten your reading glasses?

When I forget to bring my reading glasses to the restaurant, I am often a helpless babe in the woods. Someone else has to tell me what's on the menu.

Then, when the check comes, without glasses, I have to ask the waitress how much it was. And, usually I don't want my guest(s) to know how much the bill was.

Ever happen to you?
So, in our good gifts for old people list we found this lovely little magnifier and tip calculator and we decided we had to show it to you.

Now, with one of these little Tip n Split Magnifiers in my pocket, I can go anywhere and read the print on any restaurant menu. The thing even has a built in light to brighten up the printing. The calculator makes figuring out the tip quick and easy.

In a group that's splitting the bill? The calculator makes the split easy and quick to figure.

A Splendid Possession and Gift!
Tip n Split Magnifier
at Amazon

#8)  Good Gifts for Old People
Who Are Deaf
or
Hard of Hearing



Hearing loss is another difficulty that many old people face.

Fortunately, most hearing impaired old people have easy access to hearing aids. But, hearing aids don't always deliver the most clarity in all situations.

There are some very thoughtful and very good gifts for old people who are hard of hearing, that can improve clarity of sound and bring a smile to their face. Take a look:
Captioned Telephone


Good gifts for old people who are hard of hearing include the Captioned Telephone.
Did you know there are still many old people who prefer having an old fashioned telephone over a cell phone? Is one of these people a family member?

We all know, you don't always have to be deaf to have trouble understanding someone on the phone. Right?

Well, the Captioned Telephone was voted one of the best gifts for old people with hearing issues in our 201 person senior survey. In fact, for seniors with hearing concerns who don't already have a captioned telephone, it was #1 on their "Gift Wish List".

With hearing difficulties, not all the words coming through are always clear enough to understand. And, as we all know, this makes conversing over the telephone difficult for the person talking as well as for the person with audibility issues. Both people can get frustrated and upset quickly. How are they supposed to really enjoy a friendly conversation this way? Impossible. Right?

A Captioned Phone can solve this.

A captioned phone immediately displays, in writing, what the caller is saying. Having a normal conversation, that can flow naturally and easily again, becomes possible and pleasurable again.
Captioned Telephone
at Amazon
Video Doorbell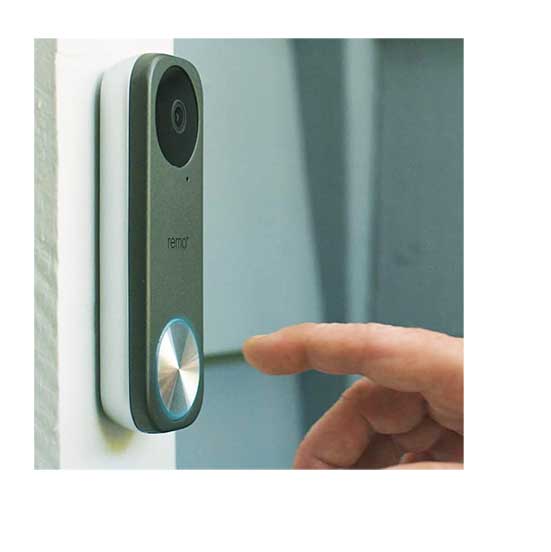 Good gifts for old people should include items that make our favorite seniors feel comfortable in their homes.

96% of our seniors surveyed who were hearing impaired, who didn't already have a Video Doorbell, put this on their "Gift Wish List".

Let me ask you: How many times has one of your favorite old people not answered your knock on the door simply because they can not hear it well enough? Then you get panicked. Right? Hearing a door knock is not always easy for many old people.

A Video Doorbell can help solve this situation all together.

A Video Doorbell sends a signal to a smartphone instead of ringing a chime. The receiver see can on their phone: who is there, and, speak with them before even answering the door. This also provides a great feeling of security for the person in their home.
There are so many to choose from that those of us who, like me, don't know what to choose, get confused.
At $99 the Remobell S Video Doorbell is a very affordable Video Doorbell that is an "editors choice" at PC magazine.

Remobell S Video Doorbell
at Amazon
TV Listening Device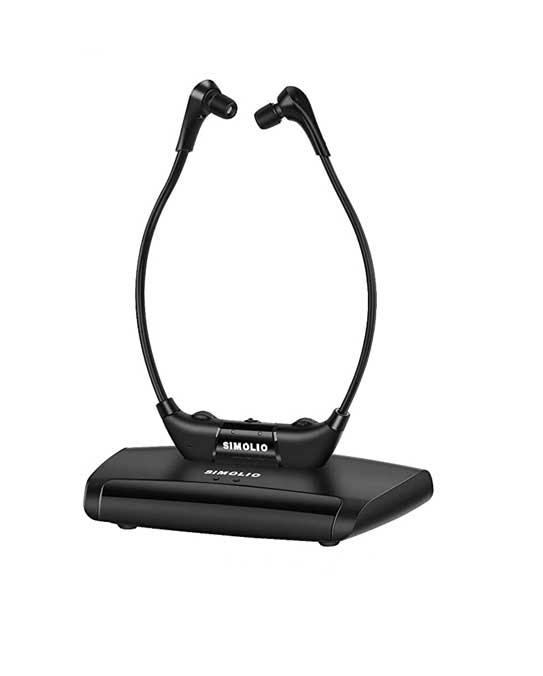 When the family gets together and decides to enjoy a movie or TV show together, is an older person soon saying, "I can't hear it."? Then someone else is saying, "It's too loud."? Then you try to find a volume setting that everyone can hear. But, no one enjoys. Right?

Old people often play the TV considerably louder than younger people because of various hearing issues.
Good gifts for old people (from our Seniors Survey) include devices that enable hearing impaired seniors to enjoy watching TV with everyone else in the room.

NOW, you can help your hard of hearing family members enjoy all the dialogue, without making it uncomfortably loud for everyone else, with an individual TV Listening Device.

These devices are also wonderful for old people who live in apartments and want to watch late night TV without disturbing their neighbors.

You can get these devices for old fashioned analog TVs as well as the modern digital ones.
TV Listening Device
at Amazon
Sennheiser Noise Cancellation Earbuds


Earbuds are the newest and most popular earphones for people of all ages. Kids use them all the time to listen to their MP3 players.

When it comes to finding good gifts for old people, these Sennheiser Noise Cancellation Earbuds are some of the best earbuds for people who are hard of hearing.
Why?
Because all the sounds, besides the ones we are trying to listen to, are interfering with our ability to easily hear what we are trying to listen to.

These Sennheiser CX Plus True Wireless Earbuds -  for Music and Calls, with Active Noise Cancellation, unlike the usual ear buds, are noise canceling. So, you hear more of what you want to hear.
Sennheiser Noise Cancellation Ear Buds
at Amazon
AfterShokz
Bone Conduction Open-Ear Bluetooth Headphones


The AirPods we just showed you up above (in the "Fun and Practical Gifts section) are great for old people with normal hearing ability.

But, for those seniors who use hearing aids, AirPods may not be the best headphones. For these seniors AfterShokz Bone Conduction Headphones may be a better choice.

Bone Conduction Headphones sit in front of the ear canal. Not inside the ear. The sound waves are actually transferred through the jawbone. This gives a clearer listening experience to seniors who use hearing aids.

The ads say they are for athletes because athletes have so many outside sounds competing for their attention. But, these Bone Conduction Headphones are also Amazing listening devices for seniors with hearing difficulties. They make very good gifts for old people who use hearing aids.
AfterShokz Bone Conduction Headphones
at Amazon
Vibrating Alarm Clock


How does a deaf or hearing impaired person hear an alarm clock?

They don't! BUT, they can feel a vibrating one.

A Vibrating Alarm Clock is a fantastic gift for old people who can not hear well. Some models go under the pillow. Others are attached to their wrist.

Don't let your dear ones sleep restlessly all night because they fear oversleeping and missing an appointment. With a vibrating alarm clock, they can sleep in peace knowing they will wake on time.
Vibrating Alarm Clock
at Amazon
Ear Gear Hearing Aid Covers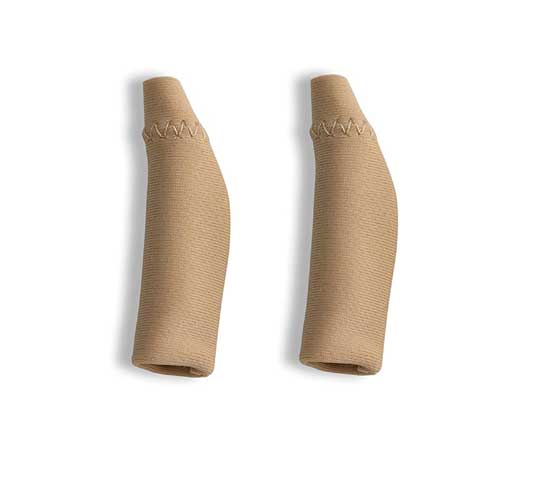 Have you ever noticed that so many things we buy these days don't come with the cases and covers we need to keep them in when we are not using them?

Hearing aids fall into this category. Right? They are expensive and we want to keep them in good shape while we are not wearing them.

These little ear gear covers do the trick nicely!

Ear Gear Hearing Aid Covers are small nylon spandex sleeves that can help protect your hearing aids from moisture and dirt when you are not wearing them.

And, they come in eight different colors to suit your personal taste. These covers are good gifts for old people who have expensive hearing aids that they would like to protect when the devices are not in use.

Ear Gear Hearing Aid Covers
at Amazon

#9)  Good Gifts for Old People
with
Joint Problems



Old people so often have joint difficulties. Aches and pains that restrict movement and mobility.

Good gifts for old people that ease discomfort and make things easier and more accessible are often high on their wish lists. And, these gifts can be a great surprise because the person receiving them very often doesn't know these great items even exist.
Extra Long Shoe Horn


Do you have any idea how difficult it is for some of our favorite old people to get their shoes, boots, and slippers on? They never talk about it. But, just watch them some time. Most old people we know moan a bit when reaching down to put on their shoes. We all may do this someday...

So, if you're looking for good gifts for old people, simple functional gifts that they will use and be really glad to have, and your budget is very limited, these Extra Long Shoe Horns should be a big success. These shoe horns make the job a whole lot easier.

If any of your favorite old people don't already have one or more of these Extra Long Shoe Horns, get them one. Or, two. Or, three. So, they can have one in different places in the house when they need them.
These Extra Long Shoe Horns have been one of the all time favorite gifts for old people. Old people really appreciate these and they use them.

You'll see what a thoughtful gift the extra long shoe horn will be.

84% of our seniors surveyed, who didn't already have at least one of these, said they would like one. This makes the gift of Extra Long Shoe Horns an almost sure winner for most old people.

An extra long shoe horn works with shoes, dress shoes, boots, and sneakers.

So, if you seniors are often struggling to put on their favorite shoes, this may turn out to be one of their favorite gifts this year.
Lots of Great
Extra Long Shoe Horns
at Amazon
Gel Knee Wrap


Need a little soothing heat for some sore and tired old knees?

These Gel Knee Wraps will do more than just the heating creams and lotions. These gel knee wraps actually put some real soothing, penetrating warmth right on the spot we want.

Use them over and over again. You can heat them up in the microwave, or, if you need some cold therapy, you can put them in the freezer. A mini spa for tired aching knees!
If you're looking for good gifts for old people, that are comforting and soothing to old bones, you need look no further.

Gel Knee Wraps
at Amazon
Automatic Jar Opener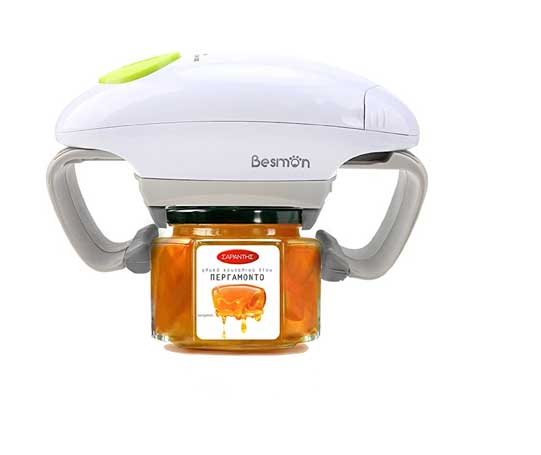 The Automatic Jar Opener is one of the most enjoyed of the "Good Gifts for Old People" that we have found. Almost every old person (in our survey) with finger weakness and joint discomforts wants or has one already. That was 98%!


For someone with osteoarthritis, opening bottles and jars can be a terrible experience or impossible.

An Automatic Jar Opener makes this task easy. It can enable many old people to enjoy working in the kitchen again, and, make it possible for them continue to enjoy many of the foods they love eating.
Automatic Jar Opener
at Amazon

#10)  Good Gifts for Old People
with
Cognitive Issues



Cognitive impairment is a great challenge for many old people. Still, having fun and enjoying the company of our loved ones is so important and necessary.

Here are some good gifts for old people who have more of a mental challenge. These gifts can help ease their anxiety, occupy their minds comfortably, soothe agitation, and give them a feeling of family and community.
Day Clock


A Day Clock is one of the exceptionally good gifts for old people with memory issues.

A Day Clock displays the:


Day of the Week
Morning or Evening
Time (with am or pm)
Date
Year

You can get these with nice large displays for easy reading, as well as a control to adjust the brightness level.

These are really a fantastic little item for old people with memory issues. Why? Because an easy to see Day Clock can help them keep oriented and feel more secure in where they are in their day, evening, day of the week, month, and year.
Day Clocks
at Amazon
Unlocked Big Button Senior Cell Phone


What good is a cell phone for old people if they can't see the numbers on the keypad? Or, if there is no SOS button for quick help access?

Come take a look at the Easyfone.

Here's what it has:

2.0inch HD IPS Display with Big Font & Big Icon for easy viewing, High Volume for easy hearing, Big button with Talking number feature for easy dialing.
1500mAh real capacity battery, Standby time up to 96+ hours w/ an easy charging dock, just place your phone on its stand, and it starts charging!
Special SOS button with GPS for emergency help; # Key 2-9 eight numbers can be set as Photo Speed dial button.
Cutting Edge M4/T4 Hearing Aid Compatibility(HAC), ideal for the customers with hearing aid devices.
Multi useful functions like GPS positioning/Integrated torch/FM Radio/Camera/Photo Speed dial/Tasks/Audio player/Bluetooth/Alarm/Calculator and etc.
(Package NOT Include SIM-Card) This 4G unlocked phone is fully compatible with T-Mobile and Metro by T-mobile, Mint Mobile, Tello, Ultra Mobile, SpeedTalk, Simple Mobile, and other T-Mobile service providers; Compatible with some AT&T service providers such as Consumer Cellular; Will NOT work with CDMA Carriers (Verizon, Sprint, PagePlus) and AT&T
Unlocked Big Button Senior Cell Phone
At Amazon
Adult Coloring Books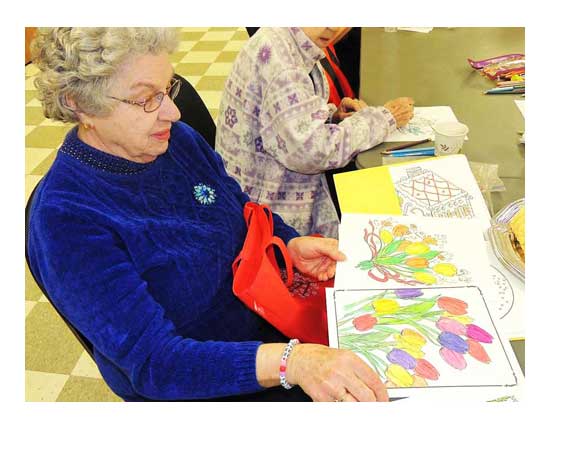 Coloring is not just for children anymore.

We're highlighting coloring books here because not only is coloring a fantastic brain game, but because old people have a great time coloring. That's what makes adult coloring books one of the most versatile gifts: Coloring books are good for old people of all ages.

Coloring Books for Adults are available in super simple form for the very challenged, and, progress all the way up into highly complex patterns.

And: Did you know Coloring is one of the favorite pass times of seniors in retirement homes? Most people don't know that. I didn't.

So, if you're stuck for a good gift for an old person, adult coloring books are a wonderful unexpected surprise!


Here are some of the BENEFITS of coloring for seniors:


Coloring relieves boredom
Coloring is soothing

Coloring engages the creative mind
Coloring reduces stress
Coloring is fun!



Coloring Books can also be especially good gifts for old people if they have grandchildren to share and enjoy coloring with.

And, tell me, which of us seniors didn't want the BIG 64 box of Crayola crayons when we were kids?
There are some Great
Adult Coloring Books
with all different kinds of Beautiful Designs at Amazon
Easy Jigsaw Puzzles


One of the very good things about Jigsaw Puzzles is that they are available for old people of every ability level. For the very challenged, you can get puzzles with as little as 6 pieces. This is why we placed this gift in the section for those with cognitive issues.

Old people with cognitive issues can receive a great deal of satisfaction from completing a simple 6 or 12 piece puzzle that concludes with a lovely picture.

Jigsaw puzzles engage our brains and promotes relaxation at the same time. My neighbor used to say when he played with Jigsaw puzzles, that was his meditation time.
You can find
Easy Jigsaw Puzzles
at Amazon
Pill Organizer


If your favorite old people don't have some of these already, get them some. They make taking vitamins and other pills so much easier each day. For them, and, for us.
As you probably already know, most old people are taking different pills and vitamins for a variety of reasons. And, you also know it's important to take them as scheduled to get the results we want. Sometimes this causes us concern.

One of the biggest reasons seniors don't take the pills they are wanting to is that it's just too much of an annoyance to open and close multiple bottles every day. And, they can forget how many of each. Or, which pill is which. Or even, which ones they already just took....  So, they often just don't do it as they should.

Pill Organizers are just the thing to make this easy. We can fill each compartment for them. Then all our seniors have to do is open the compartment for that day's morning or evening, and they're all set. We can pre-sort them for a week or even a month.
Pill Organizers are not only good gifts for old people, they are wonderful for those of us who are the caretakers and worry about our favorite older seniors taking the things they need each day.

Pill Organizer
at Amazon
Fidget Hand Muff or Blanket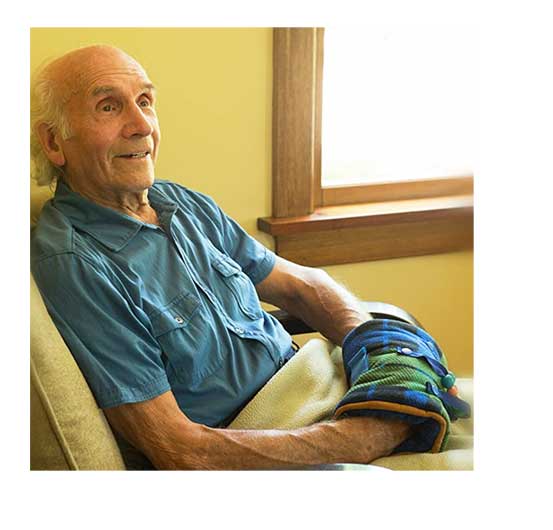 If you have an older loved one who suffers from severe mental decline, have you noticed that as they get anxious they tend to have restless fidgeting hands?

A Fidget Hand Muff or Blanket may be just the thing to help.

These muffs and blankets have something for their fingers to play and fiddle with. This gives them connection to something physical. Something they can play with. Their fingers now have something to do. This can be very calming and greatly help to reduce their anxiety.
Fidget Hand Muffs and Blankets are very good gifts for old people with severe decline. They are soothing and comforting.

Fidget Hand Muffs and Blankets
at Amazon
Robotic Cat or Dog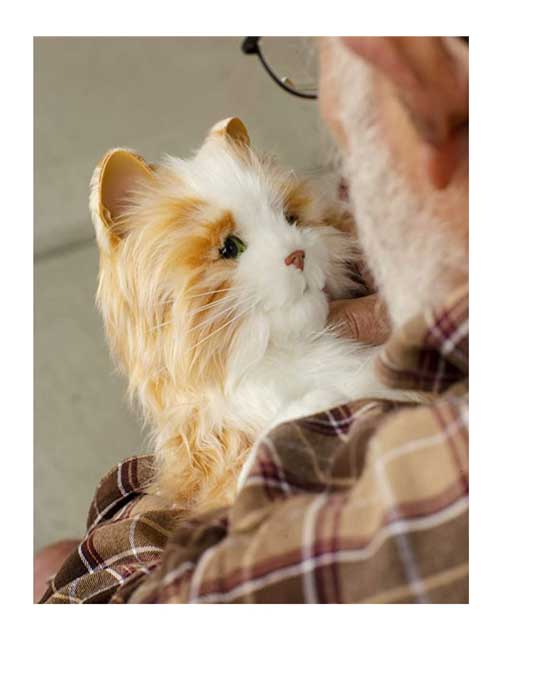 It's part of the circle of life for some old people. We come into this world quite helpless. A number of old people will regress to this in advanced age.

Still, companionship and touch are just as important as ever.

If an old person you love is unable to care for a pet, Robotic Cats and Dogs can give a degree of companionship just as a doll or stuffed animal does for a small child.

Robotic Pets have a realistic feeling fur and sensors beneath the fur that allow them to respond to human touch.

They can give a bit of gentle quiet comfort, and, they can be very good gifts for old people who may otherwise feel too alone.
Robotic Cats and Dogs
at Amazon

#11)  Gifts for Old People
with
Mobility Issues



Old people, who are wheelchair bound, usually have most of the items they need for convenience and mobility attached to their chair.

But, here's a great item we found that our favorite old people who spend a lot of time in wheel chairs LOVE! Especially in the colder winter months.
Wheelchair Blanket


For those who use a wheelchair, or who care for an old person in a wheelchair, sometimes it's cold! So we cover them with a nice blanket to keep warm. Right?

BUT: How may times has that blanket get caught in the wheels? Even stuck hard sometimes?

You just get your person all tucked in, nice and comfy, and then when you start to go the blanket slips out and gets caught under a wheel. Or, in the axle.

How about a soft blanket that wraps around them, fastens, and can't fly out to cause a problem? Nice. Right? You bet.

These Wheelchair Blankets do just that. And, they keep our wheelchaired seniors warmer and more comfortable than conventional blankets and throws that don't wrap all around.

These cozy blankets use easy closure Velcro loops and zippers to keep them in place. Some even have cozy hand warmer pockets.

If you're  a caregiver, you know how hard it can be to find really good gifts for old people who spend a lot of time in a wheelchair. One of these wrap around blankets makes a very thoughtful gift which will be very welcome and appreciated.

These
Wonderful Wheelchair Blankets
are available at Amazon
Power Lift Recliner Chair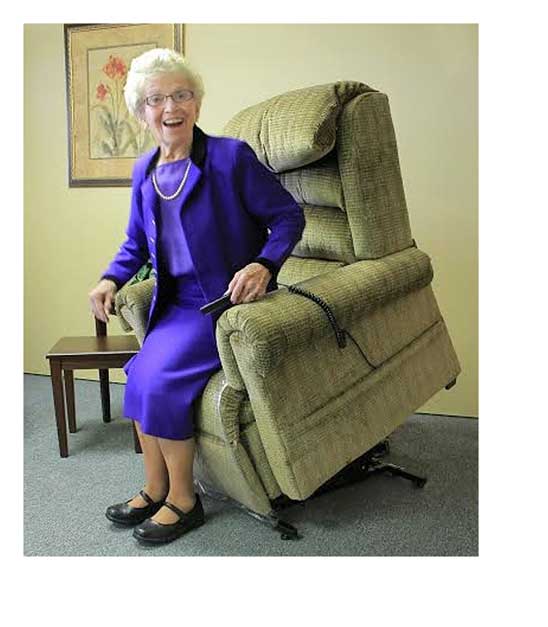 Have you ever watched a loved one struggle to get up from a big soft chair? Or, a couch?
 Well, most of us have. Why? Because a lot of old people just don't have enough leg strength any more.
When it comes to good gifts for old people who have trouble standing up from a sofa or chair, a chair that lifts them up can be a pure daily Joy!

You know, sometimes old people will endure a hard flat chair, instead of a comfortable recliner, because they are able to stand up again when they want to. So, they suffer and worry each time they sit down instead of relaxing and enjoying themself.

Well, how about a nice comfortable reclining chair that's easy to get out of because it lifts you up?

These chairs are such a great gift for older weak seniors. They can rejuvenate a tired spirit. Watch your favorite old person's eyes light up when they feel the comfort and ease of standing up again. When you do, you'll never regret the purcase.

These chairs are so good that we actually wrote an entire article on them. With this article you will be able to pick the right one for you or your loved one. The article is entitled: "Getting an Electric Power Lift Recliner You'll Love"

The Gift Voted #1

on the "Seniors Gift Wish List"



By now you must be wondering what was The #1 Gift on the "Seniors Wish List" of good gifts for old people.

Can you guess?

Our 201 seniors surveyed voted. The gift they said they cherished and wanted the most was:

Something you made by hand.

Anything. As long as you made it or put it together yourself. We asked why? Invariably they said: "Because I can feel the love in it."

These are gifts you can include with a "Main Gift", or, they can be a gift all by themselves.
Their list of items include:
Home Made Cookies
made by YOU!


A batch of fresh homemade cookies was the most popular single item of all the good gifts for old people that our seniors shared with us. Even old people who have no teeth can enjoy a nice soft cookie. Or, a crispy cookie dunked in a glass of hot milk.

Simple. Sublime. Easy to make. If you don't already know how to make great classic chocolate chip cookies, here's how:

Just go to the market and pick up a pack of chocolate chips in the baking isle of the store. Nestle's has a recipe for their fantastic Toll House Chocolate Chip Cookies right on the back of the bag. We find using brown sugar and real butter give them the most flavor.

You can't miss if you follow this recipe!
*note: You know what else? You don't have to wait for a birthday or holiday to take a gift of a plate of freshly baked cookies over to your favorite old people.
We find celebrating things like Tuesday reason enough.
And, wait until you see the smile on their faces when you randomly surprise them with a batch of fresh cookies you made just for them. That will make your day too!

Restore a Photo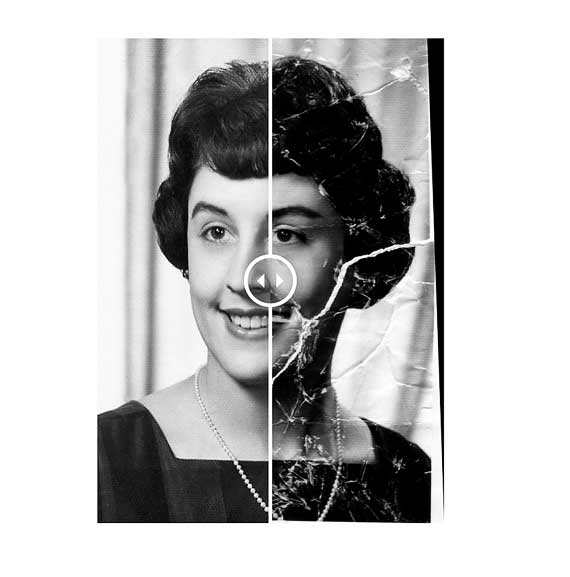 Did your Granny or Grandpa have a favorite photo of their spouse from when they were young? Or, one of them together? And, now it's old and very tired looking?

You can still get photos restored. Looking fresh and sparkling. You can even get this done at a great price at Cosco.

Put that restored photo in a nice new frame. This gift will always be cherished.
A Family Album


Yes, most of our photos today are digital. And, we share them over the phone or on the computer. Once in a while we'll still print one out.

Well, us seniors, and especially the old seniors among us grew up with, and lived most of our lives with, real printed photographs.

So, round up ALL the family photos you can find. And, they usually have a bunch of their own stashed somewhere. Then, buy a Real Photo Album and paste them in. Just like they used to in the old days.

Now there is a real handmade thoughtful gift that they will treasure forever.
You can still find
Real Old Fashioned Family Photo Albums
at Amazon
A House Cleaning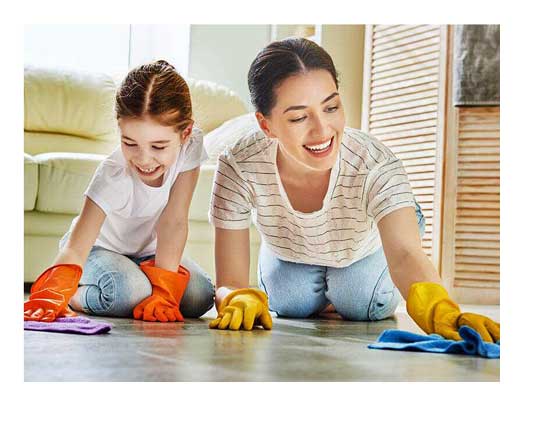 This is a most wonderful gift for a grandchild or grandchildren to promise a grandparent.

We all know how much we cherish every little thing our grandkids do. Right?

And, seeing our grandchildren spend their time and energy to make us comfortable touches the deepest depth of our hearts. Am I right?

So, kids:  Do you need some good gifts for old people and don't know what to give them?
Spend a day cleaning for your grandparents. Make lunch for them too. Even if it's just peanut butter and jelly sandwiches. There's no better or greater gift. And, you'll not even have to spend any money to do it.
A Picnic in the Park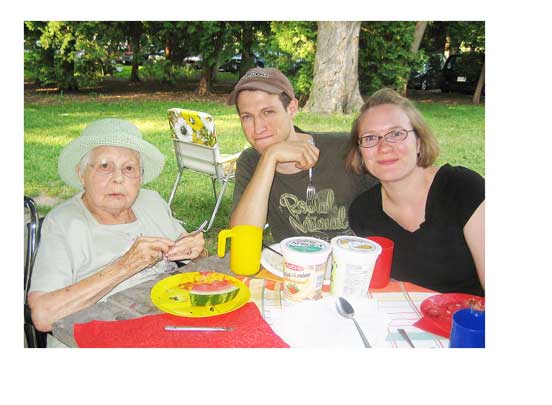 It's not just going out to lunch or dinner. It's a day outside. In the park. just you and the senior you love.

Taking your favorite senior out for a picnic in the park on a nice sunny warm day, with a lot of their favorite goodies, can be one of the best gifts ever. Especially for old people who spend far too much time indoors alone.
Good Gifts for Old People

CONCLUSION



There are so many fun and wonderful gifts for old people out there. Those gifts just sometimes seem so hard to think of. Right?

Besides that: Most of us didn't know many of the items you just saw in this article even exist. Am I right?
The good part is: Most old people don't know they exist either. That makes receiving any of these great gifts an extra nice surprise for them.

Remember: All the wonderful and fun gifts we have shown you here, are gifts the seniors on our "Senior Gift Wish List Survey", told us they wanted. So, you can be sure these items are all good gifts for old people.

We hope this article is able to help you find all the special gifts you want for the old people you love the most.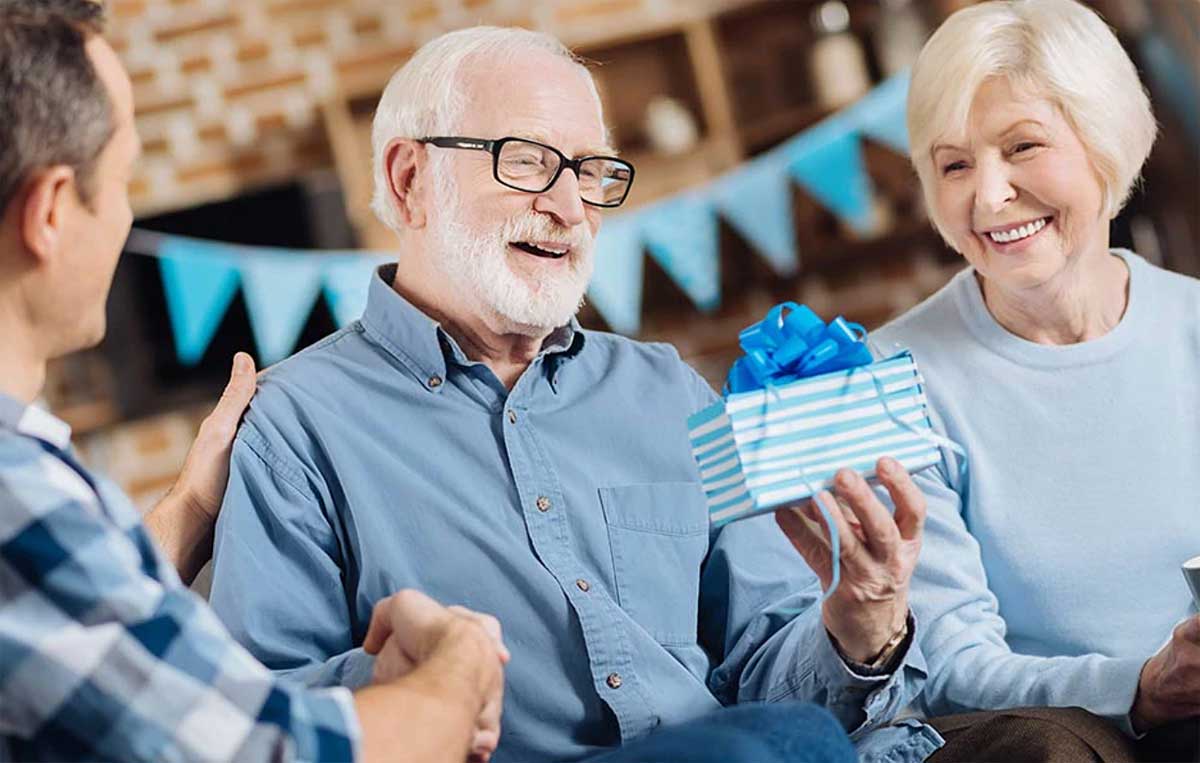 Happy Shopping!  ~ William, Fiona, and Charlotte