Easy Coloring Pages

for Seniors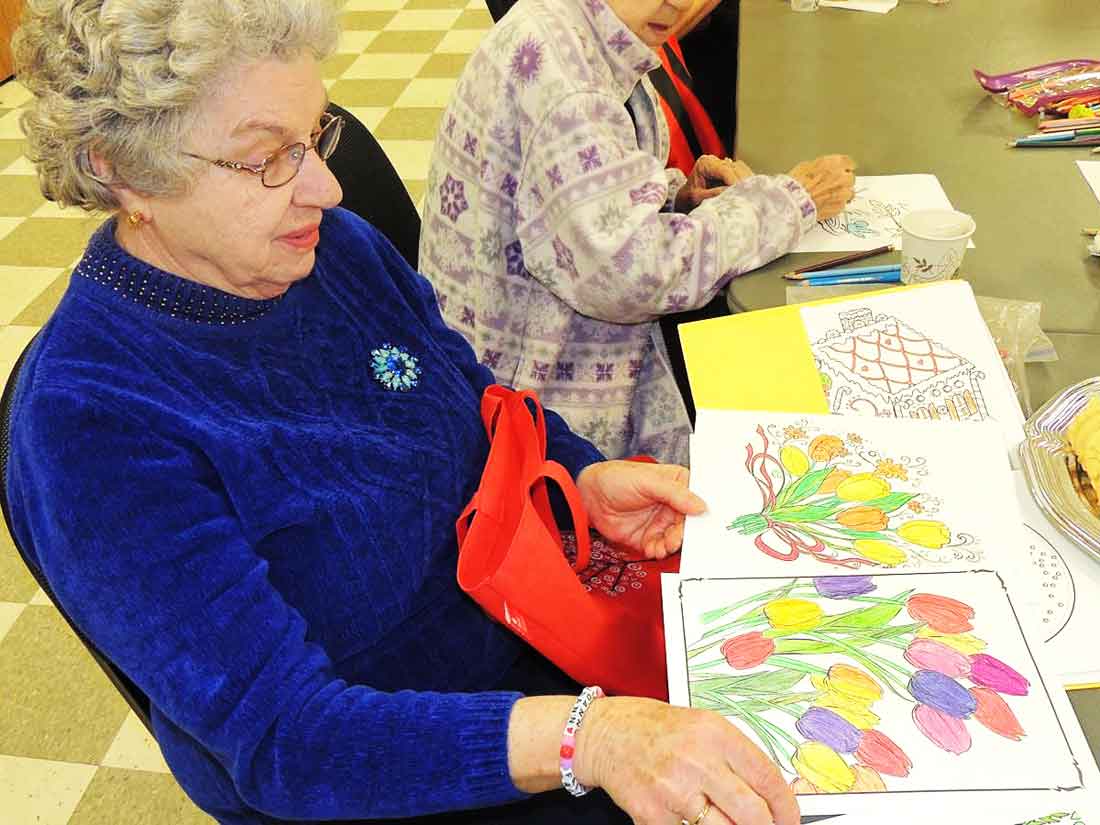 Coloring for Seniors


Easy coloring pages for seniors?

Isn't coloring just for kids?

NO!

Did you know that coloring is one of the most beneficial pastimes ALL of us seniors at any age and ability level can engage in?

Yes, it's true. And, it's fun. There are literally dozens and dozens of easy coloring books, with beautiful easy patterns, for adults and us seniors to enjoy in our leisure moments.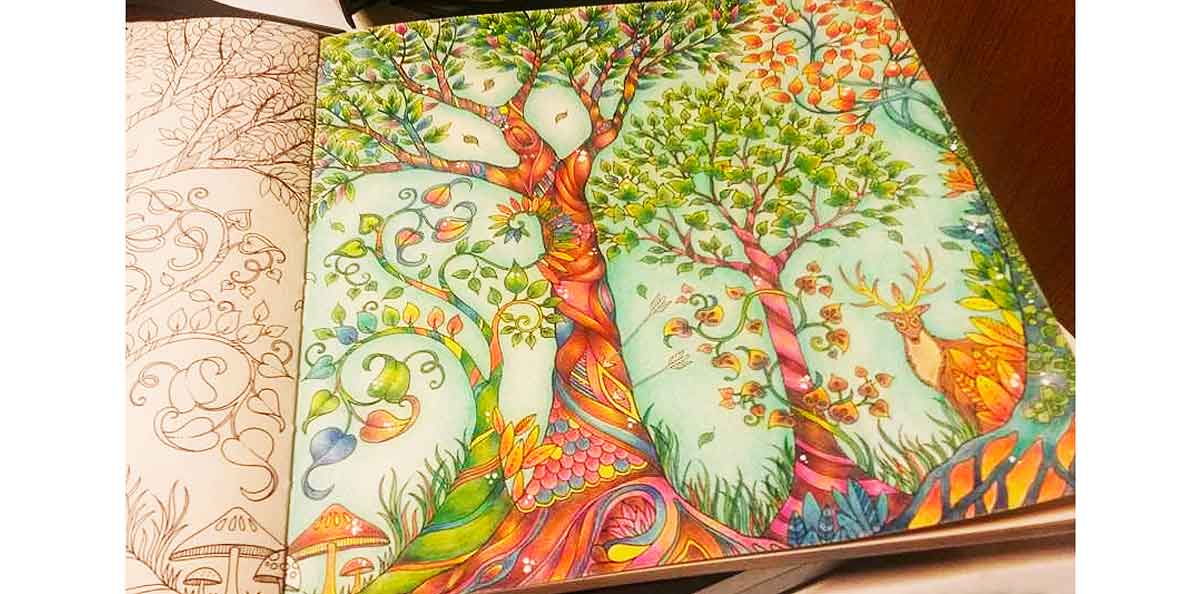 The Fact Is:  Coloring for seniors is so beneficial that we have written an entire article devoted to the 14 Benefits of Coloring for Seniors at every age and ability level.
Coloring
for
Elderly Seniors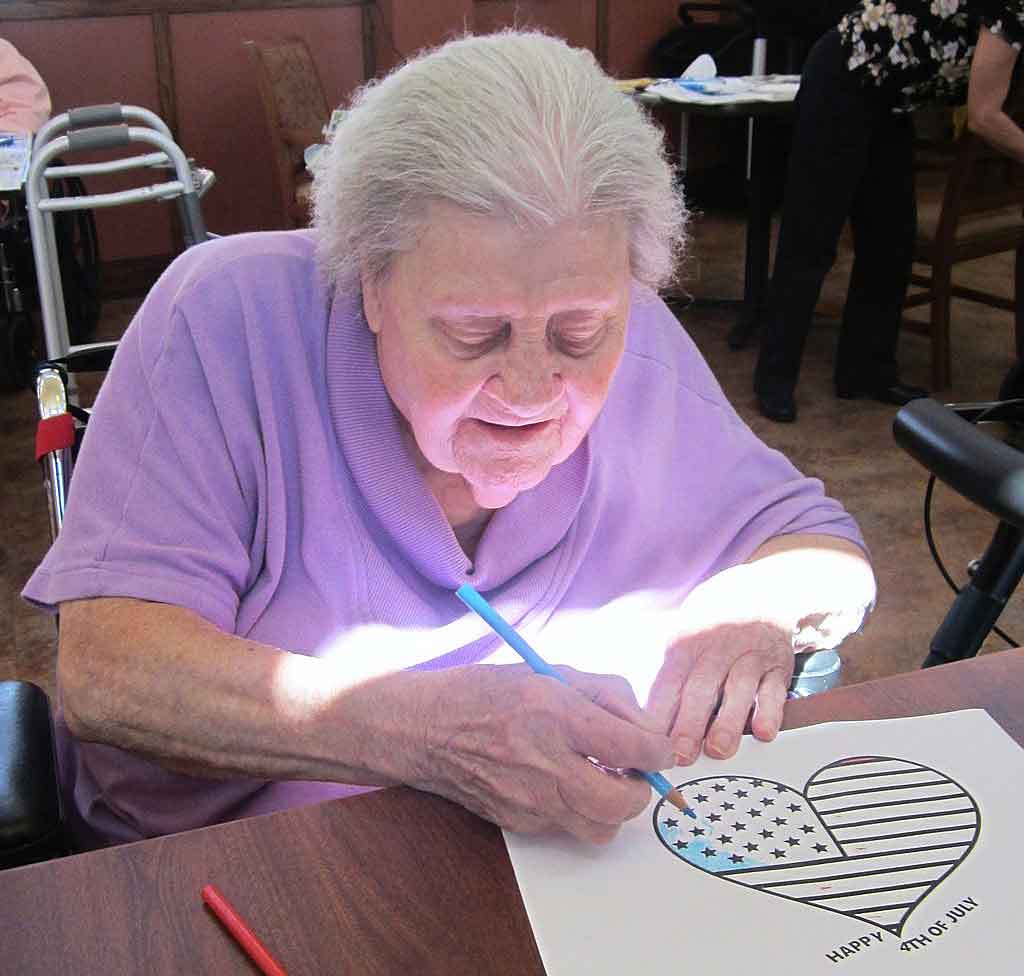 In this article, we're going to be focusing on elderly seniors, and, seniors with greatly diminished abilities.

Why?

Because: There are a limited amount of easy activities that our challenged seniors can participate in and enjoy. Coloring simple EASY images is one such activity.

Most adult coloring books and pages are far too intricate and complex for these seniors.

But, given much simpler, very much simpler easy coloring pages for seniors, this group of us can enjoy all the benefits of coloring for seniors. As well, with coloring, they have an activity that they can really enjoy doing. Each day. No matter where they may be.
How Easy
Do We Need?


The benefits of coloring are monumentally significant for every age group and ability level. It doesn't matter how advanced, or, how basic the ability level. The same benefits apply.


Simple easy coloring for challenged seniors has proven to be:



One of the very best activities to engage senior minds


An activity that can reduce anxiety and stress levels


An activity that can improve mood


An activity that can improve coordination and muscle control


A Way to help with daily problem solving



Pretty fantastic! Right?


So, exactly what kinds of easy images do our challenged seniors need to color to get all of these benefits? How difficult or easy do the pages colored need to be? And, where can we find these images?

Come take a look:
The Easier and More Fun,
The Better They Are


Coloring pages for seniors come in all different complexities, from very simple to very intricate. Much like Jigsaw puzzles come in easy 12 piece puzzles to over 5,000 piece difficult puzzles.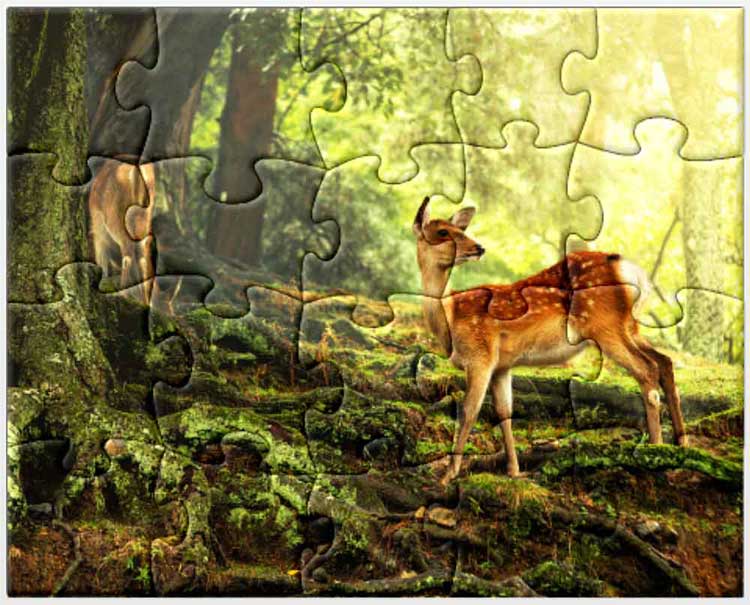 20 Piece Jigsaw Puzzle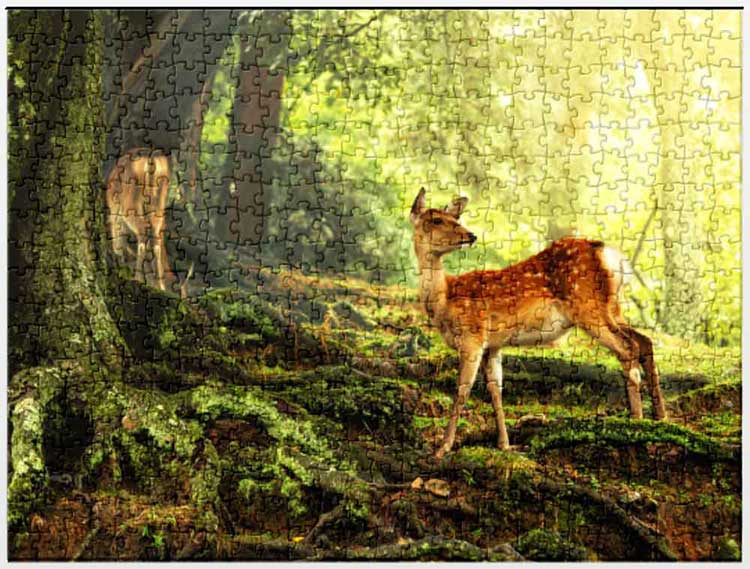 500 Piece Jigsaw Puzzle
The beauty of this is, the benefits of coloring for seniors can be enjoyed by the average seniors, the Mensas (geniuses), and also our seriously challenged elderly seniors.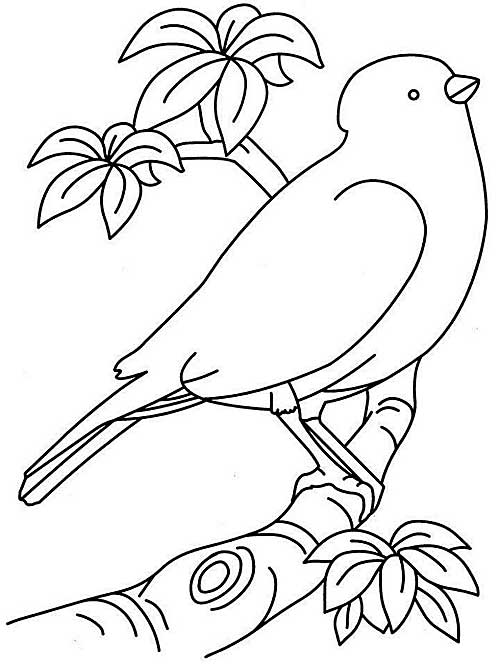 Very EASY Coloring Page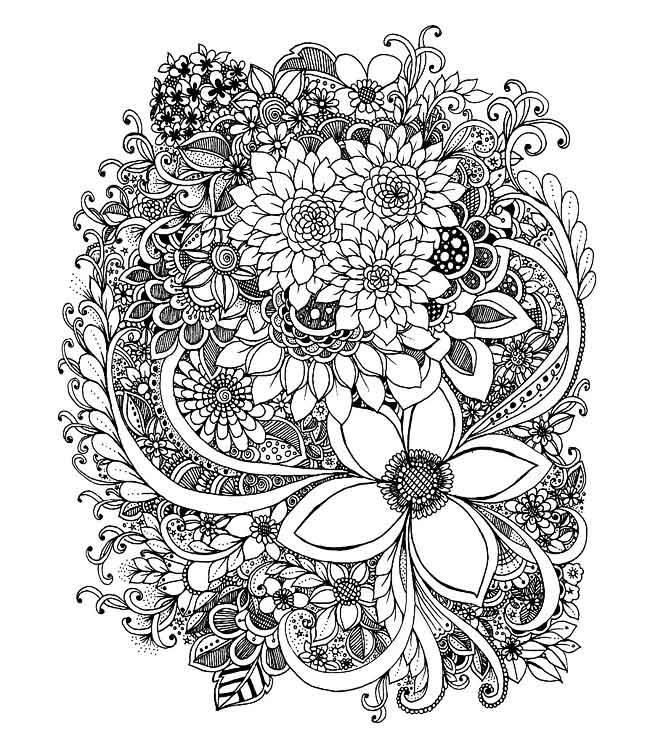 COMPLEX Coloring Page
"EASY"
for
More Enjoyment



You probably found this page by searching for "EASY" coloring pages for seniors. Right?

For that reason, we are presuming you are probably looking for easy coloring pages for seniors you love who are at least somewhat, if not severely, limited in their abilities.

And, that's fantastic!

Why?

Because easy coloring pages for seniors, with even severe thinking impairment, can provide:


An Activity they can do and enjoy

Mood improvement

A sense of accomplishment and the resulting Joy

Reduced anxiety and agitation

Social opportunity

Improved muscle control

Help with daily problem solving

Improved focus

Improved decision making




This translates into improvement and more enjoyment in all their normal daily activities. Even things as simple as feeding themselves, by themselves, easily again.

All of our caregivers know how wonderful this can be.

Our reader/caretakers have commented on these improvements numerous times.

Our very favorite location for free easy coloring pages that you can download and print at home are from Crayola. Yes, the company that made the crayons we all are up with.

You can find that page here: "New FREE Coloring Pages".

One of our favorite pages there is called "Seasons".
Loose Pages
or
Coloring Books?


To get started for free, the free downloadable pages (like those above) are a great start. And, in a moment, we're going to give you 6 more great sources for easy pages in this article so that you can start right now… for free.

But, coloring books (which are very inexpensive) have a few lovely advantages over individual pages.

First: Easy coloring books keep all the pages in one place.

If you have multiple books (3,4, 5….) you provide your senior with different opportunities and pleasures. Very much like the various reading books you have for very young children.

Second: Each senior always has their own favorites. And, like everyone else, on different days they have different moods. So, having multiple easy books make coloring more fun for them. They get to choose, rather than being dictated to.

Third: Another benefit of coloring books is that you will soon have many pages that are finished.

These finished pages are a source of reminded accomplishment for the very impaired. They can see what they have already done. You'll find this delights them, gives them more confidence, and inspires them to do more.


As one care taker recently told us:
"The more often our seniors color,
the greater the sustained and lasting the benefits are."



Easy coloring books and markers, for seniors with greatly reduced mental capacity, are some of the best gifts possible.
Just 20 Minutes
Each Day


Recent studies have shown that seniors who color for even just 20 minutes a day:


Can Increase Mindfulness (being in present time)
Reduce Stress
Improve Mood Significantly
Improve Social Skills
Reduce of Frustration
Reduce of Agitation and Upset


Just as these are fantastic major benefits for highly able adults and seniors who color, all those same benefits are also possible for our elderly seniors and those with severe decline who use easy coloring pages.

Everyone who is caring for seniors with diminished abilities knows exactly how important this is. And, how difficult it can be to achieve in routine daily life.

Easy coloring pages for seniors, and easy coloring books, provide these benefits in a very enjoyable and fun way.
Coloring
Promotes Mindfulness


Coloring is NOT a passive activity. Still, it should always be easy and pleasurable. Very relaxing. Soothing. Calming.

But, did you know: When we seniors color, we are making creative decisions about the colors we choose? And, we have to concentrate to keep our markers within the lines?

These simple activities bring a person into the present moment. That is what is called "mindfulness". Being fully involved in the present moment gives a person a release, and, a freedom from current worries and past upsets.


Also: Motor skills are exercised and strengthened. For the severely challenged, this can enable them to regain the ability to do things like using a fork and spoon eat. Isn't that just wonderful? Living more normally again? Feeling more normal again? And, enjoying life more? Tremendous! Just from easy coloring.

Finger flexibility improves. As does hand-eye coordination.

These are fantastic gains and achievements. All from simply enjoying some regular easy coloring pages for seniors.

Take a look at this great VIDEO from Karen Tyrell. Here Karen tells us how some easy coloring can help families improve the emotional and intellectual connection with their declining seniors:
Truly remarkable! Isn't it?

Are you ready to give coloring a try?

OK. Now let's go find the right coloring books.
Finding:
The Right Easy Coloring Pages for Seniors


There are numerous free easy coloring downloads that you can print out and start using immediately. We're about to give you some of the best ones.

You just need to get some colored markers (the favorite coloring instrument seniors use) to get going right now.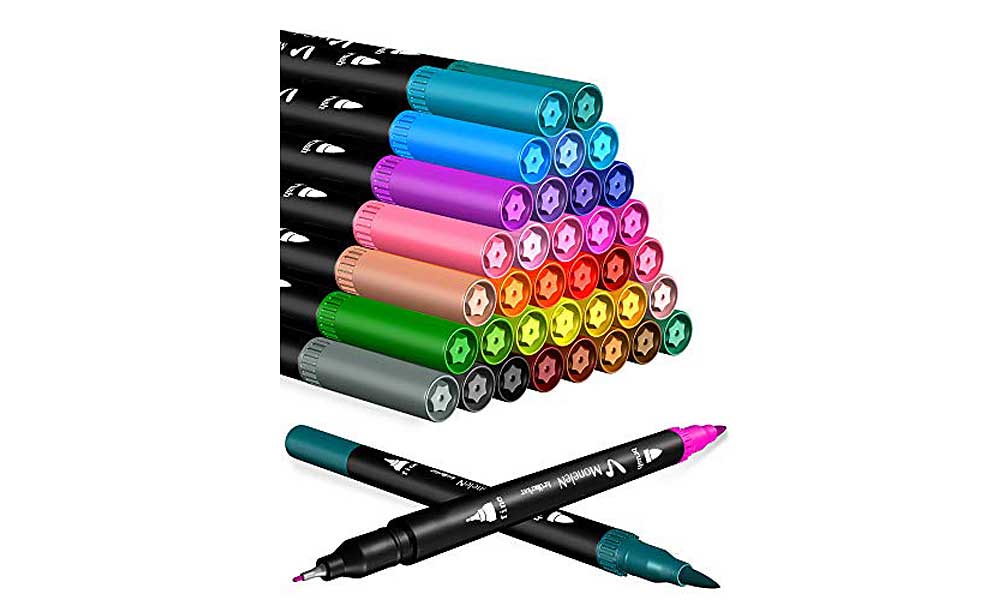 If you don't have markers today, we're going to give you some links where you can color right on line. Just drag and drop the colors to the coloring spaces.
How to Get
The BEST Results



As we promised, we're going to give you links to some of the best easy coloring pages for seniors so that you can start right now.

But, here's what you'll need to do to get the most out of coloring pages for seniors:
#1)  Get Coloring Books


Why use easy coloring books and not just individual downloaded pictures?

Because coloring books will be more beneficial as time goes on.

Why?

Because: Just as young children have favorite story books that they want you to read to them, coloring books (yes, you'll need at least 3) give our challenged seniors choices that they fondly remember.

Everyone has moods. Moods change all the time. Being able to pick a favorite easy coloring book, for challenged seniors, is as important as being able to pick a favorite story book is for young children.

As a caregiver, you'll find coloring is one of the most comforting activities. AND, you can still get the same BIG 64 crayon box that all of us wanted when we were kids. These are only about $6. And, the memories these crayons bring back will light up the eyes of most seniors.

#2)  Understand Each Senior's Needs


Think about the senior's likes and abilities when choosing their easy coloring books.

Skills may be very limited. That's why EASY coloring pages for seniors are so simple.

But, you also want to understand each individual senior's likes and dislikes. This is important.

Find books with flowers, or famous persons, or holiday themes…. whatever suits your seniors likes and desires most. As you present different pages to them, ask them what they like the best. This way you know what to choose as you continue over time.

You will also choose how easy or complex the design is according to their ability level. So, you'll need to experiment a bit with the free down loading pages to see which coloring pages are simple enough, or, too simple.

Don't worry. It doesn't take long to figure this out. And, the free downloads we direct you to here will make the process easy.
#3)  Keep the Images Simple


"Simple" and "Easy" are the keys to getting the most benefits here.

You never want to make your seniors feel like they have failed at an activity. As you know, that is so very important.

That is also the main reason why EASY coloring pages for seniors are far superior to difficult or intricate pages for our seniors with severe challenges.

For the mentally acute seniors, go get those intricate Mandalas. They are gorgeous. They give us some wonderfully meditative time. And, they are very absorbing and fun to work on.

But, for the challenged seniors, stay very simple. The complex Mandalas and other intricate patterns will frustrate and agitate them.


Remember:

Coloring is meant to be:
 a
Simple, Easy, Relaxing Time.



Keep in Mind:  You will find many books that showcase fantastic complex patterns and designs that take a lot of skill because the spaces are so small and so incredibly numerous. Like this: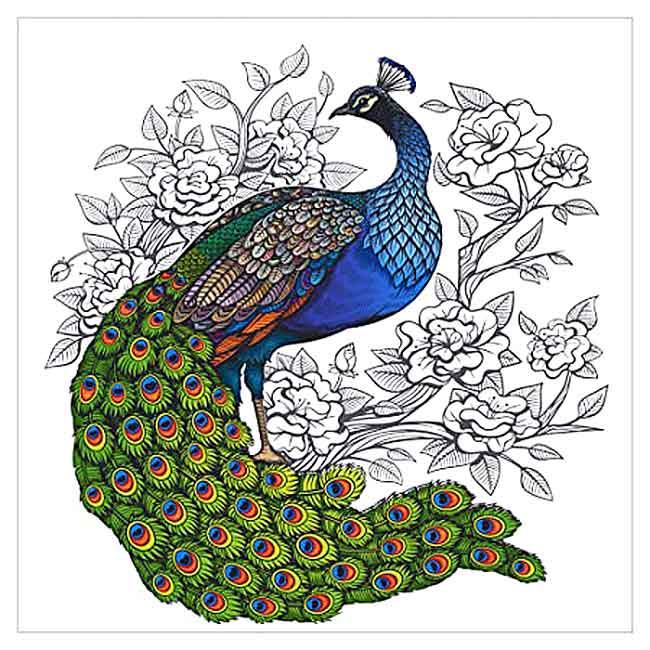 Those kind of images and patterns are useless for the declining mind. In fact those patterns will confound the challenged. Frustrate them. Agitate them. And, just generally make them feel terrible. Very EASY pages they can handle without a lot of work will not do that.

Remember:  Coloring is not a competition. Not even a competition with one's self. We're not trying to "get to the next level". Or, be better than we were yesterday. We're only wanting to enjoy this most beneficial activity right now in the present moment.

Coloring, right from the very first experience, should be pleasurable, easy, and relaxing. Never a difficult challenge.

This is why EASY coloring pages for seniors should be,… yes… easy. Make sense?

This is what easy coloring pages for seniors look like: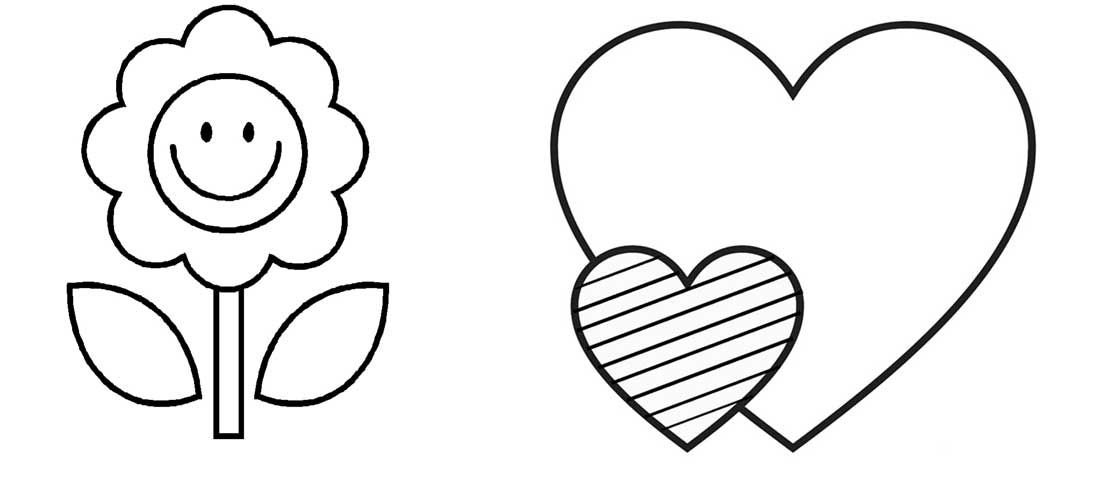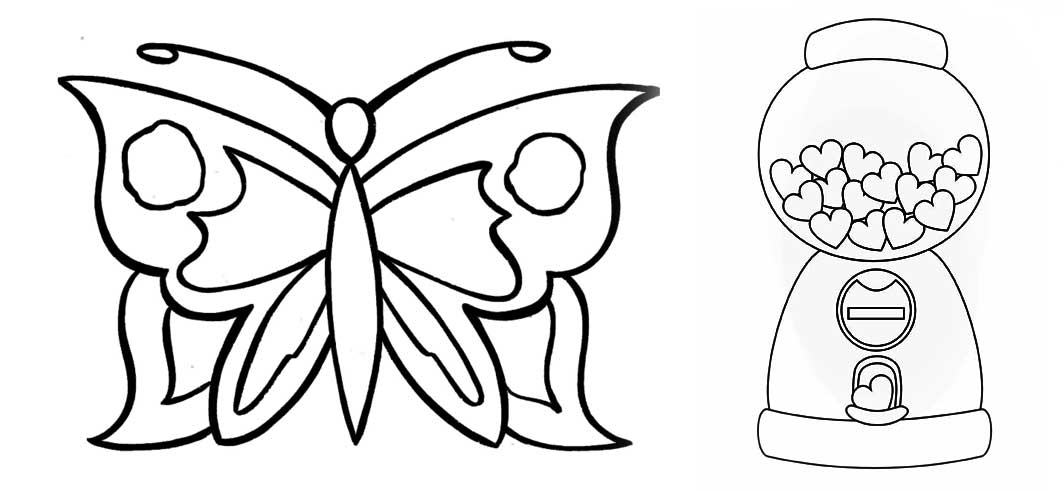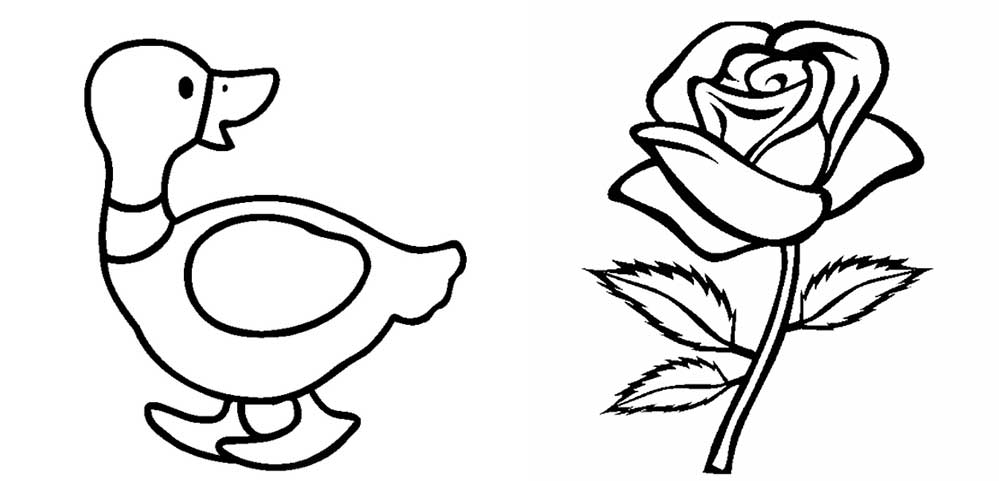 See?

These simple designs are what much our much slower seniors enjoy because they can comprehend these designs, color them without strain, and see their progress quickly. This also provides a great sense of accomplishment and joy for them.


Isn't that what we want to give them?
#4)  Use LARGE Images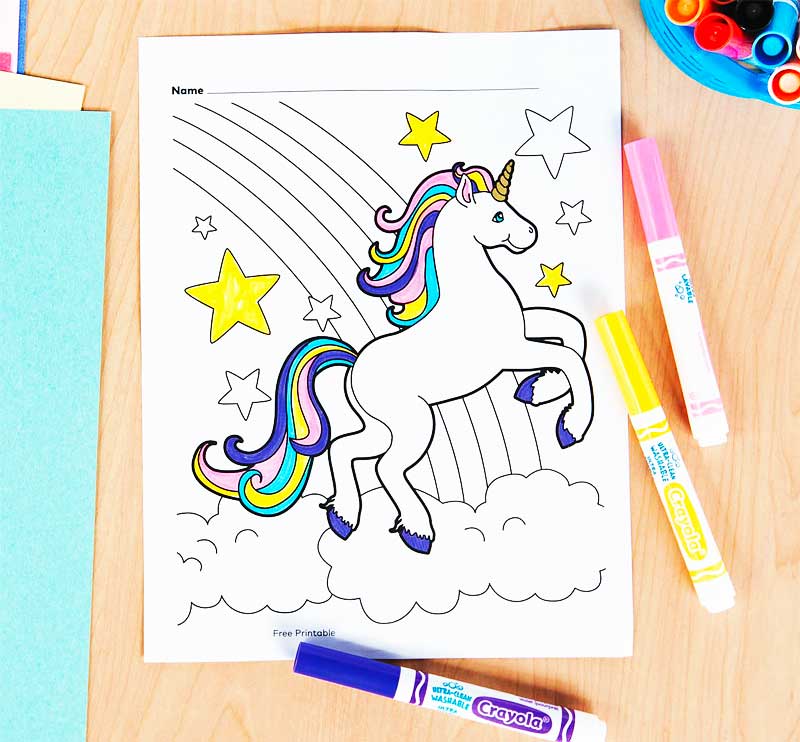 Choose your books and easy coloring pages for seniors with larger images. Full paper size images.

Avoid detailed pages. Avoid surreal pictures. Stay with simple easy to recognize pictures like butterflies, flowers, animals, nature scenes, holiday scenes, food, clothing, automobiles, etc..… This way the "artist" won't get confused or aggravated.
#5)  Use One Sided Thick Paper Pages


This is an important (and often overlooked) point.

Most seniors prefer using colored markers for coloring because markers are easy to use and the colors are so rich and vivid.

The problem is: Markers use liquid inks that easily bleed through normal papers. This is sometimes called "ghosting". So, you don't want an image on one side bleeding through to the other side and ruining both images. Those of us who used fountain pens growing up already know exactly what this looks like. It can ruin your seniors' coloring.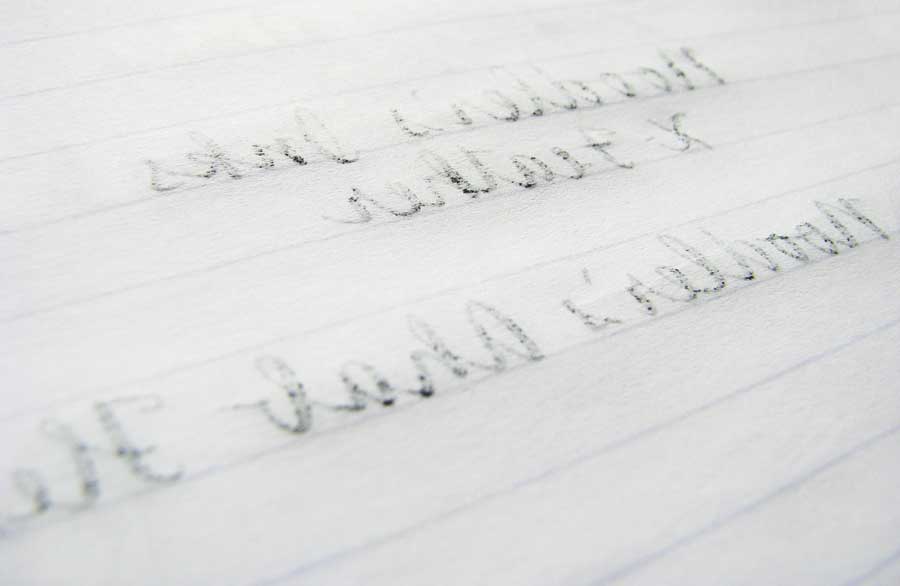 You also want to be able to keep images separate so that you can frame one, if you want to, without losing another image on the other side of the paper.
#6)  Large Coloring Spaces


As you now know, intricate patterns with tiny spaces are useless and will cause you and your seniors all kinds of problems, frustrations, and aggravations.

If you give your seniors intricate detailed images, you'll wish you had never started them coloring.


Large coloring spaces won't cause eyestrain


Large coloring spaces require less precision and dexterity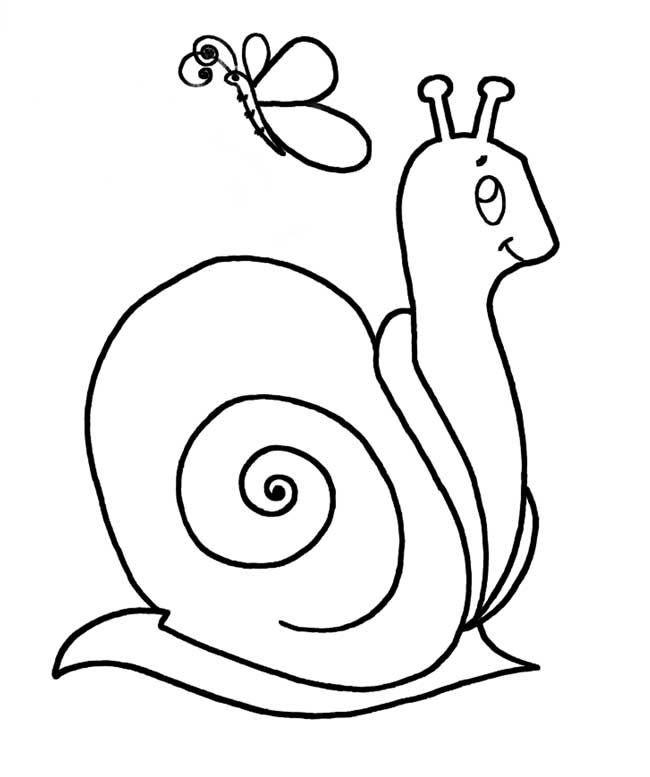 LARGE Spaces to Color In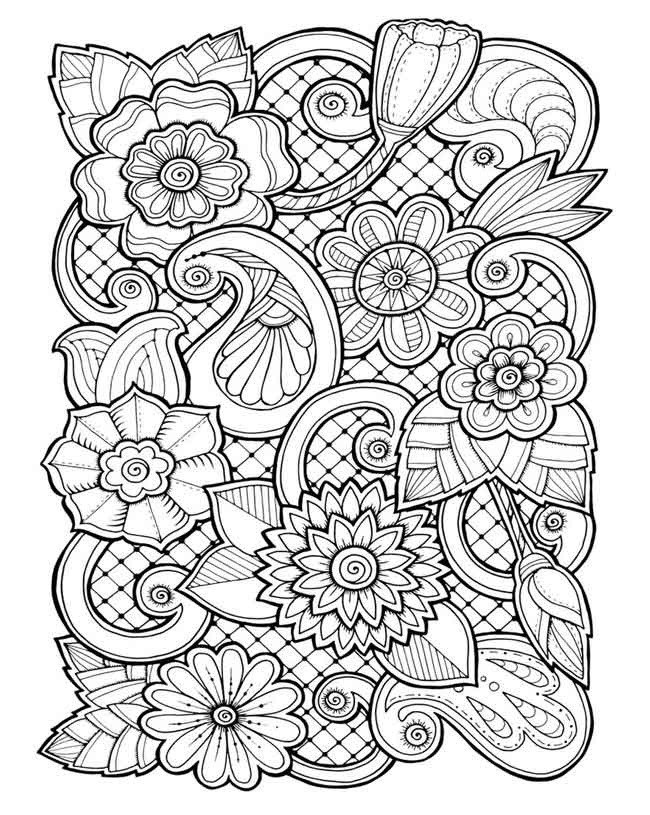 SMALL Spaces to Color In
These are very important features for seniors with vision problems and decreased motor skills.

Remember: The easier the picture is to color, the more enjoyable it will be and the greater the benefits your seniors will receive.

Yes, the easy pictures will be more enjoyable, easy to accomplish, and therefore provide greater benefit. So, it's important not to try to push on to more difficult images.
Coloring
Anytime, Anywhere


One of the greatest advantages easy coloring pages for seniors have over many other activities is that they can color anytime, anywhere.

A couple of easy coloring books and a small set of markers fit so easily into a purse, jacket pocket, or small back pack. Go to the park. Have lunch. Sit out on the patio or deck. You're all set to go!

Need something to occupy and cheer up your seniors? Easy coloring books can be your go to item! Anytime. Anywhere.
Where Can We Find
the

Best Easy Coloring Pages for Seniors?
The following six links are all to wonderful easy coloring pages for seniors that you can download and use for free right now.


1)  One of our very favorite set of EASY coloring pages for seniors, that is done completely online is at "Online Coloring".

At "Online Coloring" you can get started immediately. You won't be using markers, pencils, or pens. Simply pick a color, then drag and drop it to the space you want the color in.

This is an extremely easy collection of online coloring that is very well suited to seriously challenged seniors. And, you can start right now, today, without buying anything.


2)  You can find even easier images to color at "The Color".

The images at both of these sites are free.

3)  "Top Coloring Pages" has 3,000 free easy coloring pages that you can download. Again, these are free.

The flowers section seems to be one of the most popular pages. You can get to those right here: "Flowers".
 
Fruits, Birds, and Animals pages are also very popular. Once you get to the flowers page (from the above link) there is a table of contents on the left that you can use to click on any of the 60 other themes.

4)  "Color a Smile" is one of our very favorite online sites for free easy printable images to color.

What we like about Color a Smile is that not only are the images  easy, they are also one of the easiest sites to download and print from. This is a great advantage to our caregivers who are looking for easy coloring pages for seniors.

Here are their:  " Free Non-Seasonal Pictures for Coloring".

5)  "Coloring Home" has some of the easiest and most relatable pictures for challenged seniors to color. Images they easily recognize.

Not only are these especially good pages for coloring, they too are some of the easiest to print out. You don't need to set up the whole PDF system that many free downloads have you use. I hate those things.

On Coloring Home you can just choose your selected image, click the red box in the bottom right under the image that says "print image" and it goes right to your printer.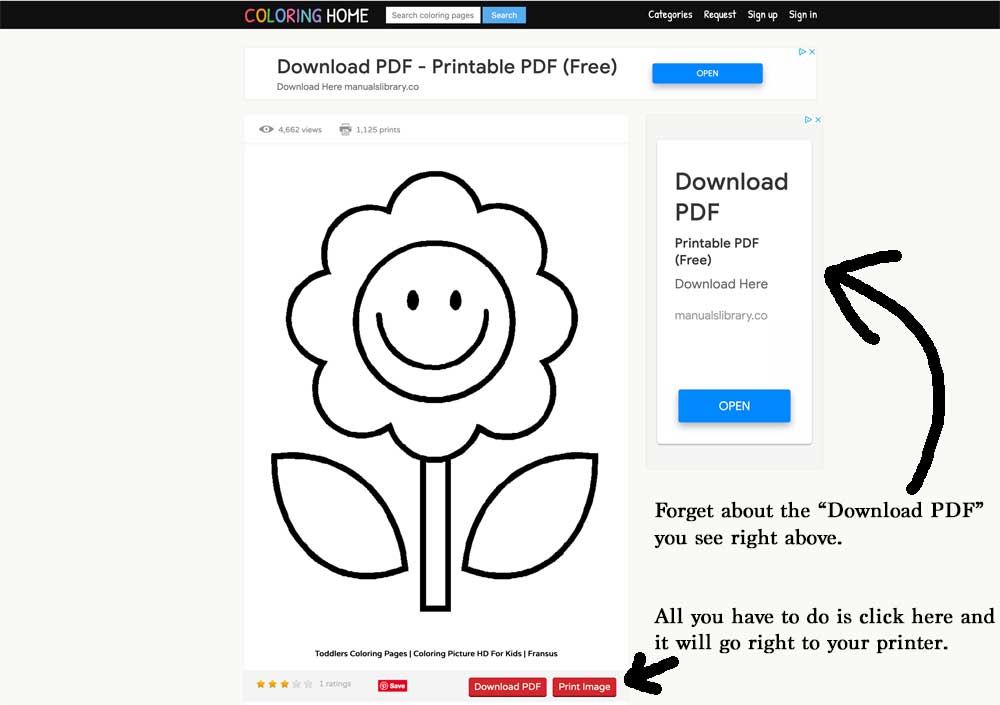 6)  Some Advanced Coloring Images for You:

We're also going to include one more set of free easy to print pages for you that are more advanced. These are easy coloring pages for seniors of normal ability. And, you might want to enjoy these yourself!

The theme is "flowers" and this set of images is complex enough for the average adult (not just seniors!) and at the same time, not difficult or overly intricate. You need some nice relaxing time for yourself too. Right?

Sometimes we enjoy coloring these here at the office when we just want to chill out for a bit.

Take a look. We hope you'll enjoy these: "Flower Coloring Pages for Adults"
Easy Coloring Pages for Seniors

CONCLUSION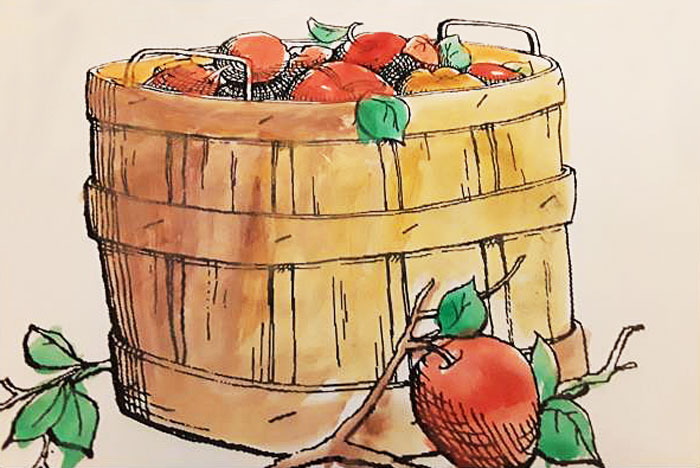 EASY coloring pages for seniors are obviously for seniors with some very noticeable challenges.

The reason coloring is such a great activity for our special seniors is that it is engaging. Our seniors become present. All the things that accumulate in their thinking and bother them go away for a while.

More important, our challenged seniors have a fun activity that is highly beneficial, which they can enjoy anytime and anywhere.

Remember: Easy coloring provides 14 Wonderful Benefits for Seniors. And, these benefits apply even when our seniors need to use the easiest and most basic coloring pages.

Finally, the most important thing to remember when choosing coloring pages is this:
Always choose EASY coloring pages

that your seniors can enjoy without too much effort.
We never want our delicate seniors to feel that they failed at their activity. Completing even the simplest of easy coloring pages for seniors can give the severely challenged a great sense of Accomplishment and Joy.



May You Have a Beautiful and Happy Day!  ~ William, Fiona, and Charlotte