Easy Dance Moves for Seniors
16 EASY
Dance Moves for Seniors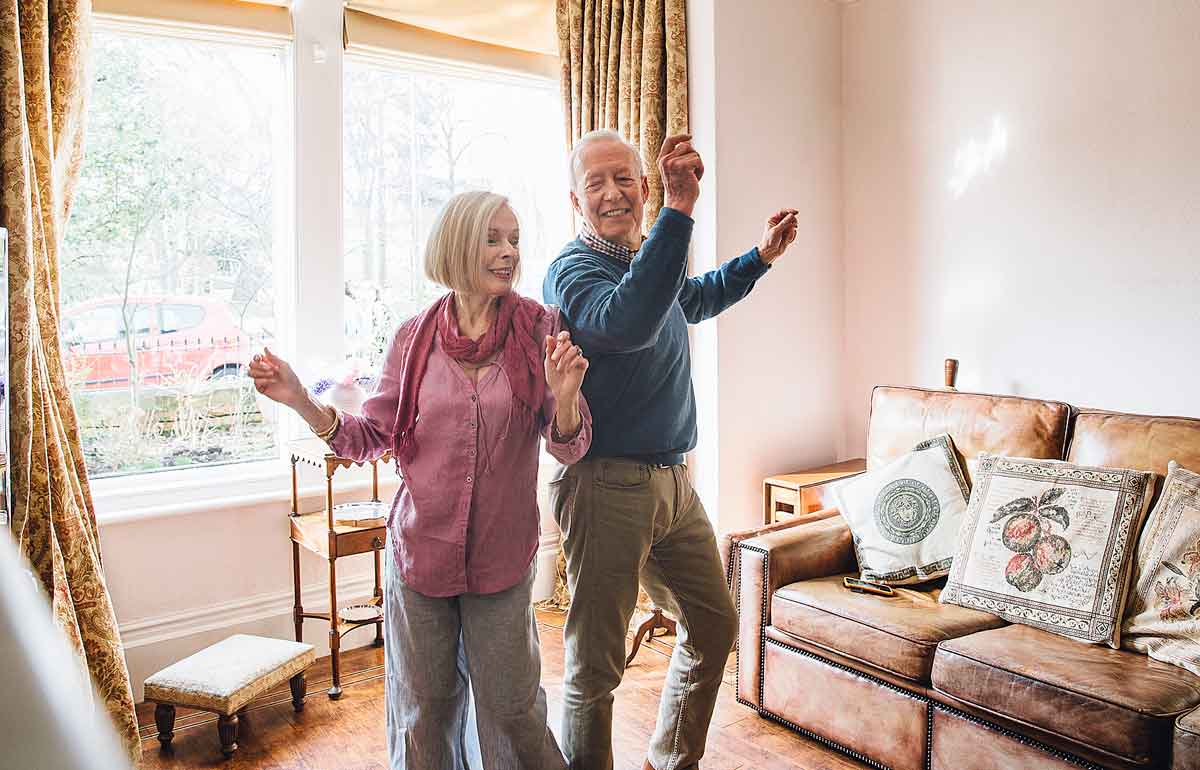 "Are there any easy dance moves for seniors that we can learn to get started?"


We've been getting a lot of emails like this ever since we published our article on Elderly Dancing.

The answer is a resounding' "YES!"

So, get ready to have some fun, DANCING!
Some Great and Easy
Dance Moves for Seniors


Many of you have emailed us and told us you want to learn some easy dance moves for seniors that you can use right now. That you can use to dance with each other. Without having to go out and take classes.

So, here you go!

We're going to give you some videos here that can get you going and dancing today!
Yes, YOU
Can Learn to Dance!


That's right: YOU can. Even if you're confined to a chair.

If you've already read our Elderly Dancing article you already know that all you really need to do to be dancing is: Move with the music. Even if you are confined to a chair or a bed.

Whatever you have that you can move, move it! You'll feel good and you'll have some fun. Guaranteed!

In this article, we're going to be presenting you with VIDEOS that have real dances moves that us seniors can do and enjoy.


You'll even learn some:


Line Dancing (Remember "The Hustle"?)


Belly Dancing


Ballet (yes, real basic ballet movements that we seniors can do)


Some Simple Hip Hop Steps
Before you begin any type of dance or exercise program
always consult with your physician first.
Here We Go!

Line Dancing


One of the best and easiest ways to get dancing with your friends is with "Line Dancing".

It's just what it sounds like. We form lines and all do the same steps together.

Remember in the early 1970s we were all dancing "The Hustle"?

The Hustle (music by Van McCoy) was probably the first popular line dance using pop/rock music. Here's a VIDEO that should bring back some happy memories:
Look at those Mini-Dresses. Remember? Fun! Right? And, all you ladies looked so hot in them. Well, we were the coolest generation ever. Right?

Well, this line dance is still popular with the young 20 year olds that are going to night clubs that have a special "Hustle Night". Yep. It's still popular dance to do. And, it's still fun for us.
Learn:
The Basic Hustle


Don't worry if you don't move as well as you used to. None of us do! And, doing The Hustle doesn't require any great dance or athletic skills. If you can walk comfortably enough, you most likely have all the skill required to dance The Hustle.

Now, here's the very best VIDEO of easy dance moves for seniors who want to learn (or re-learn) how to do the basic Hustle.

The teacher is named Zack. He's funny (and dressed in 70's clothes!). He'll teach you each set of easy steps separately. Then have you put them all together to the original music.

Zack will be leading and doing the steps as you do. So, if you get a little lost along the way, just keep watching Zack and you can pick it up again.

Take a look. See how easy he makes it for us.
You can play this video on you computer while you, or your group of friends watch. Dance along with Zack and have some fun doing The Hustle. By yourself. Or, with some friends. You'll have a blast and get some great exercise as a bonus!
3 Minutes
of
Dancing FUN!


Our next dance along VIDEO with easy dance moves for seniors is from a group called MUVE. It's a short 3 minute dance along video that is great for anyone who has never exercised before, danced before, or for those who just want to get back to the fun of dancing.

You can do this one anytime during the day that you are in the mood, or, when you need a little refreshment.
Dancing
With a Chair
(when legs or balance are weak)


With a chair???

You bet.

Some of us need a little extra support, or help with our balance. And, that's just fine. We've got you covered with these easy dance move for seniors done while sitting in a chair.

This VIDEO (again from the MUVE group) will get you going:
Dancing While Sitting
or
Standing (you choose)


This next VIDEO is another GREAT set of easy dance moves for seniors that you can do sitting in a chair or standing up. You choose.

For those of us seniors with very weak legs, or, some balance issues, you can do these fun dance moves while seats, just like you see the leader doing in the Video.

You can also see how they are enjoyed standing up if you watch the ladies in the back row.

AND, the music on this one is especially good if you miss old time rock and roll as much as I do!
Hip Hop?


How much more modern can we get??

Well, Mihran (the instructor on this video) is one great Hip Hop teacher.

But, these 3 basic moves can be used with any music. And, they work very well with our great 70s and 80s music.

These 3 steps are very easy to learn. Easy to remember. They make you look like you really know what you're doing. AND, you'll look very cool for sure.


Here they are:
Remember:
We seniors don't have to make the LARGE steps we see Mihran and the other instructors make.
They are professional dancers. We are seniors.


So, we can scale the steps way back. Small and comfortable.
Just do what is comfortable.
That way you're sure to have fun and not over do.
You're
NEVER Too Old


Now, we don't want to hear any lame excuses for not dancing. See?

So, if you're feeling like you're maybe too old to enjoy this stuff, forget about that. You're NEVER too old!

The instructor on this next VIDEO of easy dance moves for seniors is 80 years old!

The members in the class range from 65 - 92! Are you older than that?

If not: No Excuses!

With this video, you're going to be dancing to Justin Timberlake's "Can't Stop the Feeling!" This song just makes you want to move. And, you're going to get a nice gentle full body workout.
Yoga Dancing
Sitting and Standing Holding a Chair


Here's another great and fun chair dancing VIDEO that we do while sitting down. Our instructor is Sherry Zak Morris.

Besides being a great dance instructor, Sherry is a certified Yoga instructor. She uses her great wealth of physical movement knowledge in the easy (and fun) dance moves she chooses for us. And, the moves are fun!

Most of the dance moves here are done sitting in our chair. For a few, we will stand and hold on to the chair. You can skip these standing ones if standing is too difficult.

What I like most about this video is: These easy dance moves are ideal for seniors who have very limited leg strength, but, want to feel the joy of moving their entire bodies freely and joyfully to the music.

Sherry brings great energy to her on line classes. She also picks music we boomers like. Her enthusiasm will improve your mood anytime you need a lift. Sherry makes you feel like moving.

This set of easy dance moves for seniors is fun and refreshing.
Belly Dancing!


Yes. Belly Dancing for us seniors.

Wow!

In our recent seniors survey, we asked the question: "What type of dance did you always want to learn but never did?"

21% of the women answered "Belly Dancing" as their first or second choice.

So here we go!

Easy Belly Dance moves for seniors, that you can learn at home. These easy dance moves are fun and sexy! Surprise your husband!!
Easy Dance Moves for Seniors
BALLET


Yes. Ballet.

I love this video class.

True, Ballet is the most difficult dance in the world.

So, how can we seniors do ballet? Right?

Simple. It's the whole concept of Ballet that we learn here. Not the enormous movements that require great strength, super balance, and agility.

These lovely easy Ballet movements for seniors can improve our:


Balance


Leg Strength


Posture


Grace


No matter how impossible Ballet sounds at first, and no matter how out of shape we may have become, the essence of Ballet is what we will learn and practice here. With simple dance moves especially crafted for us seniors.

Just watch the video the first time through. You'll see what I'm talking about.

This is one of my very favorite of all the easy dance move for seniors videos.

And, YES, it is for you men also.

So, come join Susan (your instructor) and her Mum, Elizabeth (senior like us!) in this enchanting Ballet series of easy dance moves for seniors.
Dancing
with Cindy


If you've never seen one of Cindy's dance/exercise videos, you are in for a treat.

Cindy Brehse (our instructor in this video) started as a dancer and had her own studio in New York state. She is a certified fitness instructor. Her videos are fun and she's great to workout with.

In this VIDEO, Cindy will have you doing a 20 minute dance/exercise session using easy dance moves for seniors.

You'll enjoy some energizing music, learn some fun and simple dance move that you can use anywhere, AND, you'll get quite a workout.

Cindy calls this a beginner workout. We found it to be a good challenging workout and definitely too much for the beginners. More like a dance workout for those seniors who already have some fitness skills.

The reason we include this exercise/dance video in the collection of easy dance moves for seniors is because you can learn some fun easy steps just by watching Cindy.

And, Remember: If you're dancing along with Cindy, as always, you don't have to do everything. Do only as much as you can comfortably enjoy.
CONCLUSION
Easy Dance Moves for Seniors



We truly hope you have enjoyed seeing all the possibilities that await seniors who want to dance again.

Remember: You're never too old or out of shape to enjoy dancing again. Or even, for the first time.

We hope you found at least one video in this group of easy dance moves for seniors that gets you up and dancing again.


ENJOY!  ~ William, Fiona, and Charlotte