Senior Citizen Cell Phone
What is The Best
Senior Citizen Cell Phone? - 2022



last updated April 2, 2022
12:02 pm
Getting a senior citizen cell phone can seem like a major ordeal. It doesn't have to be if you know what to look for. And, when you know what features will be most beneficial for elderly seniors.
Jitterbug Smart 3
There are just two cell phones out there that was designed just for us seniors. The first one is the Jitterbug smart 3 made by Lively.
Here's what is has:

Large 6.2-inch screen
Simple, list-based menu
Voice typing (you speak, it types the message)

Video chat
High-quality camera
Long-lasting battery
Powerful speaker
Mobile internet access
Brain Games keep your mind active
How-to guides right on your phone
You get it directly from Lively for $149.99. That's a whole lot less than a $700 - $1,200 iPhone. Right?

The service plans start at just $14.99.

No long-term contracts
No cancellation fees
Keep your existing phone number
100% U.S.-based customer service

When this phone was designed, us seniors were in mind.
Jitterbug Flip 2
The second senior citizen cell phone you need to know about is the Jitterbug Flip 2 by Lively. It's their easiest cell phone ever.

Here's what this nice little flip phone has:
Large screen and buttons
Amazon Alexa
Easy list-based menu
Long-lasting battery
Powerful speaker
Urgent Response button
Magnifier and flashlight
8MP camera
One-touch speed dialing

You get the same service plans as with the Jitterbug Smart 3 starting at just $14.99 a month.
What is Most Important
in a
Senior Citizen Cell Phone?


The Senior Citizen Cell Phones we want to talk about are for us seniors and also our elderly senior citizens.

I mean, if you just turned 65 and are still running a couple of miles each morning, your eyes and ears are working like they used to at 40, etc… etc… and, if you have the extra money, you're probably going to want the latest iPhone with the incredible camera and all the apps and other goodies. Right?

You don't care about large letters and numbers, bigger buttons, enhanced volume and hearing aid compatibility, etc… Right? And, the actual cost of the phone may not be a concern either.

But, as we begin to become elderly, our needs and wants start changing. Do you agree?

Also, our budgets may be considerably smaller.

So let's take a look at what the 5 Most Important Features to look for in a senior citizen cell phone for elderly men and women:
The 5 Most Important Features
in a
Senior Citizen Cell Phone


#1  Bigger Buttons
#2  Larger Brighter Screens
#3  Enhanced Volume
#4  Urgent Response Button
#5 Price

Let's take a little look at each of these:



Bigger Buttons:


Our elderly seniors need to be able to see what they are doing. As our vision gets weaker, Bigger Buttons are much easier to see and use. And, who is going to use a phone they can't see the numbers on?
Jitterbug Flip 2
Larger Brighter Screens:



This goes right along with bigger buttons. And, this screen section is actually two separate things. So, you want to be sure your senior citizen cell phone is both larger enough to read easily and bright enough.

Yes, brightness matters in an elderly senior citizen cell phone. The easier it is to see something the better we will be able to use it.

I know. That sounds all too obvious. But, what many younger people don't realize is that just as larger size letters and numbers helps recognition, so does brightness.

So, make sure your senior citizen cell phone for an elderly person:


Big Buttons
A Large Screen
A Bright Screen
as well as: Enhanced Volume





Enhanced Volume:


Enhanced volume is a feature most of us never considered because most people hear normally.

But, if Mom or Dad keeps saying "What?" when you are talking to them, this feature is something you want to be sure to look for.

And, for those who wear hearing aids, some phone are compatible with their devices. Look for that feature if this is your current user situation. It makes using the cell phone so much more enjoyable.

Remember:  If a cell phone is easy and pleasurable to use, an elderly person is much more libel to carry it with them and use it.

Even if their hearing is normal now, you want their cell phone to last them for a while. If they can't hear it later on, they're not going to use it, or, keep it with them. Right?


 

Urgent Response Button:


This is some thing you may have already provided for your Mom or Dad. Usually they wear then around their neck on a chain or ribbon and hide them under their blouse or shirt.

That necklace was the one thing that gave our own Granny Annie the greatest feeling of peace after our Dad passes.

Having a similar button on the phone is also a great idea. It just makes immediate help even more accessible. And, it is a feature most of the senior citizen cell phones have.




Price:


The older we get, the more inflation has hurt us. And, as elderly seniors we also may have spent a good amount of our savings. So, not wasting money on an unnecessarily expensive cell phone is important.

We want a good quality phone, that we can see well and hear well that will also call help with the touch of a single button. Right?

But, we also want one that is a very good and affordable price.
Will They Use It?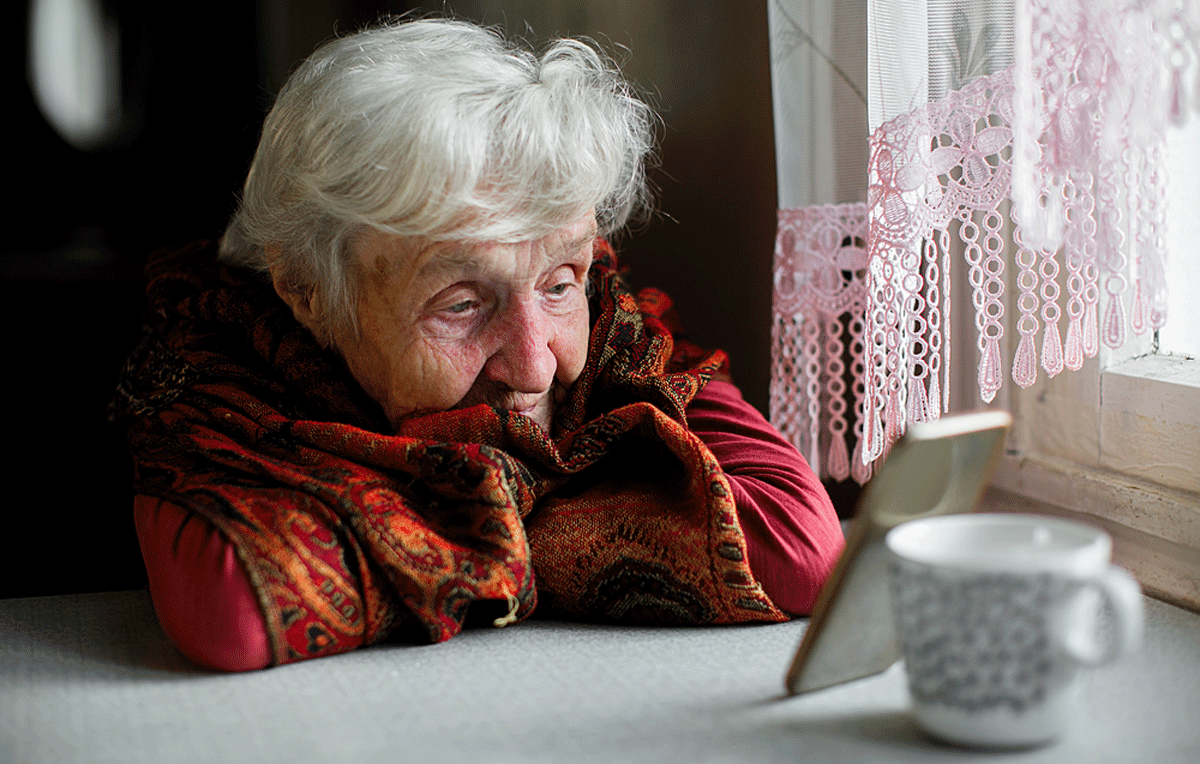 That's the BIG question! Right?
This is a point we want to stress, and, that you may be aware of with other items:

If Mom or Dad can't use a device easily, and, if it's not pleasurable and a real joy to use: They are most likely going to put it down somewhere and forget about it.

Not necessarily because memory is a problem. No. Just because the device is too much trouble to to carry around and too much of an annoyance use.

On the other hand:


If the cell phone is very easy to use


If they can see pictures of, and talk to, their grand children randomly throughout the week


If they can call you easily when ever they are in the mood,……


Then, they are most likely going to keep it very close and use it. Do you agree?
Now, Let's Take a Look At
Other Valuable Options


Remember: There are a number of other valuable features to look for in a Lively Senior Citizen Cell Phone for elderly men and women.

These are additional features that make the phone easier to use. More dependable. And, more fun.


Simple Menu

Speed Dial Keys

Safety Apps

Long Lasting Battery

Single List Navigation

Voice Dialing

Voice Typing

Powerful Speaker

Hearing Aid Compatible (if necessary)

GPS Technology (so when Mom calls 911, it pinpoints her location)



Yes, of course you want to have some of the other popular features too. Like:


Voice Texting
High Power Flashlight
Magnifier
Built in Camera
Emailing
Browsing the Internet
Five Star App (for discounts)


That's a LOT of stuff to look for.

BUT, it's really not that complicated because there are senior citizen cell phones that are designed with most, or, all of these features in them.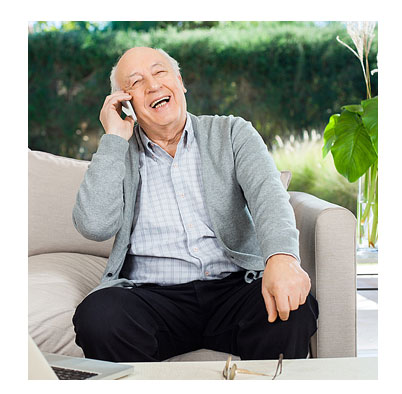 The more fun the phone is,
the more likely Mom and Dad will use it.
Also, the more Mom and Dad use their cell phone, the easier it becomes for them to use it.

This ease of use gave me much more peace of mind knowing our Mom could reach us for anything at any time.
It's Not The Same As
a
Cell Phone for the Kids


Our senior citizens are not usually like kids who spend 20 of their 24 hours glued to their phones answering 100s of texts each day, following Instagram and Twitter……

Senior citizens (including myself) and elderly seniors didn't grow up with cell phones or computers.

The fact is, a lot of elderly people still hate these things because tech is a whole different and alien world to them. Our elderly often act like these things are almost an enemy sometimes.

Many seniors and elderly will at first object to you even getting them a phone at first. Am, I right? "Why make an extra unnecessary expense." is often what we will hear from them.


So, what will make the senior citizen cell phone experience, EASY and PLEASURABLE for them? That's what we need to know so that they will keep their phone with them and use it when necessary.
What Do Elderly Seniors Want Most
in Their Senior Citizen Cell Phone


We did a survey to find out what elderly seniors want most in a senior citizen cell phone. Here's what we found out:

Our Elderly Senior citizens wanted only 3 things:


 #1)   A SIMPLE, EASY TO USE phone to talk on

 #2)   To see family pictures

 #3)   A one touch button to get immediate assistance if they need it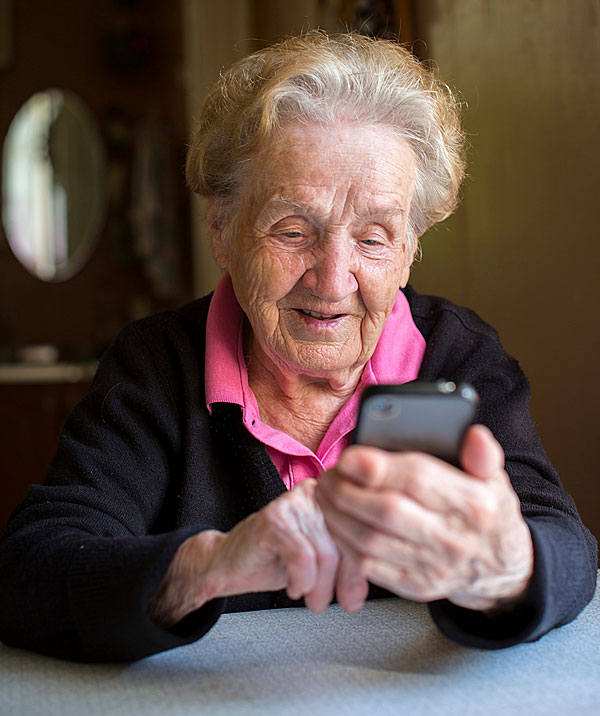 Granny LOVES her cell phone!
That's it!

Heck, I'm only 68 and I have no use for the social media bombardment either. I grew up playing outside, watching tv at night, and reading. So did the rest of today's senior citizens.

We're dinosaurs in the tech age. Admittedly.

SO, let's get a phone that does what we want it to do, is easy to read, is simple to use. AND, that other most concerning part: One that doesn't cost a fortune each month to operate.
What About
The Service Plan?


As if figuring out which senior citizen cell phone to get wasn't enough,… we now need to get a network. An affordable one.

FIRST:  Most seniors don't want to be spending $60 or $70 a month on service. It doesn't matter how much data it comes with. So, we need to get a phone that we can have a reasonable monthly plan with also.

Most elderly senior citizens just do not need or want all the features you get in the $70 a month deluxe service plans. They don't want a tiny little screen to watch movies on or do gaming on.

Many seniors just don't have $70 a month to spend on a cell phone plan.

And, others, don't want to spend that much each month.

The Jitterbug plans start at just $14.99 a month.


Let's see how to choose a plan that will work best for each of us:




"Cell Phone Plans for Seniors"
Jitterbug phones
Shop Now!