Best SUV for Senior Citizens
The Best SUV
for
Senior Citizens


last updated March 7, 2021
2:06 pm
The Best SUV for senior citizens is the Subaru Forrester, and, we're going to tell you why.
Choosing
The Best SUV for Senior Citizens


Choosing the best SUV for senior citizens turned out to be quite an easy job actually.

Let us start by saying that we receive no compensation of any kind for recommending this vehicle.

We simply wanted to find the very Best SUV that fit all the needs and desires of senior drivers.

Why an SUV and not a regular car?

Because SUVs are roomier. Still, they are no harder to drive. And, if you have gear, friends, grandchildren, a wheelchair, etc… to haul around, nothing is more convenient than an SUV.
Why is The Forrester
The Best SUV for Senior Citizens?


First, and most important:  The Subaru Forrester has all the features we seniors desire:


Quiet, Smooth Ride


Roomy Seats Front AND Rear


Lane Keeping Assistance



Lane Departure Warning



Forward Collision Warning


Automatic Emergency Braking


DriverFocus® Distraction Mitigation System
Standard Symmetrical All-Wheel (DriverFocus is a driver recognition technology designed to alert the driver if their attention to the road wavers or if the driver's face appears to turn away. Remember: The driver is always responsible for safe and attentive driving.)
Advanced Automatic Collision Notification will alert an operator in the event of an accident
Lowest Cost to Own (The Subaru Forester has the lowest 5-Year Cost to Own in its class for 2020, according to Kelley Blue Book)



Retains its Value Better than any other vehicle in its class (Based on ALG's residual value forecasts for the 2016–2020 model years)https://www.alg.com/newsroom/TrueCars-ALG-Forecasts-New-Vehicle-Auto-Sales-for-April-2020.html



The Highest Safety Rating from IIHS (The Insurance Institute for Highway Safety) A 2020 IIHS Top Safety Pick



Yes, it's also a good looking car. Outside and inside.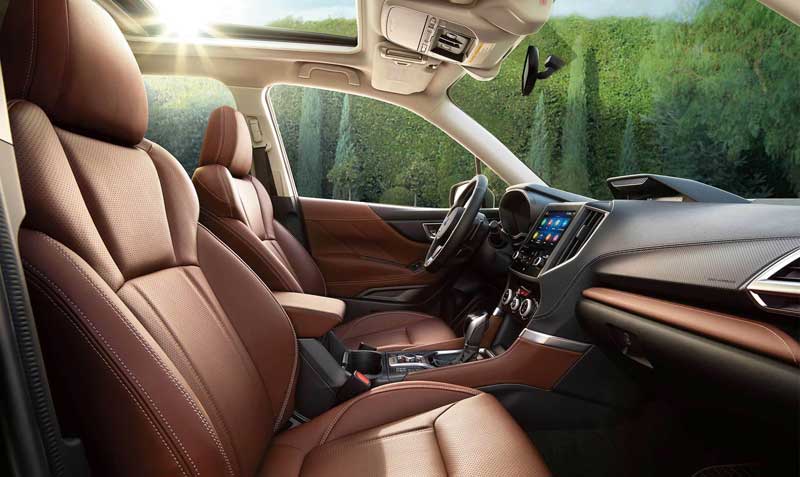 Although acceleration is very acceptable, it's not the peppiest car on the road. And, we found that to be a positive rather than a negative.

Why?

Because the Forester is getting a healthy 28 mpg vs 20 mpg of others. That adds up to a lot of savings over a year.

Also, as a senior, we don't want to accidentally touch the gas pedal too hard and go shooting off out of control. Even for a couple of seconds.

The Forester seems to have the perfect balance of power and gas mileage that works right for us seniors.
What The Auto Magazine
Reviews Have to Say
about the best SUV for senior citizens


Every new automobile is tested and judged by the car magazines. Here's what they had to say about the Forrester:


"The new Forester behaves like a more premium vehicle – calm and comfortable."
Autoblog



"The 2019 Subaru Forester is an affordable, well-constructed small crossover that doubles down on safety tech and all-weather capabilities. Make sure to put it on your short list if you're in the market."
- Edmunds
"Subaru's new DriverFocus® technology in the new Forester makes most other systems look dated."
AutoGuide
"Beyond its capabilities as a compact and frugal SUV that's your best friend in harsh climates, the 2019 Subaru Forester is loaded with advanced technologies."
Kelley Blue Book

"It feels distinctly upmarket, riding nicer than crossovers with heftier price tags and more premium badges."
Automobile Magazine
What Would
a
Real Person Say?


Who cares about what real ordinary people, not professional reviewers, have to say about cars?

I do. No one pays them to say good things. So, they have nothing to lose by pointing out the problems. Right?


So, here's a great one for you:


This a review my neighbor insisted on writing for us. It is so good I had to include it for you.

After reading our recommendation, she test drove, then, bought a Forrester for herself.

Here's what she had to say about it:


"The Subaru Forester is the nicest car I have ever owned. Period. I too am a senior. 69 years young.

I had a Grand Cherokee (Jeep) before this one and I thought there could be nothing better. Well, this one is! The standard lane departure warning, and, lane keeping assistance features makes this ideal for me because I tend to day dream while I drive. A bad habit, I know. But, I do. And, I don't see terribly perfectly at night either.

This car is comfortable, gets excellent gas milage. About 28 mpg just like they claim. Better than our Grand Cherokee, 19 mpg. It's a smaller SUV but roomy inside. Surprisingly easy to handle. And, the visibility is excellent.

I recommend this car to any seniors needing a new car." ~  Toni Kelleher
What About

Consumer Reports?


When in our search for the very best of anything, including the best SUV for senior citizens, we always want to see what Consumer Reports (my personal buying "bible") has to say.

Just like us, Consumer Reports gave the Forrester SUV their highest rating of all the SUVs for senior citizens.


"…The Subaru Forester has had a winning formula. This popular small SUV delivers a combination of a:

Roomy interior


Excellent visibility


Commendable fuel economy


Simple controls


Comfortable ride


Responsive handling




The 2.5-liter four-cylinder combined with the continuously variable automatic transmission yields 28 mpg overall, which is among the best in class.

The cabin is roomy, with a particularly generous rear seat and very easy access (super important as we grow older and stiffer).

The controls are simple to use, including the infotainment system that is compatible with Android Auto and Apple CarPlay.

The EyeSight suite of forward collision warning, automatic emergency braking, lane departure warning, and lane keeping assistance is standard."
reference: Consumer Reports
What is
The Price?



Of course price matters when looking for the best SUV for senior citizens. Price is always important. Even more so now that we are seniors. Right?

Let me direct you to their pricing page so that you can see what they have to say about each model:

The 2021 models are very affordable and start at just $25,845.

Here's the pricing for each 2021 model:


Base: $25,845
Premium: $28,845
Sport: $30,445
Limited: $32,445
Touring: $35,945


Want to See
What the Different Models Look Like?


You can take a look at each of the models here:
https://www.subaru.com/vehicles/forester/models.html
Is This Car
Going to Last?


That's always an important question. We not only want the best SUV for senior citixens, we want the best one to last too. Right?
So does it?

Here's what we found from US News:


"97% of Forester vehicles sold in the last 10 years are still on the road today."



That's pretty darn good! And, it gives me a lot of confidence in the product.
Are There Other SUV Options
for
Senior Citizens?


Yes, there are other options of course. All the popular car manufacturers make SUVs. All of them will be slightly different. And, as we all know, EVERY manufacturer is going to say why they think theirs is the best SUV for senior citizens.

This whole adventure started for us when I was looking for the right car for my sister Charlotte (71 years old).
As seniors ourselves, we simply found, hands down, the 2021 Subaru Forrester to be the best SUV for senior citizens, as well as the very best car for senior citizens available today.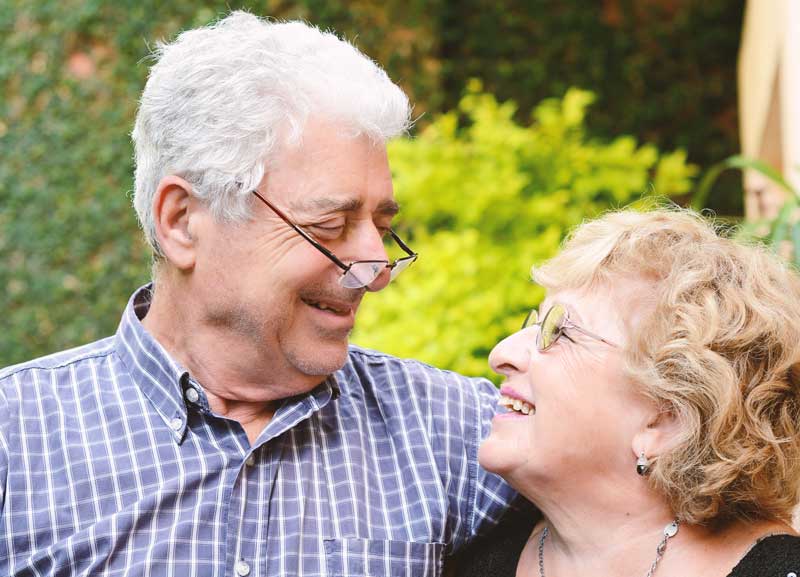 CONCLUSIONS



Of course, you're not going to buy an SUV or any car just because we said so.

You should definitely go see a few that look good and test drive them all so you can make an educated decision on what is right for you.

BUT, when you're look for your new car, and, you want to find an SUV, the Best SUV for Senior Citizens, we hope you will go take a look at this one, and, give it a test drive. We think you'll agree with us.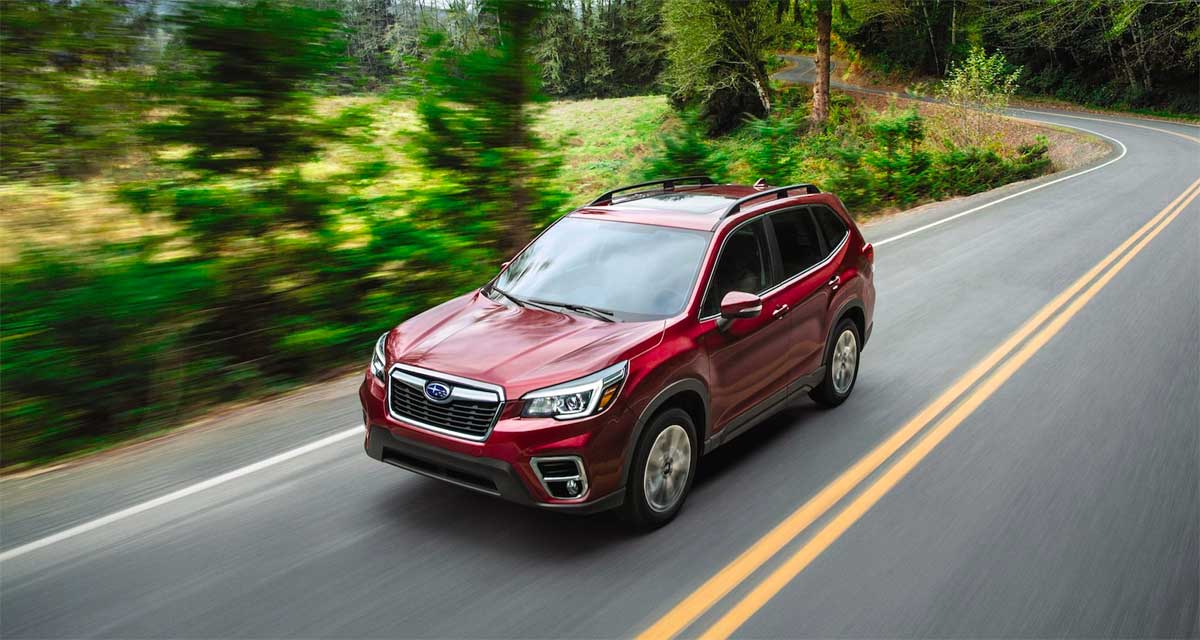 Just one last thing:

Even the best SUV for senior citizens needs a responsible driver. No matter how many driving aids a car may have,  REMEMBER: It's still up to the driver to drive safely.


Best Wishes and Good Luck Shopping!  ~ William, Fiona, and Charlotte